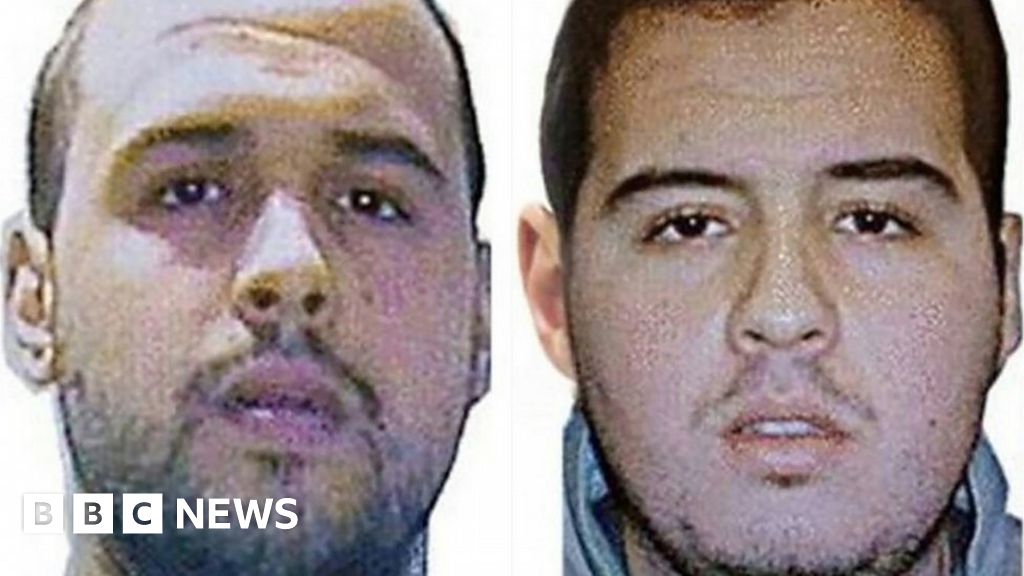 image captionIbrahim El-Bakraoui (R) is reported to have murdered the elderly man with the help of his brother Khalid
Two brothers involved in the Brussels suicide bombings murdered an elderly man earlier to see what killing was like, according to a Belgian report.
Ibrahim El-Bakraoui blew himself up at Zaventem airport in 2016, murdering 11 people. His brother Khalid left another 20 dead at a metro station.
The pair told fellow attackers they had shot dead Paul-André Vanderperren, 76, on the street at random, De Morgen newspaper reports.
Vanderperren was murdered in 2014.
He was shot while returning home from a cafe in the Jette area of Brussels after watching his football club Anderlecht on TV on a Sunday night. His murder has never been solved.
Brussels prosecutors appealed for witnesses in May 2018 to try to determine who killed him but they have told the BBC they closed the case in October 2020.
Vanderperren's widow told De Morgen she was told last year via her lawyers that the Bakraoui brothers had almost certainly been linked to the crime. "I'm still left with plenty of questions but in a way it's a relief," she is reported as saying.
Details of the brothers' possible involvement in the killing emerged from questioning of two surviving attackers, Mohamed Abrini and Osama Krayem. The pair are among 10 people facing trial next year. Another of the defendants is Salah Abdeslam, accused of taking part in the November 2015 Paris attacks.
media captionBrussels explosions: Timeline of events
According to transcripts seen by reporter Douglas de Coninck, Krayem told investigators in December 2016, nine months after the bombings, that "Khalid told me he and Ibrahim had shot someone dead on the street".
In June 2018 Krayem then said "Khalid explained it was an elderly person and that they had wanted to test what it was like to kill someone".
Krayem, a Swedish national, was caught on CCTV with Khalid el-Bakraoui shortly before the metro bomber blew himself up.
His quoted remarks amount to hearsay and as the suspects are now dead the case is unlikely to be reopened.
"During the investigation of this murder we weren't able to identify the person responsible and as of October 2020 the chambre du conseil (state counsel's office) has decided to close the case," a spokeswoman for the Brussels prosecutor told the BBC. "If there is new evidence we could open the file again but as of today there are no new elements that weren't investigated."
The federal prosecutor said it was not handling the case.