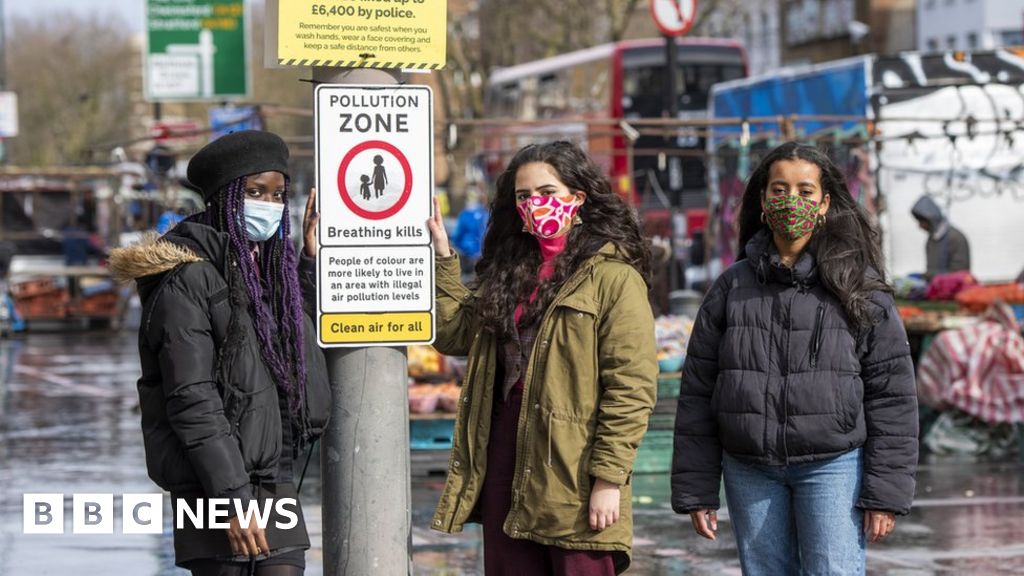 image copyrightEnvironmental Defense Fund
image captionCo-founders of Choked Up: Destiny Boka Batesa, Anjali Raman-Middleton and Nyeleti Brauer-Maxaeia,
Teenage protesters living in some of London's most polluted areas have put up road signs to highlight the impact on people of colour.
Choked Up's campaign has been backed by more than 100 NHS medics.
The group want to prevent air pollution contributing to further deaths like that of nine-year-old Ella Adoo-Kissi-Debrah in 2013.
Signs bearing the slogan 'Breathing kills' have been put up in Whitechapel, Catford and Brixton.
Choked Up co-founder Anjali Raman-Middleton, 17, said: "The landmark ruling of the Ella Adoo-Kissi-Debrah inquest proved that the road I live less than five minutes from can kill.
"I am terrified that my daily commute to school along the South Circular has already had a negative impact on my lungs."
Choked Up and Medact, a group of medics campaigning about health inequality, have asked London's mayoral candidates to commit to tackling air pollution.
Research by the Environmental Defense Fund (EDF Europe) has shown that nitrogen dioxide levels are on average "24-31% higher" in areas where people from Black, Asian or minority ethnic backgrounds are most likely to live.
Medact have written a letter to the mayoral candidates warning that air pollution is having a "devastating impact" on health.
image copyrightEnironmental Defense Fund
image captionSigns warn that people of colour are more likely to live in areas with high levels of pollution
Spokesman Dr LJ Smith, Respiratory Consultant at King's College Hospital, said: "The levels of air pollution across the capital are nothing short of a public health emergency.
"There are far too many people in our hospital wards and clinics who might otherwise be healthy if it wasn't for the toxic air they breathe."
He added: "Air pollution affects every single one of us from birth to old age, but we know the least well off and marginalised communities, including those from Black and Asian backgrounds are being hardest hit."
Ella lived near the South Circular Road in Lewisham and in December last year, Southwark Coroner's Court found that air pollution "made a material contribution" to her death, which followed a severe asthma attack.
Following a two-week inquest, Prof Gavin Shaddick, a government adviser on air pollution, said he hoped the coroner's ruling "makes improving the air we breathe easier to achieve in the future".