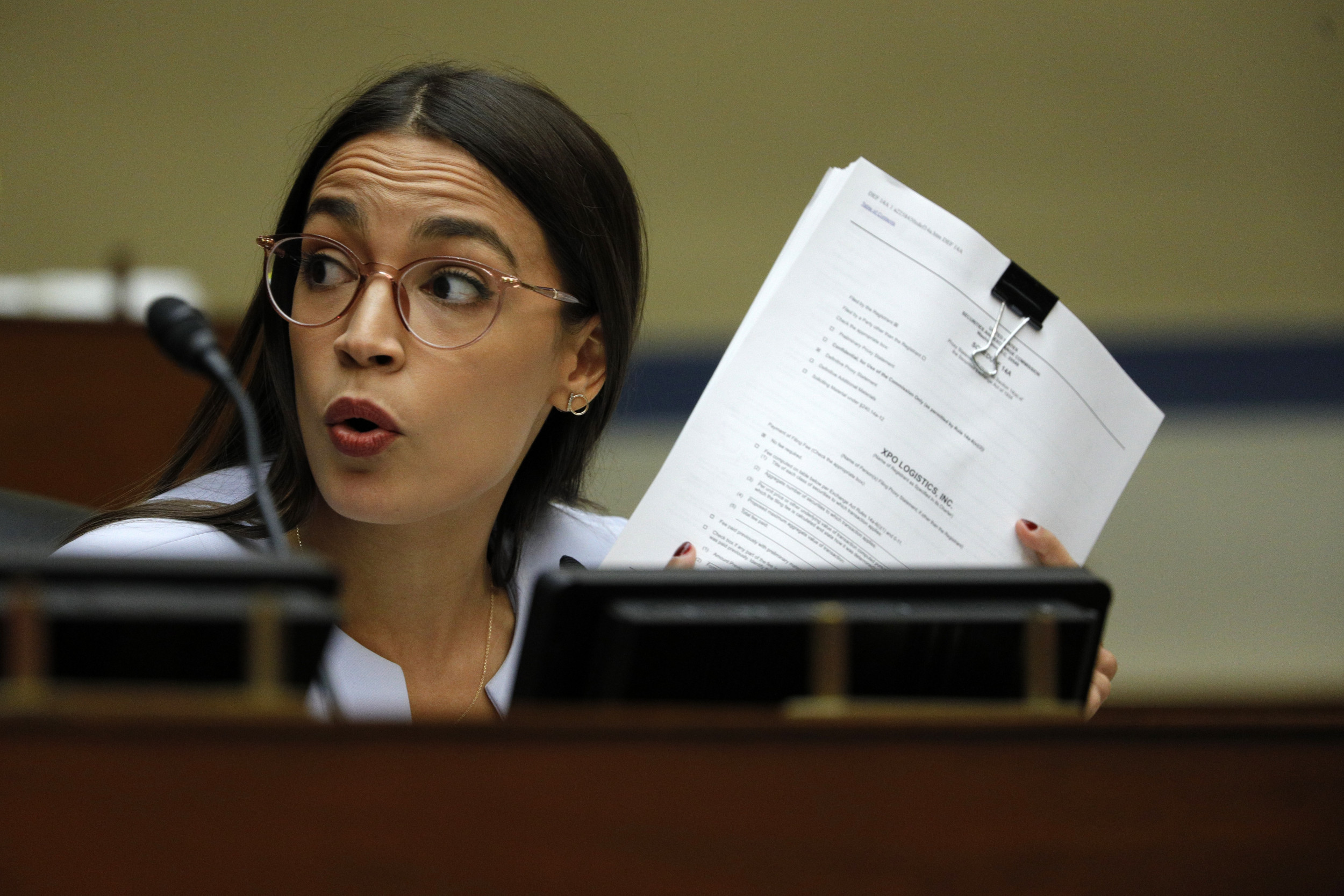 Representative Alexandria-Ocasio Cortez has said the fight for a $15 federal minimum wage is not over despite the measure failing to pass in the latest COVID-19 stimulus bill.
Ocasio-Cortez, a Democrat who represents New York's 14th congressional district, addressed the issue during an hour-long Instagram live video on Thursday where she detailed the benefits of the $1.9 trillion American Rescue Plan.
President Joe Biden signed the bill into law yesterday. A provision in the version passed by the House of Representatives that would have raised the minimum wage was removed in the Senate after the chamber's parliamentarian ruled it could not be included under the rules of the budget reconciliation process.
Ocasio-Cortez explained how Senator Bernie Sanders (I-VT) pushed to include the $15 minimum wage despite the parliamentarian's ruling.
She also said that Sanders wasn't done working to increase the minimum wage from $7.25 an hour to $15.
Though not mentioning them by name, Ocasio-Cortez urged her viewers to call the eight Democratic senators who voted against including the measure in the final bill.
"You should absolutely, 100 percent contact your senator and say 'Why did you not vote to include the $15 minimum wage?' Because it's really important," she said.
"But I do want you all to know that we are not giving up on that fight," Ocasio-Cortez said. "We are taking this directly to the Biden administration. And the Biden administration has said 'We're not giving up on a $15 minimum wage' and so then we're gonna ask them, what's the plan?"
"What's the plan? If not this, what's the plan? Because we're not letting this go. This is the longest time that we have gone in U.S. history since the bill was—since the $15 wage was established—this is the longest we've gone without raising the wage."
The last time the federal minimum wage was raised was in 2009 but the last time a raise was agreed was 2007. It's not clear what the Biden administration can do at this stage but a separate bill to increase the minimum wage is still possible. With the Senate divided 50-50, it's difficult to see such a bill passing.
"So this is ridiculous," Ocasio-Cortez said. "Fifteen is the floor. People are saying, oh, will you accept $11?"
Ocasio-Cortez paused and made a skeptical expression before adding: "Will you accept $11? Do you know when people started fighting for a $15 minimum wage? Almost 10 years ago is when this fight started. People had deemed $15 to be the living wage back then, almost 10 years ago."
"So when you account for increases in inflation—inflation alone—$11 is close to what $7.25 was back then," she said. "So, no, I do not accept $11. I accept an actual, tangible raise for working people."
Rep. Alexandria Ocasio-Cortez (D-NY) asks a question as U.S. Postmaster General Louis DeJoy testifies at a House Oversight and Reform Committee hearing in the Rayburn House Office Building on August 24, 2020 on Capitol Hill in Washington, DC. Ocasio-Cortez has said she's not giving up on a $15 minimum wage.Tom Brenner-Pool/Getty Images