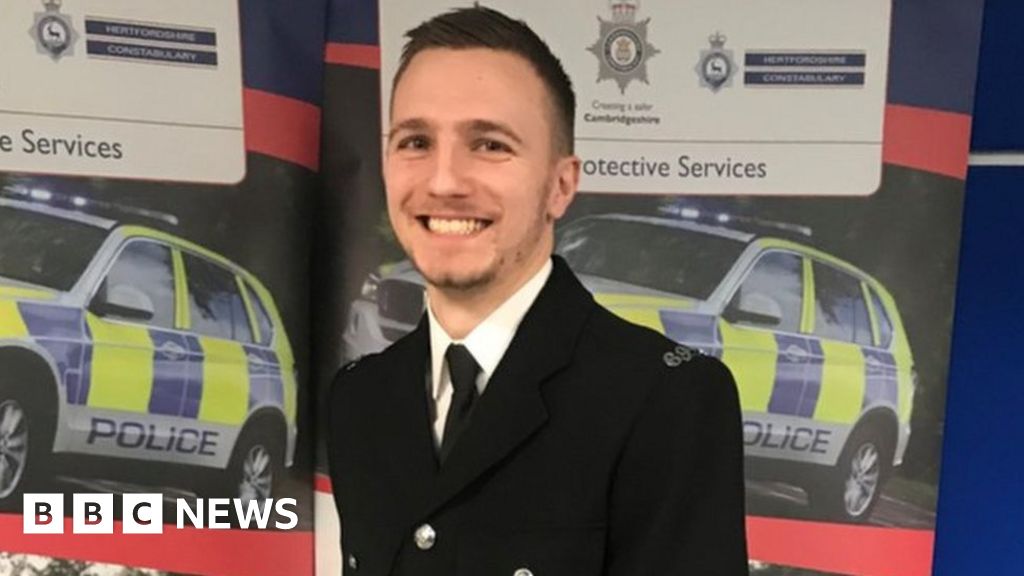 By Alex PopeBBC News, East
image copyrightBedfordshire Police
image captionPC Ben Gates was trapped in a burning car with a colleague
A police officer who thought his "time was up" when he became trapped in a burning patrol car is celebrating his return to full-time work.
PC Ben Gates received 12 fractured ribs, a cracked sternum, a shattered vertebrae and five fractures to his right leg after crashing on the A1(M) in Hertfordshire in June 2019.
Since then he has undergone extensive rehabilitation and had two operations.
"Nobody thought I would ever return to work," said the 27-year-old.
"My goal was always to get back to front-line policing and especially roads policing. I'm excited."
image captionLucy, Ben's fiancé, has been there for him "at the drop of a hat", he said
Mr Gates was on duty with PC Craig Butler for the Beds, Cambs and Herts (BCH) Roads Policing Unit when they were called to a crash on the A1(M), at 22:00 BST on 10 June 2019.
There had been "torrential rain" and there was a lot of surface water on the roads, he said.
Just past junction seven southbound near Stevenage, the patrol car, driven by Mr Butler, left the road and "collided with probably the largest tree on the A1 we could find, at 63 miles per hour".
It went into the air, rotated and came to rest on the driver's side, he said.
He realised he had fractured his left leg, but managed to drag himself to the rear of the car.
Both officers were assessing how to get out when it ignited.
image captionTwo days after the crash PC Ben Gates underwent a five-hour operation in hospital
"I smashed a window with my fist and I told my colleague to exit the vehicle first, not just because he was in a better shape than me, but he's got a wife and a child at home, so my consideration was, 'Let's get him to safety first and I'll worry about me afterwards.'"
Mr Butler managed to get out, but smoke started to fill the car. "At that point, I thought my time was up," he said.
Two passers-by travelling on the other carriageway witnessed the crash and helped rescue him.
"The gentlemen said he looked into the vehicle and expected to see one of us deceased.
"And then it all kind of started to sink – we've got a long road ahead," said Mr Gates, from Bedfordshire.
image captionSarah Kinsella, Ben's "brilliant physio", has helped him through his recovery
The initial prognosis to his injuries and being able to return to work was "pretty bleak", he said.
But after extensive physical and mental therapy and ongoing support from his family and "work family", he was declared fit for full-time active duty once more, as a road traffic officer starting on Saturday.
He shared his recovery on Twitter to 2,600 followers, to show the "ups and downs".
Mr Gates said he had been unable to thank the two people that saved his life in person, but he hoped to do that soon.
image captionBen said being a keen angler helped his mental and physical recovery
Bedfordshire's assistant chief constable Jackie Sebire, said: "I have a lot of praise and admiration for Ben and his determination to come back to work.
"Speaking with him and watching his journey through Twitter, I know it has not been easy at all.
"He is welcomed back to work by us all."
Find BBC News: East of England on Facebook, Instagram and Twitter. If you have a story suggestion email [email protected]
The BBC is not responsible for the content of external sites.