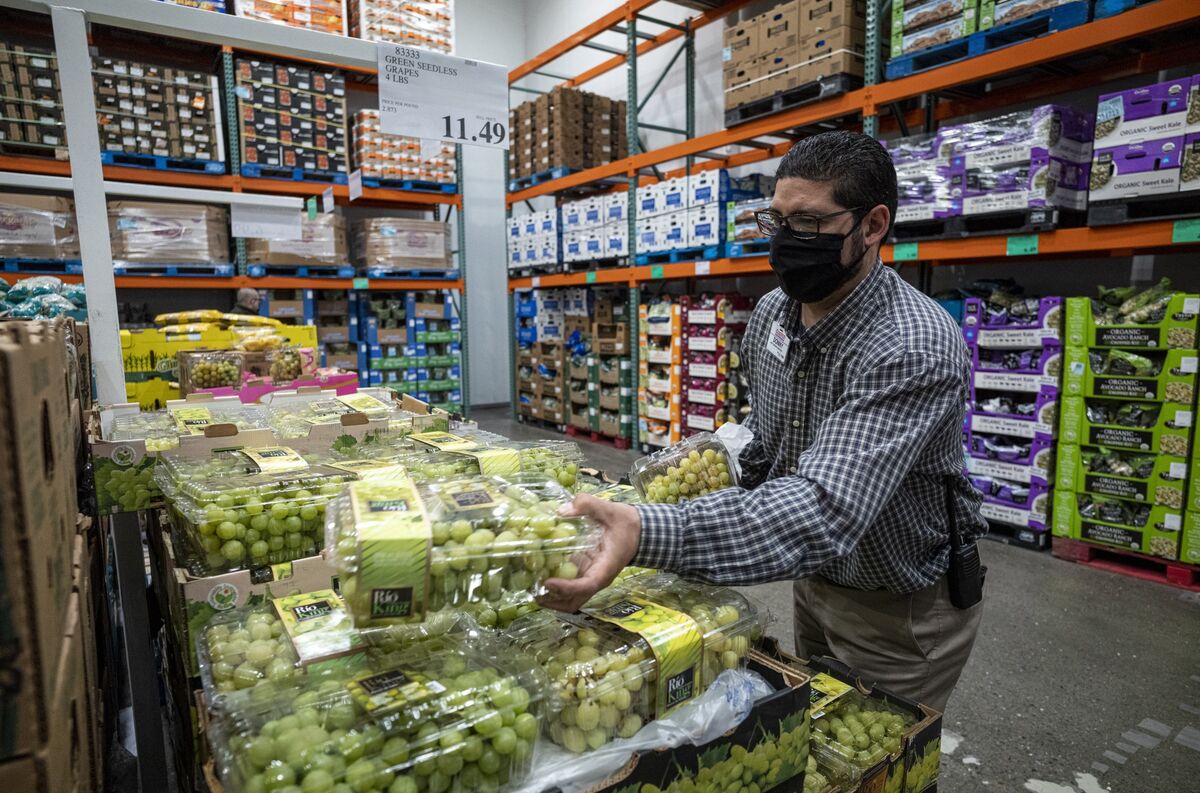 Grape lovers in North America and beyond may have a tough time finding their favorite fruit over the next few months.
Heavy and unusual downpours in late January devastated unharvested grapes in Chile, the worlds No. 1 exporter.
The deluge left as much as 40%, or 400 million pounds, of Chiles crop unusable due to damage such as mold, according to grape expert John Pandol.
Its still too early to see a huge impact on retail prices, with some varieties in the U.S. now fetching about 5% more than they were this time last year, government data show.
A move in wholesale markets, though, indicates bigger price tags may be in store soon for consumers. The average wholesale price of grapes shipped from Chile into the U.S. last week was roughly 30% higher than a year earlier.
A spike in retail grape costs would be just the latest marker of food inflation. Grocery bills are going higher across the globe with supply chains still snarled from the pandemic and as more extreme weather threatens farm production.
Grape Nuts
Heres a deep dive into terminology for all the fruit nerds out there. Table grapes is the name given to the varieties you eat  at the table (or while sitting on the couch). They come in red and white, though in the U.S. the white fruit are often known as green grapes. Those lighter ones were the hardest hit by the rains.
Nervous wine drinkers need not worry. The varietals crushed to make the good stuff are a whole different thing and seem pretty safe for now thanks to being further along into the Chilean harvest season.
But green table grapes could be in short supply.
The U.S. and Canada wouldve normally snapped up about half the Chilean grapes that were lost to the rains, equaling as much as 10% of annual consumption, said Pandol, the special projects director of California-based Pandol Bros., a grower, importer and exporter of grapes and other produce.
Prices will continue to go up as supply dwindles, said Mike Asdoorian, co-owner of DLJ Produce in California.
Shortages could hit American grocery stores later this month and last into May, especially for the green grapes, which are less resilient to inclement weather than the red ones.
Grapes dont like rain, said David Magana, a senior horticultural analyst for Rabobank. The fruit splits.
Thankfully relief will come when Mexicos production kicks off and the nation starts exporting, likely in late May, according to Magana.
In the meantime, citrus fruits and strawberries will be among the biggest winners from grape-gate, Pandol said.
Fruit consumption tends to be impulsive with the exception of bananas, Pandol said. People go with whats on sale or what looks good.
Kim Chipman in Chicago
Charted Territory
Sembrando Vida, or Sowing Life, is Mexican President AMLOs flagship environmental project  a $3.4 billion tree-planting plan. It pays farmers to plant trees for fruit or timber on small plots of land. Locals, however, say that the system incentivizes farmers to clear land of jungle in preparation for planting.
Todays Must Reads
Ghostburgers | One of the few areas of growth in the hard-hit restaurant industry has been ghost kitchens. The delivery-only model is projected to reach $1 trillion worldwide by 2030.
Fire it up | Brazilian beef producer Marfrig Global Foods sees Americans eating more meat this year amid a rebound in the U.S. economy.
Job openings | Malaysia is taking the hunt for palm oil workers online as the worlds second-biggest producer struggles to ease an acute labor shortage thats costing farmers billions of dollars in unharvested fruit.
Pig problems | African swine fever is re-emerging in Asia, threatening to upend efforts to replenish national herds after the virus killed tens of millions of pigs in the region and created a huge shortage of meat protein.
Strawberry fields | Plump, shiny and priced at an eye-popping $10 each, premium strawberries are helping one Japanese town to recover from the effects of the Tohoku earthquake and tsunami, which destroyed almost all of its agriculture a decade ago.
On the Bloomberg Terminal
Soups on | Supply constraints will remain one of the biggest headwinds for Campbells top-line growth in fiscal 2H, exacerbating challenging comparisons, according to Bloomberg Intelligence.
Planting party | Soybean and corn prices may sustain eight-year highs in 2H even if U.S. farmers plant record amounts of the crops, as their intended acreage might not materialize, according to Bloomberg Intelligence.
Use the AHOY function to track global commodities trade flows.
Click HERE for automated stories about supply chains.
See BNEF for BloombergNEFs analysis of clean energy, advanced transport, digital industry, innovative materials, and commodities.
Click VRUS on the terminal for news and data on the coronavirus and here for maps and charts.
Like Supply Lines?
Dont keep it to yourself. Colleagues and friends can sign up here. We also publish Balance of Power, a daily briefing on the latest in global politics.
For even more: Follow @economics on Twitter and subscribe to Bloomberg.com for unlimited access to trusted, data-driven journalism and gain expert analysis from exclusive subscriber-only newsletters.
How are we doing? We want to hear what you think about this newsletter. Let our trade tsar know.
With assistance by James Attwood