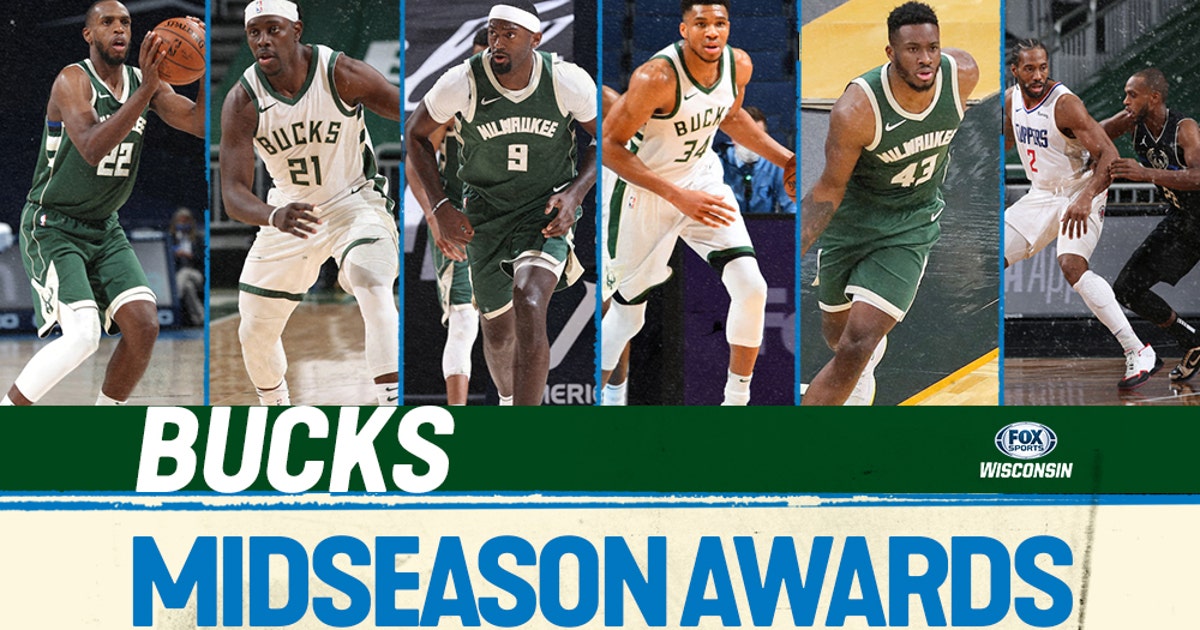 Weve reached the All-Star break of the 2020-21 season. Here are FOX Sports Wisconsins picks for the top Milwaukee Bucks players from the NBAs first half.
Most Valuable Player: Giannis Antetokounmpo
Giannis needs his own category or else he could easily be in both of the two directly listed below. Antetokounmpo remains of the leagues best players (not that this is news, as hes coming off back-to-back NBA MVPs). Hes averaging 29.0 points, 11.7 rebounds, 5.9 assists, 1.4 blocks and 1.3 steals per game while shooting 55.7% from the field. He leads the Bucks in both rebound percentage (17.9%) and assist percentage (28.2%). We could go over numerous regular and advanced stats, but lets face it hes The Man for Milwaukee and the key to the teams success.
Most Valuable Player: Offense Khris Middleton
Middleton is raked over the coals by a certain segment of the social media fanbase, but hes having another standout season which is (as usual) overshadowed by his MVP teammate. Middleton is averaging 20.6 points, 6.1 rebounds and 5.7 assists the latter would be a career high by nearly one-and-a-half assists while flirting with a 50-40-90 again, shooting 49.5% from the field, 43.2% from 3 and 88.4% from the line. According to basketball-reference, Middleton actually has a higher Offensive Rating than Antetokounmpo (120 to 119).
Most Valuable Player: Defense Jrue Holiday
Holiday came to the Bucks with a reputation of being a very good defensive player. He has not disappointed. Holiday is second on the team in defensive Win Shares (per NBA.com) with an 0.116 (Giannis leads with 0.133) and defensive box plus/minus (via basketball-reference) at 0.9 (Giannis is first with a 2.4). He ranks second in the NBA with 1.8 steals per game and fourth in steal percentage (2.8%). Look no further than his late-game steal which led to his go-ahead basket with two seconds remaining as Milwaukee won at Memphis on March 4, the final game before the break.
Sixth Man: Bobby Portis
Portis is one of five players to have played in all 36 games for Milwaukee and hes started just two of them. The 6-foot-11 forward is averaging just 21.6 minutes per game but hes making the most of his time. Shooting 54.6% from the field and an incredible 50.0% from behind the arc both of which would be career highs Portis is averaging 10.9 points and 7.1 rebounds per game. His per 36-minute averages are 18.2 points and 11.8 rebounds, the latter of which is a personal best (as are his 1.4 steals and 0.7 blocks per 36 averages). Portis has a 9.3 offensive rebounding percentage only Thanasis Antetokounmpo (12.3%) and Torrey Craig (7.2%) are with three percentage points of him on the Bucks, and both those players have limited minutes. His 24.7 defensive rebounding percentage and 17.2 total rebounding percentage are second on the team behind just Giannis (29.5%, 17.9%). Portis is also second on the team in Win Shares per 48 minutes, at .175 (Giannis, .233, leads). Hes definitely making the most out of his minutes.
Most Improved: Thanasis Antetokounmpo
Whatever you might think of why Thanasis was signed by the Bucks before the 2019-20 season, hes helped wipe away any doubts as to belonging on the team. Hes become a productive bench player this year and is seeing quality minutes in close games. Last season, for example, Antetokounmpo played in 20 games but had four or more minutes of court time just 10 times. Every game but one he played in the Bucks either won or lost by double figures, and in the one he entered with Milwaukee up 14 with 2:10 left and won by nine. This season, hes been in 26 games all but two of which hes played 4+ minutes (and 10 with 10+) and, as mentioned, is not just playing in blowouts. Hes not going to compile the big stats, but hes a high-energy player who is making 70.6% of his 2-point attempts. For what its worth, Milwaukee is 4-8 when Thanasis doesnt play or in those two games when he played under one minute.
Best Moment: Milwaukees 105-100 win over the Los Angeles Clippers
There have been plenty of good victories and great individual performances in the first half. The victory over the Clippers on Feb. 28 was hardly the prettiest, but it might have been the best of the pre-break schedule. L.A. is one of the best teams in the NBA and Milwaukee was able to outlast the Clippers despite not playing all that well. The Bucks shot just 44.7% from the field, 31.6% from 3 and 77.3% from the line, were outrebounded on both ends and had more turnovers, but yet still was able to emerge with a win.  Thats what made this the best moment a win over a great team while not playing your best. Thats what special teams can do.