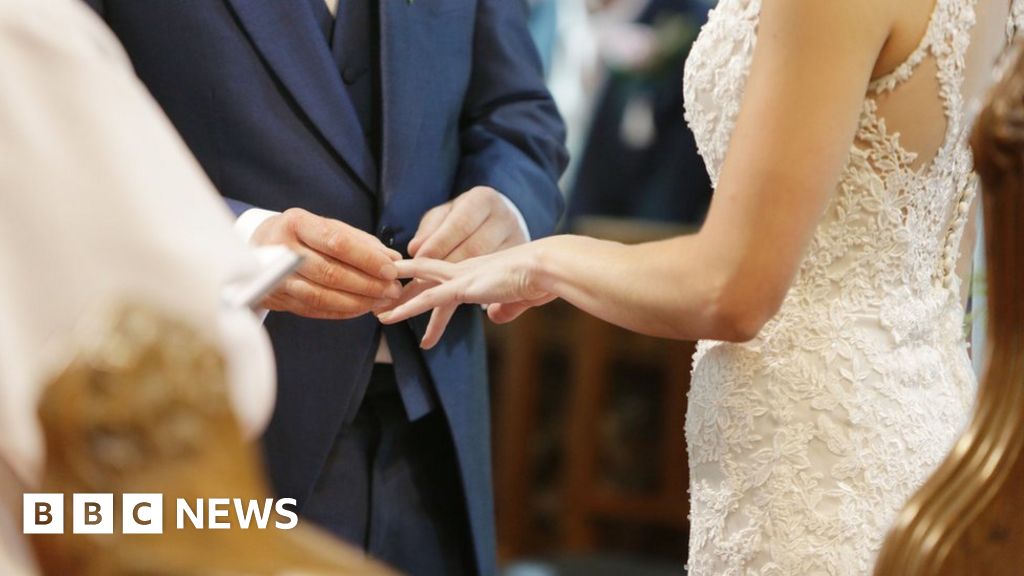 image copyrightGetty Images
image captionThe rules across most of Scotland mean that only five people – including the couple – can attend a wedding ceremony
Scotland's wedding industry is calling for 50 guests to be allowed to attend ceremonies from the end of March.
The Scottish Wedding Alliance (SWA) also said it was "safe" to move to 20 guests immediately.
Currently only five people can attend weddings in most of Scotland. The alliance said the restrictions were "crippling" the industry.
The Scottish government said "more substantial" changes to restrictions could be possible in the weeks ahead.
The SWA has asked the Scottish government for more clarity over the next stages of opening so they can get back to business – and to help "stressed and anxious" couples who are not sure when they will be able to get married.
Chairman of the group, Duncan McConchie, said the sector had not really been able to operate properly since last March.
"It has been a crippling year for the whole industry. Obviously weddings are a human right, so even during the toughest lockdown, weddings could go on for four people… but in general our industry has not really operated since 23 March last year," he told BBC Radio Scotland's Drivetime programme.
"We are a honeypot industry. The venue takes a booking and then you have associated services that go along with that. We have lost so many.
"The Scottish Wedding Industry fund launched at the end of January, which helped businesses – photographers, videographers who had gone on universal credit – but hope for the year ahead lies entirely in the hands of the first minister and public health and what they announce next week."
image copyrightGetty Images
image captionThe industry wants the number of guests allowed to be increased to 50 at the end of March
Mr McConchie said he believed it was safe for restrictions to be eased to allow 20 people to attend wedding ceremonies immediately, with that number increasing to 50 at the end of March, in line with the number who will be allowed at church services.
He added: "We need 50 to make money. We have conducted a survey of 4,367 couples who are getting married this year and the majority will continue with their wedding if we can get 50 people [attending].
"That would be a happy balance, where we become self-sustaining. We don't make a profit, but it gets us out of relying on handouts from the government, which as an industry has been so demoralising."
Makeup artist business owner, Laura Gray, told BBC Scotland that many of her clients were now planning a September wedding while they wait for further information on ceremony size limits.
She said: "The problem is, couples are all wanting the same dates now, many thinking September will be safe, but if everyone wants September then there's no way we can possibly do that."
Ms Gray said she had never had so many cancellations in 20 years of working in the sector.
"Forecasting the future, when weddings are disappearing left, right and centre, I had to make the decision to sell my house," she said.
"I bought it by myself, funded it by myself. Emotionally its not good, mentally it's not good. I feel really emotional about it all."
Figures from the National Records of Scotland show weddings in 2020 declined by more than 50% compared with 2019, with 11,986 marriages registered.
There were 26,008 registered in 2019.
Bride-to-be Nicole Dempster told BBC Scotland she had a wedding booked for July, but said she was having to make difficult decisions to get the number of guests below 50.
"I think for us it's taken a lot of the joy, fun and excitement out of what should be a happy time. We are having to think, if we can have five guests, who do we cut, if we get 20, who do we leave out," she said.
"We don't have any guidance yet, we need it. It should be the happiest day of your life, it feels like it's been robbed a little bit from us."
image copyrightNicole Dempster
image captionNicole Dempster, who got engaged before the pandemic, said it was hard to make decisions about who could and could not come to the ceremony
The Scottish government said in a statement: "We completely understand how devastating the pandemic has been on Scotland's wedding sector but we are at a critical point in suppressing the virus and everyone must play their part in stopping its spread.
"However, as the first minister outlined yesterday, we expect that further more substantial changes to the public health restrictions currently in place will be possible in the weeks ahead if progress continues.
"More detail will be set out next week and if the data allows us to relax more restrictions more quickly than we have previously indicated, we will not hesitate to do that."