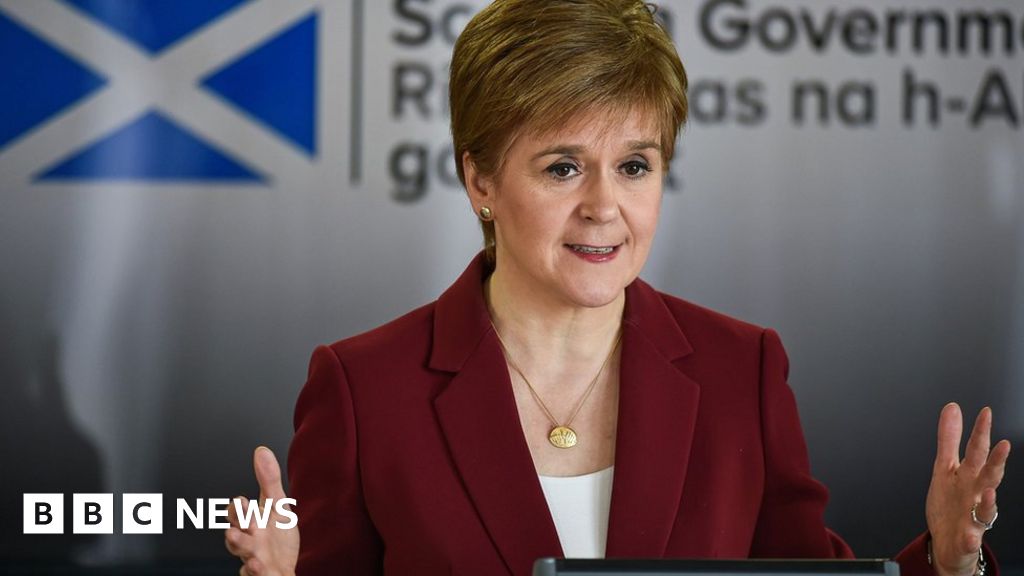 image copyrightGetty Images
The BBC has said it plans to continue broadcasting Scottish government Covid briefings during the Holyrood election campaign.
The Scottish Conservatives have accused First Minister Nicola Sturgeon of using the televised briefings to "launch political attacks"
They called on BBC to stop showing them in the run-up to the vote on 6 May.
But the corporation said it wanted to fulfil its commitment to provide key public health information.
The BBC says it will be "adapting" its coverage of briefings in Scotland during the election campaign. A similar approach is being adopted in Wales.
It is planned that from 24 March:
Live briefings will only be broadcast on BBC One in Scotland when it is expected that "major new information" will be shared – such as a formal review of restrictions
If a UK government briefing is broadcast live on BBC One in Scotland, there will be additional coverage so Scottish parties can respond
The BBC will consider the significance of the public health information which is expected to be discussed, and requirements on impartiality, when deciding whether to broadcast other government briefings. It is expected that these briefings would be shown on BBC Scotland or the BBC News Channel
If a live briefing is led by a Scottish government minister, members of the other main parties will be invited to contribute to the coverage
Special Ofcom rules for broadcasters around impartiality take effect in the lead up to elections in the UK.
The Scottish Conservatives say the televised Covid briefings during this period will be "exploited" by the SNP to gain votes.
The party's leader, Douglas Ross, said: "We have argued for months that public health officials could and should lead these briefings to deliver essential public health messages without SNP ministers using Covid-19 for political point scoring.
"The shameful decision to let the SNP continue these briefings will have deeply damaging consequences for democracy in Scotland."
Opposition MSPs have expressed concerns that Ms Sturgeon's regular appearance on the televised briefings could give her an advantage in the election campaign.
The first minister told Holyrood's Covid-19 committee on Wednesday that she would not front all daily briefings during the election period.
"It will not be business as normal during the election campaign but we will still be in a crisis and therefore we need to make sure we are serving the public appropriately," she said.
She said she would "undoubtedly not" be doing daily briefings, but added: "If there are big decisions that we are having to make during the election period, then I have a duty to communicate to the public what they are."
In a statement, the BBC said: "Our aim is to ensure that our commitment to providing key public health information to our audiences continues to be fulfilled.
"In all cases, our editorial decisions will be based on two considerations: the significance of the public health information to be discussed at the briefing, and the requirement for the BBC to exercise due impartiality during the election period."