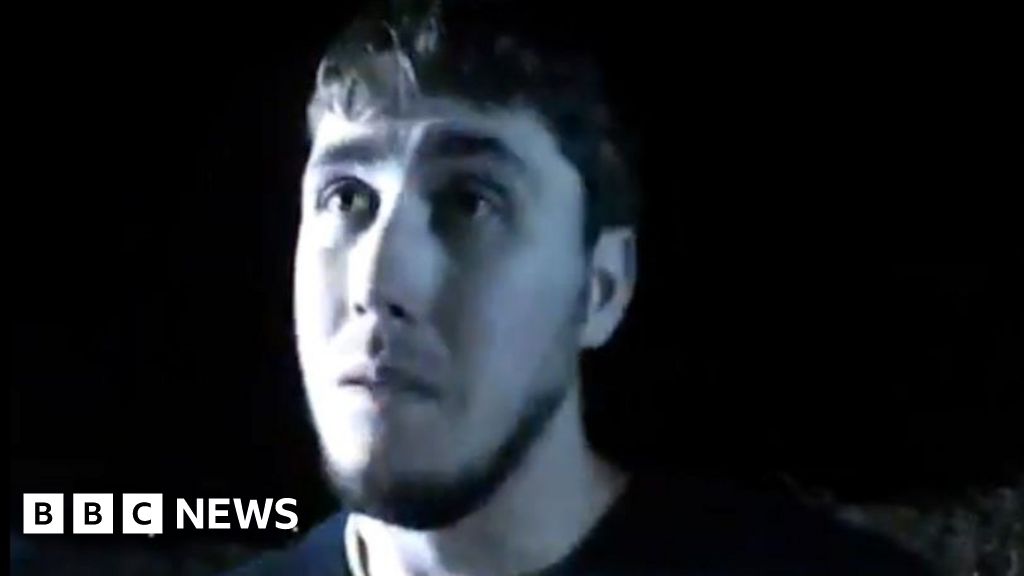 media captionMatthew Topham tells a policeman he is "gutted" in crash scene bodycam footage
A lottery winner who caused a fatal Christmas Day crash when he took his eyes off the road to find his young son's teddy bear has been spared jail.
Matthew Topham, 31, who claimed a £45m jackpot in 2012, said he had been distracted by a "piercing scream".
A jury at Lincoln Crown Court cleared him of causing death by dangerous driving. He had admitted a lesser careless driving charge before trial.
The judge in the case said Topham now had "the burden of taking a life".
Sentencing him to 16 weeks in jail, suspended for two years, Catarina Sjolin Knight said the EuroMillions winner had made an "avoidable decision".
image captionMatthew Topham posed with his partner as he celebrated the record EuroMillions win in 2012
During the trial, the court heard Topham, who was returning from visiting his wife's family, had veered into another car's path while distracted.
His BMW crashed head-on into an oncoming Ford Fiesta at North Cockerington, Lincolnshire, on 25 December 2019.
The Ford's front seat passenger, Mary Jane Regler, 75, was killed while husband Rodney Regler, 77, who was driving, survived but was seriously injured.
Topham told the court his son's scream was like "the sound of a burglar alarm going off" and he had instinctively looked away from the road.
"I honestly don't believe I thought about what I was about to do," he said.
"If I could take it back I would, but I can't."
Prosecutors argued Topham, who was travelling separately from his wife, should have pulled over to retrieve the toy instead of choosing to "plough on".
In a victim statement read in court, Mr Regler paid tribute to his "beloved" wife, saying: "My life has changed forever."
"I bear the driver no malice, but I will never forgive him for what he has done to me and my family," he said.
Topham, of Swinderby, Lincolnshire, was also cleared of causing serious injury by dangerous driving, but admitted careless driving in relation to causing injury to Mr Regler.
In addition to his sentence, Topham was banned from driving for 12 months and made the subject of a curfew.
Speaking after the hearing, Det Insp Joanna Reeves, of Lincolnshire Police, said the right thing would have been for Topham to find a safe place to pull over.
"He didn't do that and he now lives with the consequences," she said.
Follow BBC East Yorkshire and Lincolnshire on Facebook, Twitter, and Instagram. Send your story ideas to [email protected]
The BBC is not responsible for the content of external sites.