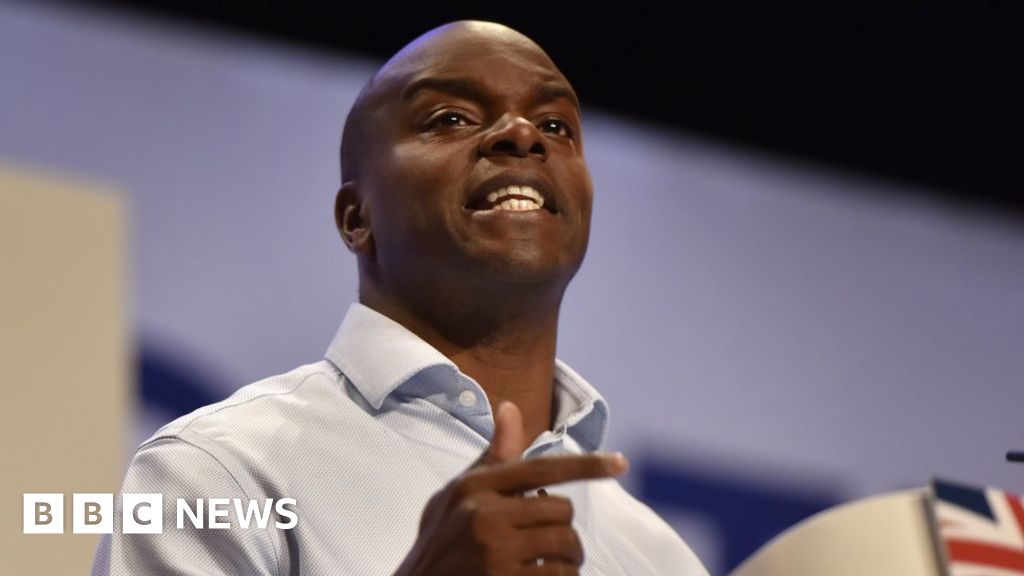 image captionMr Bailey said there are "no-go" areas of London
London mayoral candidate Shaun Bailey has outlined plans to "put pressure on criminals rather than communities" if he were to be elected.
Mr Bailey, a member of the Greater London Authority (GLA) Conservatives, claimed a "crime epidemic" meant there are current "no-go" areas in the city.
He promised 8,000 new police officers and "high-tech scanners" to find concealed knives.
However, Labour said Mr Bailey "cannot be trusted to keep Londoners safe".
The Conservative mayoral candidate was asked during a campaign event, which was held online, how women should alter their behaviour to be safe on the streets.
The question related to the disappearance of Sarah Everard last week as she walked home from Clapham to Brixton.
Mr Bailey said: "What women really need is a safe London, a London where police are around to support them. The streets of London need to be made safe.
"We can't have parts of London that are no-go for women or anybody else. So, the first step is to make sure we get police on the ground to make the area safer, so women don't have to do anything different."
On Wednesday, it was announced that a serving Metropolitan Police officer had been arrested on suspicion of murder in relation to Ms Everard's disappearance.
image copyrightJonathan Brady
image captionJasna Badzak, whose son Sven was stabbed to death, spoke in favour of Mr Bailey
Jasna Badzak, whose son Sven was stabbed to death in Kilburn in February, also spoke at the event.
"We are at the point where one murder each weekend is a good weekend – and we don't have many of those. Sadiq Khan cannot keep us safe," she said. "It sounds harsh but it is not as harsh as the sound of family members crying".
Mr Bailey's 10-point "fresh start" plan also includes previously announced policies, including:
Reopening 38 police front counters and hiring 8,000 extra police officers
Building 100,000 shared ownership homes to be sold for £100,000,
Introducing corporate sponsorship to the Tube network to raise extra revenue
Scrapping the ULEZ extension and plans to charge drivers coming in to London up to £5.50 a day
He said "long-term savings in City Hall's budget" would help fund his scheme for more police.
However, Nick Thomas-Symonds, the shadow home secretary, said Mr Bailey "simply cannot be trusted to keep Londoners safe" and had "stayed silent while the Tory government continues its cuts to our vital public services".
He added: "The election… is a two-horse race between Sadiq Khan, who is standing up for London, and the Tory candidate who simply doesn't share London's values."
The London mayoral and London Assembly elections take place on 6 May.
The BBC is not responsible for the content of external sites.