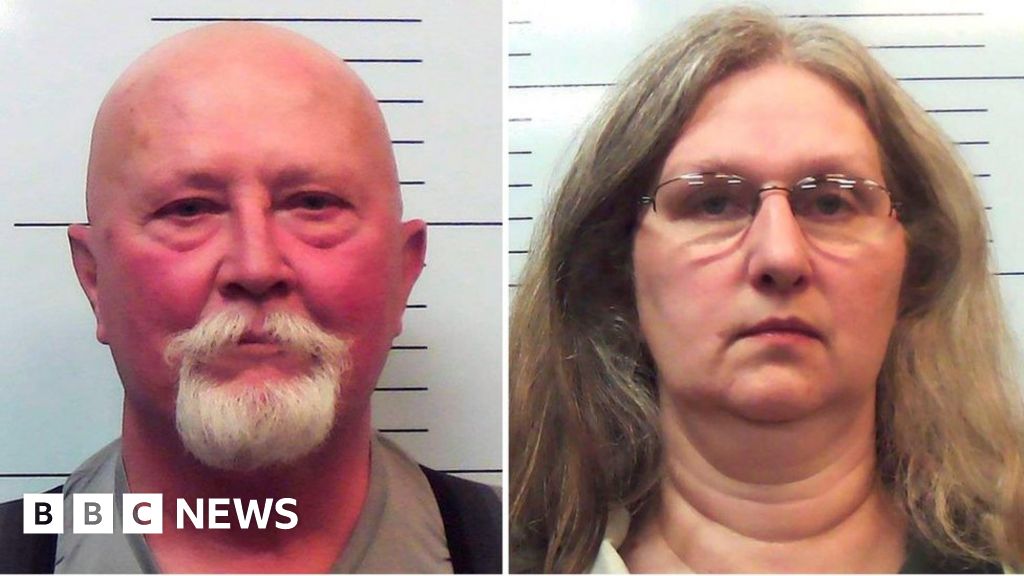 image captionThe couple's estranged daughter has helped expose their alleged abuse of girls at their ranch
The owners of a shuttered religious boarding school in Missouri, USA, are facing dozens of criminal charges after abuse allegations were made on TikTok.
Boyd and Stephanie Householder face more than 100 charges, including dozens relating to child neglect and abuse.
Attorney General Eric Schmitt said the pair perpetrated "horrific, sexual, physical, and mental abuse".
Their daughter, Amanda, has been vocal about exposing alleged abuse at the Circle of Hope Girls' Ranch they ran.
She set up in a TikTok page in 2020 which gave a platform to people voicing allegations about the institution.
After the videos gained prominence, the Cedar County Sheriff's Department opened an investigation and about two dozen girls were removed by state authorities.
The couple then shut the boarding school, which they started in 2006, and placed the property up for sale, according to local reports.
Both pleaded not guilty during their initial court appearance on Wednesday.
Boyd Householder, 71, faces 79 felony charges and one misdemeanour charge.
The charges include accusations of repeated statutory sodomy, statutory rape and sexual student with a student under the age of 17. He also faces 56 charges of abuse or neglect of a child and one count of child molestation.
Allegations of physical abuse by Mr Householder include incidents where he allegedly slapped, hit and struck girls with objects. He is also accused of pushing a victim's face into manure and pouring hot sauce down a victim's throat, among other offences.
The 22 charges against Mrs Householder, 55, do not involve sexual contact, but detail allegations of neglect and abuse and the use of restraints – including placing one victim in a "secluded room with no light or sound for an extensive period of time".
The Missouri Attorney General said officials had identified 16 victims "so far" and described the case as a "one of the most widespread… against young girls and women in Missouri history".
The Attorney General's Office is continually working to identify more victims, but if anyone has information related to abuse that occurred at Circle of Hope Girls Ranch, please contact our office at this number: 573-751-0309. #MOLeghttps://t.co/fpw2fTwmXg
— Attorney General Eric Schmitt (@AGEricSchmitt) March 10, 2021
The BBC is not responsible for the content of external sites.View original tweet on Twitter
More than a dozen former residents of the ranch previously detailed their experiences to NBC's Dateline programme, where they alleged cruel punishments like withholding food and being forced to stand at a wall for hours at time.
The couple previously dismissed allegations in an interview with the Kansas City Star newspaper last year, claiming the alleged victims "were angry and they're bitter" about their lives.
The Circle of Hope Girls' Ranch was an institution in Cedar County, Missouri, which opened in 2006.
On a now deleted website, the school said it aimed to "help young ladies who were destroying their lives through poor choices and behaviours and change their future".
It also claimed the Bible and religious teaching was central to its reform programme.
Mounting allegations about Circle of Hope and another institution for boys have prompted calls to close legal loopholes that allow no oversight to some faith-based and private schools in Missouri.
Amanda Householder, daughter of the owners of Circle of Hope Girls Ranch, urges MO lawmakers to start regulating religious reform schools. I was a child of parents that were supposed to help kids, but they were abusing them. pic.twitter.com/RJXKy1jHIP
— Judy Thomas (@judylthomas) February 10, 2021
The BBC is not responsible for the content of external sites.View original tweet on Twitter
Allegations of abuse at reform schools across the US gained prominence last year when celebrity Paris Hilton went public about the alleged abuse she suffered at one as a teenager in a YouTube documentary.
Both she and Amanda Householder have offered their support to Breaking Code Silence campaign – an initiative aimed at exposing abuses and lack of oversight within the so-called "troubled teens" industry.
Ms Householder responded to the news of her parent's arrest in a Wednesday TikTok, saying she was OK, but "overwhelmed" at the news.
"This is a moment that does deserve to be celebrated," she said. "I am sad because they are my parents, but something my parents would always tell me is: 'You made your bed, now you have to lie in it'.
"Well, my parents made their bed and now they're going to have to lie in it. As hard as that is for me, it's about time."
media captionTessica Brown became known as "Gorilla Glue girl" after using an extra strong brand of glue in her hair