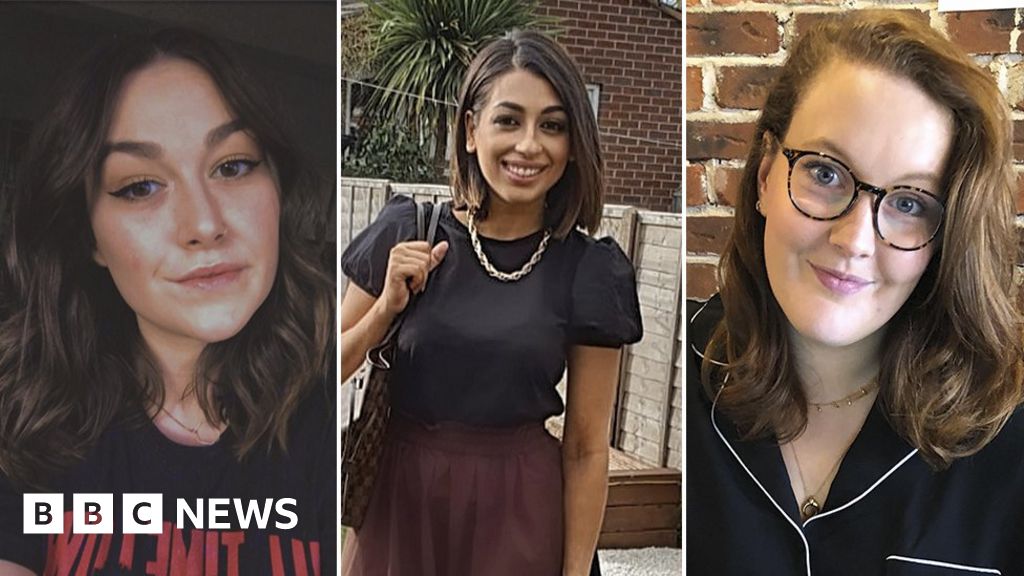 image copyrightContributor photos
Women "will be worried and may well be feeling scared" after the disappearance of Sarah Everard, the head of the Metropolitan Police Cressida Dick has said.
On social media, in WhatsApp groups and in Zoom calls across the country, women have been talking about the case of the 33-year-old, who went missing in Clapham, south London, on 3 March.
And some are sharing their anger, frustration and fear online – reflecting each others' experiences of walking alone on the streets.
image captionSarah Everard walked down a busy main road in Clapham before she disappeared
"I learned from a very young age that I would have to change my behaviour in order to keep myself safe," Grace tells Radio 1 Newsbeat.
"We're seeing a lot of women coming out and saying, 'we're tired of this, we're sick of this'.
"We're also kind of sick of the fact that this is a shock to men.
"This has been my reality, since I was about 14 years old, walking down the road in a school uniform and being harassed by passers-by."
Grace says she never goes out without telling a friend to text her when they get home, or vice versa.
"If you don't, they'll follow up with you, and they'll make sure that you're safe. Because we have learned nobody is going to protect us."
image copyrightContributor photo
image captionGrace is 31 and says she's been "walking down the road and holding keys in your hand" for 18 years now
Grace used to live in Clapham, close to where Sarah Everard was last seen.
"She could have been me, she could have been any of my friends," she says.
She plans to go to a vigil planned on Saturday at Clapham Common.
"For me, it's not only a vigil, it's a space for us to just come together. This has hurt us, as young women.
"So I think it's important for us to gather, to acknowledge how that feels for us. And obviously, as a result pay tribute to her."
Daisy lives five minutes' walk from the last place Sarah Everard was seen. She moved to the area a few months ago and also plans to go to the vigil on Saturday.
She remembers seeing the missing person posters around the streets last week.
"I'm really shocked at myself actually, how I didn't initially see the missing posters and take it seriously. I think maybe I've been desensitised to it."
She says she's used to taking precautions if walking somewhere alone, especially at night.
"If I feel that someone's following me I turn around and look at their face, or maybe stop to take a phone call – I've faked phone calls before."
image copyrightContributor photo
image captionDaisy, 26, only moved to the area in the last few months from her parents' in Kent
Some men are asking on social media what they can do to help women feel safe if they're walking alone.
Most of the replies centre around giving women space on the street if you walk behind them or past them.
But some people are also very keen to point out that it's a tiny minority of men who are attackers – using the hashtag #NotAllMen.
"The issue with the argument is that women can't win," says Daisy.
"They want women to not treat all men as potential attackers, but then we also are asked to keep ourselves safe.
"Keeping ourselves safe means that we have to see everyone as potential attackers, because if we were to say, 'OK, not all men, we will treat everyone as innocent until proven guilty', that's when these things happen.
"And that's when people say, she should have been more careful.
"So it's really tough, because I think it's an attitude that's really built into society."
Shy can remember a few instances when she has felt scared walking in public on her own.
Two days ago, for example, on a lunchtime walk.
"I went past a couple of guys and I had my headphones on.
"I heard them make comments and I heard them say something like, 'oi, come over here.' I just ignored it carried on walking.
"And they said it again: 'Come over here, hey, I'm talking to you. I'm talking to you.'
"That is wrong. Because if you're trying to get someone's attention, and she's not acknowledging you, she's ignoring you. You need to back off.
"If this had happened during the evening with headphones in, would someone say to me, 'oh, you shouldn't have your headphones in'? Or that I shouldn't have gone down that road?"
image copyrightContributor photo
image captionShy says being the same age as Sarah – 33 – meant the story hit closer to home
"I want to make something very clear, I'm not saying every man is the problem. I do not think that at all," says Shy.
But, she says, she's already started making precautions for when she can go out more as lockdown restrictions ease.
"I was on the phone to my friend this morning. And we were already googling different apps that we can put on our phone in case of emergencies. We've got an agreement where we will be on the phone to each other anyway."
Shy lives in Birmingham and says the case of Sarah Everard has resonated across the country.
"I travel for work, so I go all over the country pretty much. I don't think it's a London issue. I don't think it's a Birmingham issue. I think it's an overall issue."
Follow Newsbeat on Instagram, Facebook, Twitter and YouTube.
Listen to Newsbeat live at 12:45 and 17:45 weekdays – or listen back here.