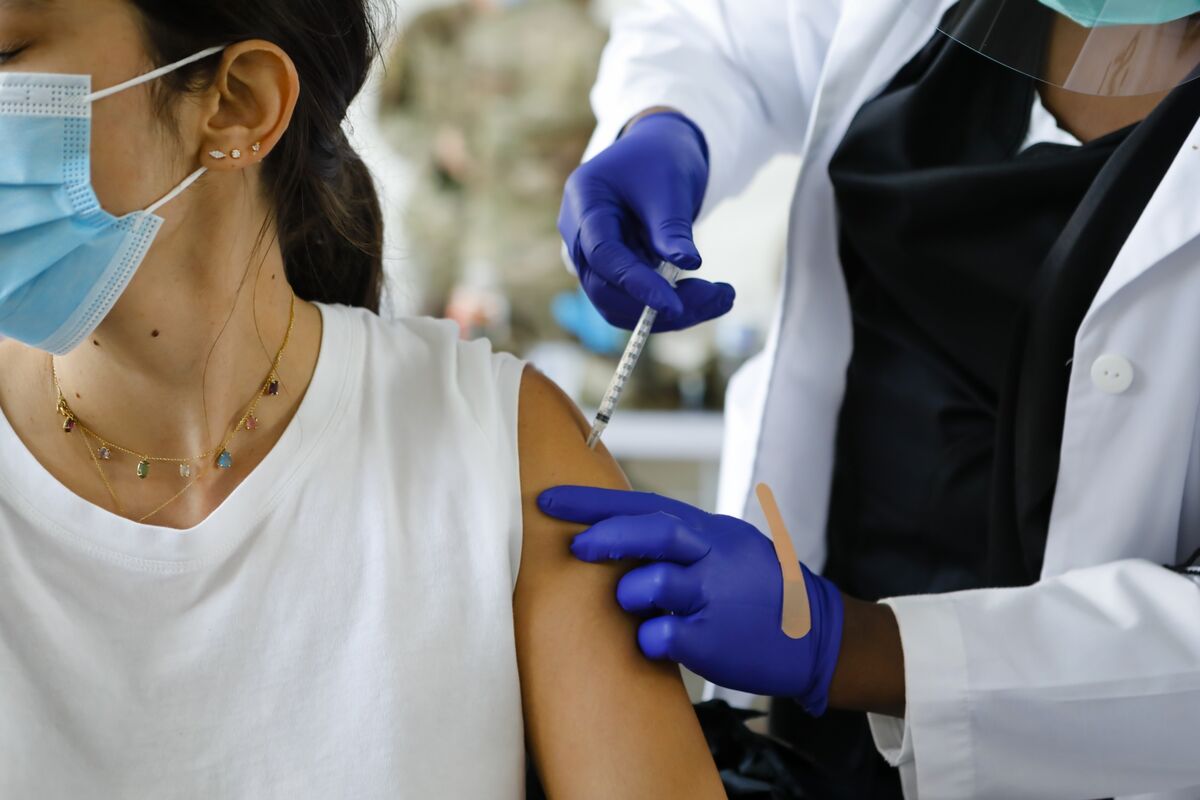 Joe Biden at the White House on March 11. 
Photographer: Doug Mills/The New York Times/Bloomberg
President Joe Biden will announce that he is directing states to make all U.S. adults eligible for coronavirus vaccinations by May 1 in a prime-time address on Thursday, further accelerating the governments effort to end the pandemic.
Biden will say in the speech that if the nation can reach its vaccination goals, it will be possible for Americans to gather in small groups to celebrate July 4, according to senior administration officials who briefed reporters ahead of the presidents remarks.
They asked not to be identified on condition of participation in the briefing.
Biden has previously said the administration expects to have enough vaccine by the end of May to vaccinate all U.S. adults, though officials have warned that actually administering shots will take more time.
Bidens address will mark the one-year anniversary of the World Health Organization declaring the coronavirus outbreak a global pandemic. At about the same time, Americans began to adopt social-distancing practices that would lead to the temporary collapse of the economy, throwing millions out of work.
The president said Wednesday that his speech would outline the next phase of the governments response to the pandemic.
Earlier: Biden Signs $1.9 Trillion Bill, Teeing Up Aid as Soon as Weekend
In addition to setting the May 1 and July 4 vaccination goals, he will announce that his administration will begin distributing vaccines to 700 more community health centers, to reach underprivileged communities, and that it will double the number of retail pharmacies receiving shots directly from the federal government, the officials said.
Some states may already be on track to open eligibility for shots to all adults within weeks, and one — Alaska — already has.
In other new moves, Biden will announce that the federal government by May 1 will open websites that will help Americans locate available vaccines, duplicating services that some states and private groups have already made available.
He will also announce forthcoming guidance from the U.S. Centers for Disease Control and Prevention for vaccinated people, including recommendations on travel, social gatherings, work and religious worship. The guidance will make the benefits of vaccination clear to encourage more Americans to get vaccinated, according to a fact sheet the White House issued.
Biden will announce more federal support for schools to re-open, including efforts to expand screening of students for coronavirus infection, and to encourage teachers and other school staff to be inoculated.
Hell also announce an expansion of government efforts to identify variant strains of the coronavirus circulating in the U.S. using genomic testing.
The president is also expected to laud his signing earlier Thursday of a $1.9 trillion stimulus bill. Eligible Americans can expect to begin receiving government payments of as much as $1,400 as soon as this weekend, White House Press Secretary Jen Psaki said.
The president feels we all need a little hope and something to look forward to, she said on MSNBC.
Thursday is the 50th day of Bidens presidency. Since his inauguration, U.S. vaccination rates have increased from about 900,000 per day to an average 2.2 million as of Thursday, according to the
Bloomberg Vaccine Tracker.
Bidens predecessor, President Donald Trump, addressed the nation from the Oval Office on March 11, 2020, when he announced a travel ban from Europe. But throughout the year, he repeatedly downplayed the severity of the disease. Since his remarks a year ago, more than 29 million Americans have been infected and more than 500,000 people have died of Covid-19 in the U.S.
Help Is Here Tour
Starting on Monday, Biden, Vice President Kamala Harris and their spouses will embark on what the White House calls a Help Is Here tour to promote the new relief bill. Theyll travel the country to tout its benefits, including direct payments to American families and funding for coronavirus vaccines, and they will visit businesses that have been able to stay afloat with government loans.
Thursdays celebration and the subsequent marketing campaign underscore the stakes for Biden and the Democratic Party, who need to show Americans that theyre helping the nation recover from the public health and economic catastrophes they have blamed largely on the Trump administration.
Before it's here, it's on the Bloomberg Terminal.
LEARN MORE