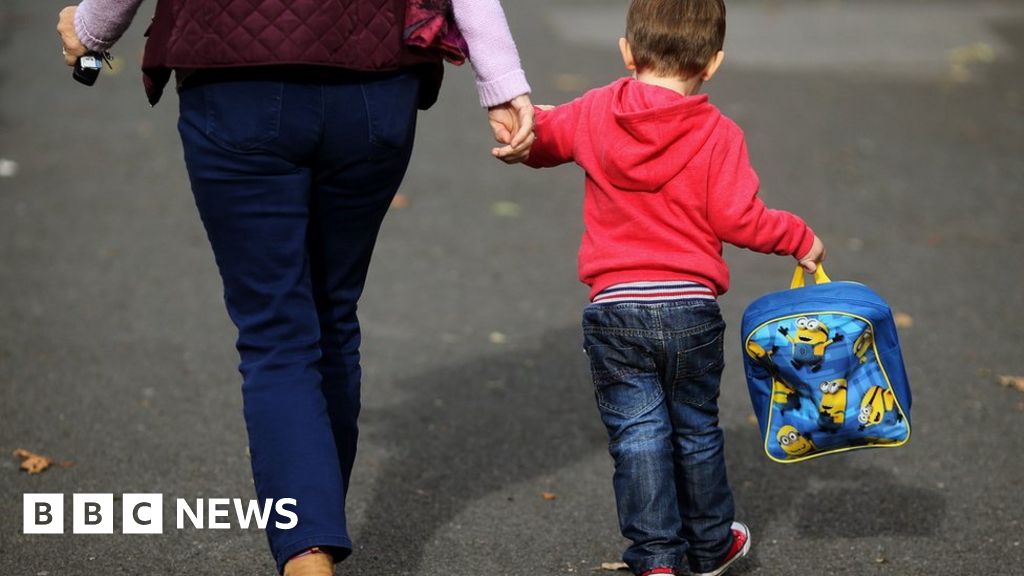 A further extension to the £20 a week Universal Credit top-up payment beyond September is a decision for the chancellor, a minister has said.
Will Quince said he expected the Treasury to look this summer at whether it should be kept in place for longer, based on health and economic data.
The UK was "still very much in the depths of the pandemic", he said.
Opposition parties and anti-poverty campaigners have called for it to be maintained for at least a year.
But ministers have emphasised that the uplift, first introduced in April 2020 and worth more than £1,000 a year, is temporary and would be too costly to keep in place indefinitely.
Universal credit is claimed by more than five and a half million households in the UK and, campaigners say, the top-up has made the difference for some families between getting by and falling further into poverty.
Chancellor Rishi Sunak bowed to pressure in last week's Budget to extend it by six months to the end of September, saying he would do "whatever it takes" to continue supporting the most vulnerable.
But campaigners have warned that the September cut-off represents another "cliff-edge" and it makes no sense to remove the payment in the autumn when unemployment is forecast to rise by 500,000 by the end of the year.
Asked during a parliamentary hearing whether it wouldn't be better to confirm a further six-month extension now, Welfare Delivery Minister Mr Quince said this would be "premature" and doing so would come at a "very significant cost" of about £6bn.
As the vaccination programme "gathered pace", he said the government's focus would begin to turn to helping those laid off during the pandemic to get back into employment.
But he said there were "lots of variables", including the impact of potential new variants on infection levels, and it was right that approaches weren't "set in stone" and the government remained "agile" in its response.
"I think it is right that the chancellor will continue to look at the economic, societal and health picture going forward and be able to take a view in the end of the summer or as we approach the last quarter of this year how best we continue to support some of the lowest-paid, most vulnerable and most disadvantaged."
Asked by Conservative peer Lord Forsyth whether the minister was dropping a hint that the top-up would be extended, he said this was "above his grade".
He added: "We are still very much in the depths of the pandemic. We have, of course, got the road map out and light at the end of the tunnel in terms of the vaccine rollout.
"I hope we will have a strong bounce back in our labour market but, to be frank, we don't know where we are going to be in the third and fourth quarters of this year.
"That is why it is important that we continue to have conversations with the Treasury and the Chancellor based on the health and broader economic outlook."
Dionne Boateng, 31, is single and has no children. She freelances as a researcher and writer for the Young Women's Trust.
"I refused to take a loan because all they do is push people in to a cycle of debt. You'd be paying it back later along the line so personally I refused it and used the little savings I had to get by."
She says it's "good in theory" to focus on creating jobs but "there are not a lot of secure long-term jobs out there. You're lucky to get an interview in the first place and when you do, you find that it is for a six or 12 month contract, not a permanent job.
"This is making a lot of people reluctant to come off universal credit because you'd have to start from scratch when the job runs out. I am looking in to be a work coach but it is not what I want to do as there is no security in it. It is only for a year. I am worried about coming out of the system and having to go through the whole universal credit process again.
"I try to be hopeful. We are coming out of the long, dark winter so I am a bit hopeful but I need to be realistic. I am worried. There is so much focus on 16-25 year olds but what about people like me?"
During his appearance before the Commons Work and Pensions Committee and Lords Economic Affairs Committee, Mr Quince was asked about whether the five-week wait for most people to receive their first Universal Credit payment had forced more and more people to turn to food banks during the pandemic.
He said new research would be published later this year but played down suggestions that replacing the current system of emergency cash advances with an immediate across-the-board starter payment was a "magic bullet".
"One of the biggest problems we find is that people are not making their applications for Universal Credit at the point at which they become eligible but delay until they have exhausted their financial resources and hit crisis.
"I recognise calls for a starter payment of some description. We have explored this. There is no option that is either quick, easy or does not involve huge financial costs and also huge fraud risks.
"If there were, trust me at nearly two years into this job, I would have introduced a change of this nature".