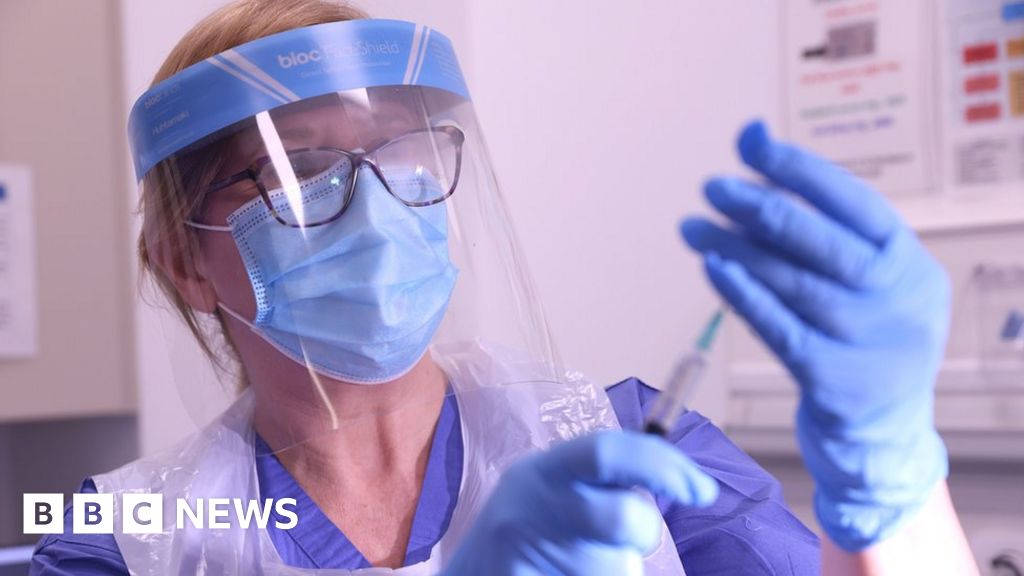 By Jayne McCormackBBC News NI Political Reporter
image captionThe first and deputy first ministers visited the Ulster Hospital vaccination centre on Tuesday
More than 600,000 people in Northern Ireland will have received their first Covid-19 vaccine by Wednesday, Health Minister Robin Swann has said.
He was speaking on a visit to the vaccination centre at the Ulster Hospital in Dundonald with the first and deputy first ministers.
Mr Swann described the rollout so far as a "fantastic achievement".
He said if progress continued at pace it could be possible very soon to widen eligibility to the next age cohort.
On Tuesday, two further Covid-18 deaths were announced by the Department of Health, along with 240 more cases of the virus.
It brings the department's recorded death toll to 2,079.
There are currently 222 Covid patients in NI hospitals, with 32 in intensive care.
First Minister Arlene Foster said she was encouraged that Belfast's SSE Arena would soon open as a mass vaccination centre, and thanked all staff who were involved in the programme.
Deputy First Minister Michelle O'Neill described the vaccine scheme as the "light at the end of the tunnel we've been reaching out for".
"We have to not throw this away and while we're paving the way, people can't be complacent," she added.
On Monday it was announced that Northern Ireland was to receive "significant" amounts of vaccine this week that will need to be used by the end of March.
Two batches of the Oxford-AstraZeneca vaccine are expected.
image copyrightGetty Images
image captionTwo batches of AstraZeneca vaccine expected in NI this week will need to be used by the end of March
Mr Swann said he would not pre-judge the executive meeting on Thursday and when all pupils might return to school.
The first minister said they would consider health advice in conjunction with other harms before reaching a decision on the paper from Education Minister Peter Weir.
Some primary school pupils in P1-P3 returned on Monday for the first time since Christmas.
The plan is that they will then revert to remote learning on 22 March.
Mr Weir has proposed to the executive that this should be scrapped.
Mr Weir argued that plan did not make "enormous sense" and that those year groups should be allowed to continue with face-to-face learning.