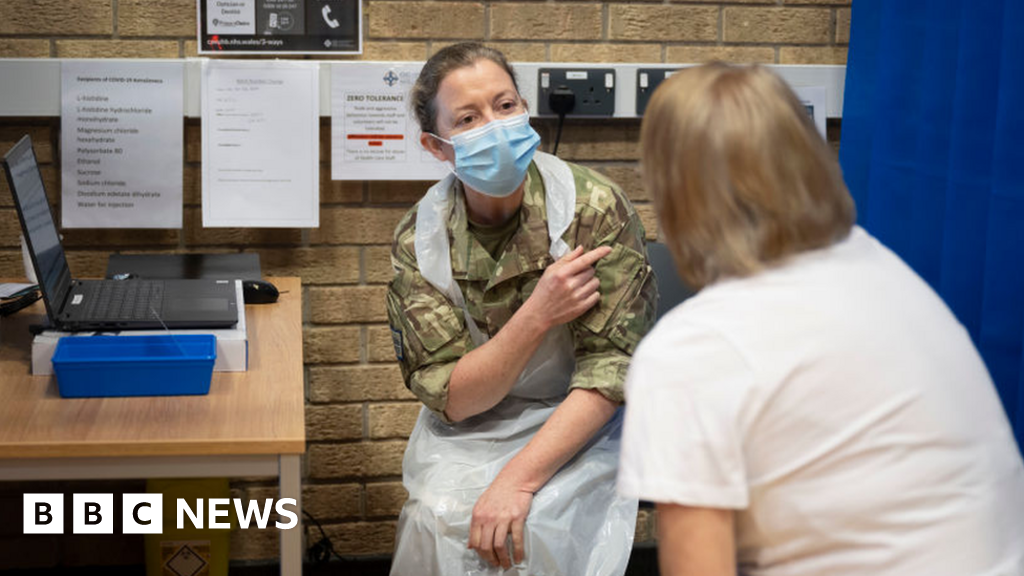 image captionThe vaccine rollout began in Wales in December
More than a million people in Wales have now been given their first dose of a coronavirus vaccine.
Public Health Wales said 1,007,391 people had been vaccinated up to 22:00 GMT on Monday, although it said the true total would be higher.
It means about 40% of the adult population has now had a first dose.
The milestone of a million doses given – rather than individuals vaccinated – was reached on 27 February by including both first and second doses.
People delivering the vaccine – and families grateful to have received it – have been reflecting on the milestone.
image copyrightGwenfair Jones
image captionRetired nurse Gwenfair Jones says she was "proud" after coming out of retirement to help deliver the vaccine
Retired nurse Gwenfair Jones came out of retirement to help out with the vaccination effort, and estimates she has given 1,200 jabs at the Deeside mass vaccination centre.
"I'm just proud to be part of the team," she told BBC Radio Wales Breakfast.
"Everyone who works in these centres are just amazing people – from people like nurses, to the admin staff, to the volunteers who are giving up their hours to be there helping us. It's fantastic team work."
Ms Jones said she had kept all the plastic needle caps of everyone she had vaccinated, which is usually between 60 and 72 people each day.
media captionCovid: Inside one of Wales' mass vaccination centres
But she said it's not always just about getting needles in people's arms – many people are nervous because they "have not been out of their house for months", or are mourning the death of a loved one.
"We have had people who have come from funerals or are going to funerals the next day," she explained.
"They do get very emotional and I do try to spend a little more time with them and have a chat with them, and reassure them really."
Asked if she was happy she came out of retirement, she replied: "If you had told me 12 weeks ago I would be getting up at 06:30 on a Sunday morning to go to work, I would have laughed at you.
"I couldn't just sit at home while I was watching some of my friends struggling in work."
image copyrightFamily photo
image captionSteven with his parents Angelika and Ged in 2017
Angelika Monks, from Anglesey, said it was "absolutely wonderful" when she found out her son Steven could have the vaccine.
Steven has cerebral palsy, severe learning difficulties and a rare form of epilepsy, which means he needs round-the-clock care at a specialist home.
People with mental illnesses which cause functional impairment in Wales joined priority group six for the vaccine after they were previously not given priority.
Ms Monks said she has not been able to see Steven since Christmas Day, when they had to remain 2m apart, but speaks to him daily on video conferencing.
image copyrightFamily photo
image captionAngelika Monks was able to meet Steven in the garden of his home but says he did not understand why she could not come inside
"You have to understand Steven has been in the house every day – he hasn't been to the day centre in a year, he hasn't seen his friends in a year," she said.
"That must be so frustrating for him. We have only been allowed to see him about five times [during the pandemic]."
Ms Monks said that when she was allowed to go and see him, she chose not to because "he wouldn't have understood why I wasn't able to give him a hug."
She added: "At one time he must have thought we had abandoned him."
image copyrightCardiff University
image caption"We are not out of the woods yet," says virologist Dr Richard Stanton
Despite reaching the "phenomenal milestone", we should be cautious about declaring victory too early, according to virologist Dr Richard Stanton, of Cardiff University.
"We have gone from a virus no-one had heard of, to having a third of the population vaccinated in just over a year," Dr Stanton said.
"But there are some caveats with that – there's no doubt that the vaccine will be our way out of the pandemic, but we are not out of the woods yet."
Dr Stanton said two-thirds of the population were yet to be vaccinated, and we would need between 80% and 90% of the population vaccinated before achieving "herd immunity".
He also said a second dose offered the strongest protection, which most people who have been vaccinated had not yet received, adding: "We are a long, long way away."
But Mr Stanton said the fact there were zero further deaths reported on Monday amid falling case rates was "absolutely massive".
media captionIntensive care doctor Ami Jones says it is "difficult" to see the pandemic's end in sight