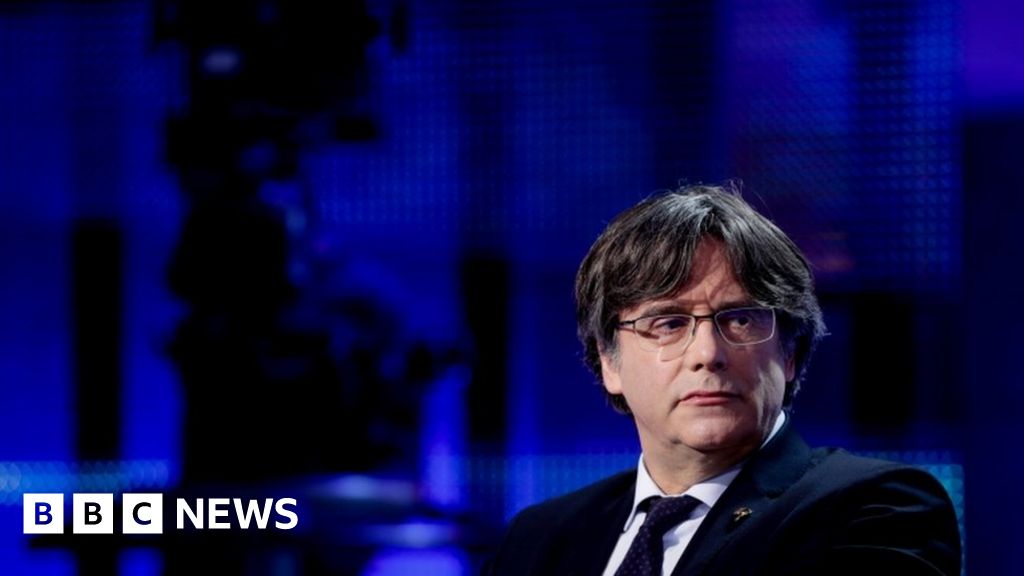 image captionFormer Catalan President Carles Puigdemont (C), Toni Comín (L) and Clara Ponsatí left Spain after the 2017 referendum
The European Parliament has voted to waive the immunity of former Catalan leader Carles Puigdemont and two other Catalan separatist MEPs.
The politicians left Spain in 2017 following a failed independence referendum, which Madrid said was illegal.
The vote left the country facing its deepest political crisis in decades.
The decision could help Spain's bid to extradite the separatists, who have been charged with sedition.
All three reject the charges against them.
In 2019, Spain sentenced nine other Catalan leaders to between nine and 13 years in prison over their role in the independence vote.
On Monday, European lawmakers overwhelmingly voted in favour of stripping immunity from Mr Puigdemont, Toni Comín and Clara Ponsatí, with the results made public on Tuesday morning.
Spain's Foreign Minister Arancha González Laya said the decision showed that "Catalonia's problems are to be resolved in Spain and not in Europe".
Former Catalan President Puigdemont and his two ex-ministers are wanted in Spain on charges of rebellion and misuse of public funds.
Both Mr Puigdemont and Toni Comín have been in self-imposed exile in Belgium since the 2017 referendum and became members of the European Parliament in June 2019.
media captionCatalonia's ex-president on life 'on the run'
Ms Ponsatí, a former education minister in Catalonia, fled to Scotland and has been an MEP since January 2020.
The decision means that Belgium and Scotland will be able to consider Madrid's attempts to extradite the three politicians.
Last month, however, a Belgian court rejected the Spanish government's bid to extradite another former Catalan cabinet member, Lluís Puig, who is wanted for misuse of public funds.
Around 90% of Catalan voters backed independence in the referendum on 1 October 2017, but the turnout was only 43%. There were clashes when Spanish national police tried to prevent people voting.
The ruling separatists in the Catalan parliament declared independence on 27 October, before Madrid suspended the region's autonomy.
The Spanish government sacked the Catalan leaders, dissolved parliament and called a snap regional election two months later, which nationalist parties won.
image captionPro-independence parties are still popular in Catalonia
But separatist parties remain popular in Catalonia, gaining four additional seats in local elections last month.
The recent jailing of a rapper from the region over tweets and lyrics that attacked the monarchy and police also sparked anger, with many protesters calling for the release of Catalonian independence leaders.
Catalonia is a semi-autonomous region in north-eastern Spain with a distinct history dating back almost 1,000 years.
The wealthy region has a population of about 7.5 million, with their own language, parliament, flag and anthem.
Catalonia also has its own police force and controls some of its public services.