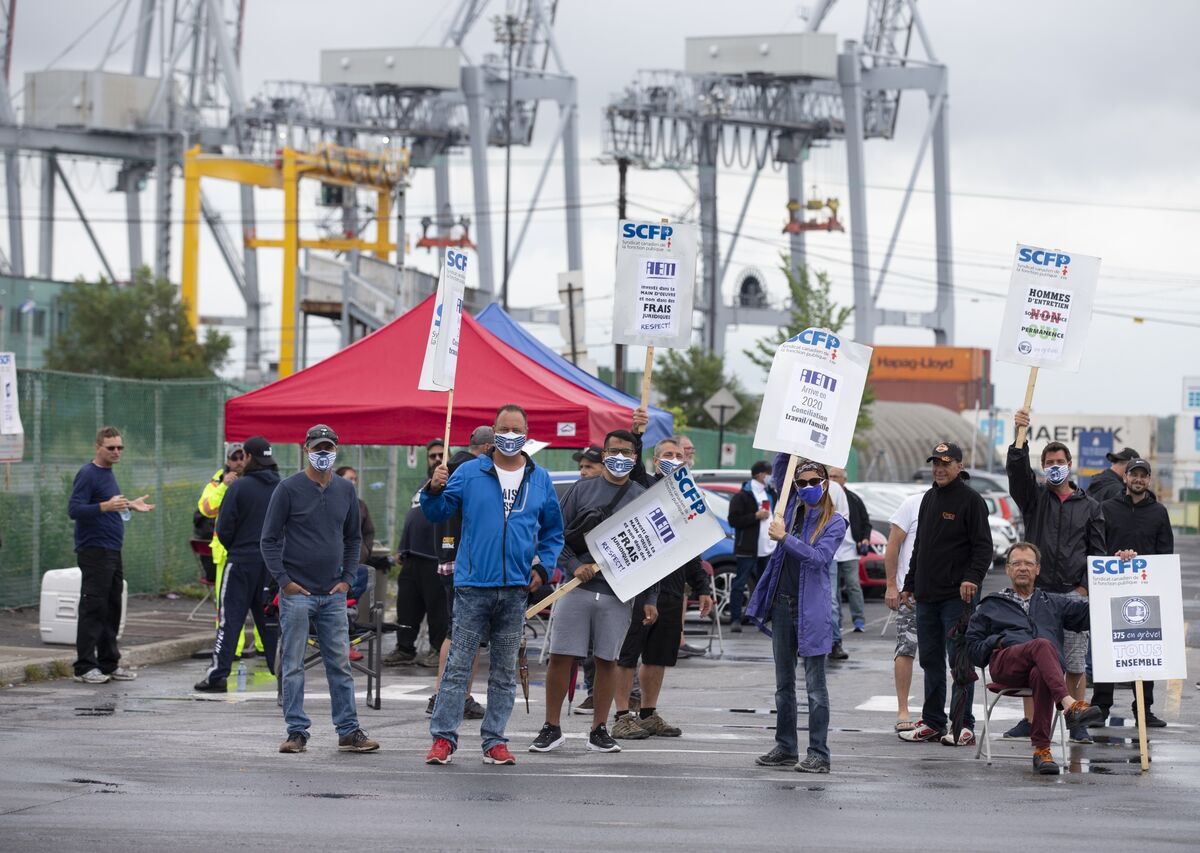 A potential strike by longshoremen at Eastern Canadas biggest port could begin later this month, threatening to further
disrupt shipments already hampered by a global container shortage.
Contract negotiations between the union that represents longshoremen at the Port of Montreal and the Maritime Employers Association, or MEA, has hit a snag. They have been summoned to meetings with mediators March 10, but for now, a truce is in effect until March 21.
If a contract is not settled by then, the longshoremen could strike at a port that data show handled 35 million metric tons of goods and commodities in 2020. The Canadian government has
asked both sides to work toward an agreement, noting it is keenly aware of the central role the Port of Montreal plays in movement of goods to the most populated part of the country.
Several businesses that use Montreals port have already diverted containerized goods to other ports, including some that move critical cargo to combat Covid-19, MEA
stated in February.
Just last year, a series of rotating strikes by dockworkers and checkers at the Port of Montreal caused 21 container ships to divert to other ports, while 80,000 20-foot equivalent units of containers were either grounded or rerouted.
This latest conflict could be a harbinger of what's to come at larger U.S. ports next year, as the pandemic hastens the adoption of automation in other workplaces. A three-year
contract extension for West Coast longshore workers at 29 U.S. ports will expire next year.
Bulk products, such as oil, fertilizers, and iron ore, make up about 63% of the tonnage that passes through the Port of Montreal, where more than 1.6 million containers were handled last year. Many small and medium-sized businesses rely on container shipments for their goods, such as food and textile products.
The importance of dockworkers has been
highlighted recently, as rising Covid-19 infection rates in the U.S. threaten to worsen ship bottlenecks in the twin ports of Los Angeles and Long Beach. Such logjams, which are being seen along North Americas west coast, can negatively impact economies and cause delivery delays.
Hapag-Lloyd, one of the worlds biggest container shipping lines, is encouraging clients to explore alternatives to Montreal ahead of the March 21 truce deadline and is ready to reroute cargo when possible, the company said in an email to customers.
Marcy Nicholson in Calgary 
Charted Territory
Some container shipowners are opting to sell vessels into
a hot market where prices have quadrupled in just the past five years. Such returns on second-hand ships are an extension of an ocean freight industry thats running full steam, spurring sales of new ships too after years of declines and boosting charter activity to the strongest level in more than a decade.
Todays Must Reads
Export boom | Taiwan added to signs the global economy is shaking off the effects of the coronavirus pandemic, with exports rising for an eighth straight month in February to a record high, fueled by exports of electronics and semiconductors.

Recovery headwinds | The spike in oil prices has focused attention on how the steady rise in energy costs is threatening to create a drag on the global economic recovery and stoking inflation fears. Meanwhile, the OECD

upgraded its forecast for the 2021 world economic expansion.

Mending fences | American businesses in China see their industries growing this year after the Covid-19 pandemic dented profits in 2020, with growing hopes the two nations will seek to mend ties, a survey by the American Chamber of Commerce shows.

Transatlantic deal | The European Union and the U.S. reached an agreement after two years of talks on how to adjust so-called tariff-rate quotas that had to be renegotiated after the U.K. left the bloc. Separately, EU leaders are poised to affirm their commitment to a unilateral

tax on tech giants if they fail to agree on a global framework with partners

Teething problems | The U.K. government is drawing up a plan to postpone new border checks on food imports from the EU to reduce the risk of disruption to supplies this summer.
Next steps | Amazon has scooped up a minority stake in a cargo airline that operates a portion of its fast-growing air-cargo division, the latest sign of the retailers long-term ambitions to expand its air-freight operations.

Freight service | Trafiguras logistics subsidiary, Impala Terminals, will offer a service to customers to track and offset the emissions generated by transporting minerals and base metals. The initiative, which will add to the customers costs through fees, underscores the pressure on the raw-materials industry to reduce carbon emissions.
On the Bloomberg Terminal
Losing share | Italys export sector has been hit more than any other of the four largest economies of the euro area. Its lost about 51% of its share of world trade since 1997, though the most recent decline is related to pandemic restrictions and will probably be reversed this year, Bloomberg Economics writes.

Pedaling down under | Pelotons intention to expand in Australia in the second half suggests supply-chain woes could be resolved sooner than we expected, Bloomberg Intelligence says.

Use the AHOY function to track global commodities trade flows.
Click HERE for automated stories about supply chains.
See BNEF for BloombergNEFs analysis of clean energy, advanced transport, digital industry, innovative materials, and commodities.
Click VRUS on the terminal for news and data on the coronavirus and here for maps and charts.
Like Supply Lines?
Dont keep it to yourself. Colleagues and friends can sign up here. We also publish Balance of Power, a daily briefing on the latest in global politics.
For even more: Follow @economics on Twitter and subscribe to Bloomberg.com for unlimited access to trusted, data-driven journalism and gain expert analysis from exclusive subscriber-only newsletters.
How are we doing? We want to hear what you think about this newsletter. Let our trade tsar know.