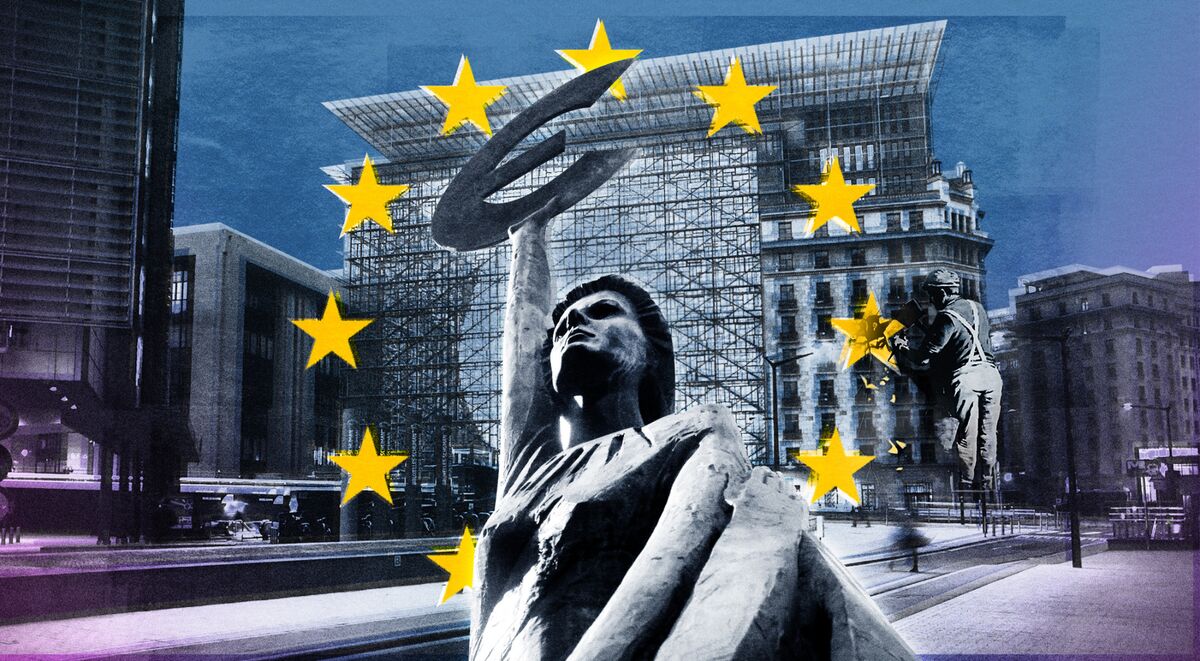 Welcome to the Brussels Edition, Bloombergs daily briefing on what matters most in the heart of the European Union.
The EU will lay out its blueprint to boost the blocs digital industries over the next decade with a key ambition at its heart: addressing strategic weaknesses and areas of high-risk dependence on companies abroad.Among the goals in the so-called 2030 Digital Compass (which
we reported last week), the EU wants to start producing ultra-efficient semiconductors, faster than those currently in production by industry leaders in Taiwan.
The plan comes as Europes auto sector faces a shortage of chips needed to outfit modern cars with assisted driving, electrification and other technology, highlighting the
regions reliance on the U.S. and Asia for crucial components. The EUs plans are ambitious and will need long-term commitment by the bloc long after current leaders, lawmakers and Commission officials have rotated out of their posts. 
 Natalia Drozdiak and 
Nikos Chrysoloras
Whats Happening
Russia Summit | The EU must take a tougher stance against Russias provocative and assertive relationship with the bloc, Romanias foreign minister
told us in an interview. The comments come ahead of a summit of EU leaders later this month, where a strategic discussion about the blocs ties with Russia is expected. 
Green Outreach | Ensuring that countries worldwide step up emission cuts will be
the main topic of talks today between U.S. climate envoy John Kerry and EU officials. Kerry arrives in town early afternoon and is set to join a meeting of European commissioners, meet up with President Ursula von der Leyen, foreign policy chief Josep Borrell and climate czar Frans Timmermans. The most delicate issues will probably be discussed when Kerry and Timmermans have a tete-a-tete over dinner.
Debt Test | The EU is expected to
open order books for a sale of 15-year debt via banks today, with the proceeds set to help fund a jobs program in the region. The sale of more social bonds is a test for the robustness of demand at a time when investors are turning away from government debt.
German Ambition | Germany wants to drastically speed up its coronavirus vaccination campaign and aims to get shots to as many as 10 million people a week from the end of March. But such an ambitious target, mentioned by Finance Minister Olaf Scholz late on Sunday, would require Germany to turbo-charge a rollout thats been underwhelming so far.
Can it be done? 
Draghis Promise | Similarly, Prime Minister Mario Draghi 
pledged strong action to turn around Italys slow vaccination campaign, saying an exit path out of the coronavirus pandemic isnt far if the country can move faster on inoculations. Total coronavirus-related
deaths surpassed 100,000 on Monday as a resurgence in the pandemic prompts the government to consider additional restrictions.
In Case You Missed It
VdLs Wrath | The Commission is tired of being the scapegoat for the slow rollout of vaccines, President von der Leyen says. In an interview with a group of women journalists in Brussels, the head of the EUs executive saved her harshest words for AstraZeneca.
Hungarys Woes | Hungarys coronavirus mortality rate has risen to one of the worst in the world, forcing Prime Minister Viktor Orban to severely tighten a lockdown even as the country is among the EU leaders in vaccinations. Like elsewhere in Europe, the surge was seemingly a surprise for the government, which recently had been discussing easing previous curbs.
ECB Purchases | The European Central Bank kept up a muted pace of pandemic bond-buying for a second week as maturing debt acted as a brake on officials stimulus efforts. Thats not great news. A global bond sell-off has sparked varying levels of concern among euro-area officials, aware that sovereign yields are used by banks as a reference point for lending.
Eyewear Deal | EssilorLuxotticas bid for eyewear retailer GrandVision is on track for EU regulatory approval as soon as this month, clearing one hurdle for the deal even as talks on the future combination continue. The blocs blessing for the 7.3 billion-euro deal would come after a rocky year for the worlds largest supplier of eyewear. But even with an EU nod, the deal may not be in the bag yet.
Chart of the Day
Empowering women to participate fully in the modern economy would light a fire under global growth. Bloomberg Economics has estimated the boost to output if womens education and employment levels converge with that of men in the same country. Achieving that ambitious goal could add about $20 trillion to world GDP in 2050 compared with persistent gender inequality.
Todays Agenda
All times CET.
9:45 a.m. German Chancellor Merkel, Finance Minister Scholz speak at municipal utilities event
10:30 a.m. EU health chief Stella Kyriakides speaks to EU lawmakers
11 a.m. Eurostat releases euro-area final GDP final reading for 4Q 2020
5 p.m. EU lawmakers and foreign policy chief Borrell will take stock of the tense political situation in Georgia and in Syria
7:05 p.m. MEPs will debate ways to address the economic fallout from the Covid-19 pandemic with EU economy chief Paolo Gentiloni
Commission presents EUs 2030 Digital Targets 
OECD releases interim economic outlook
U.S. climate envoy John Kerry meets EU officials, including climate chief Frans Timmermans
Like the Brussels Edition?
Dont keep it to yourself.Colleagues and friends can
sign up here.
For even more: Subscribe to Bloomberg.com for
unlimited access to trusted, data-driven journalism and gain expert analysis from exclusive subscriber-only newsletters.
How are we doing? We want to hear what you think about this newsletter. 
Let our Brussels bureau chief know.
With assistance by Zoe Schneeweiss