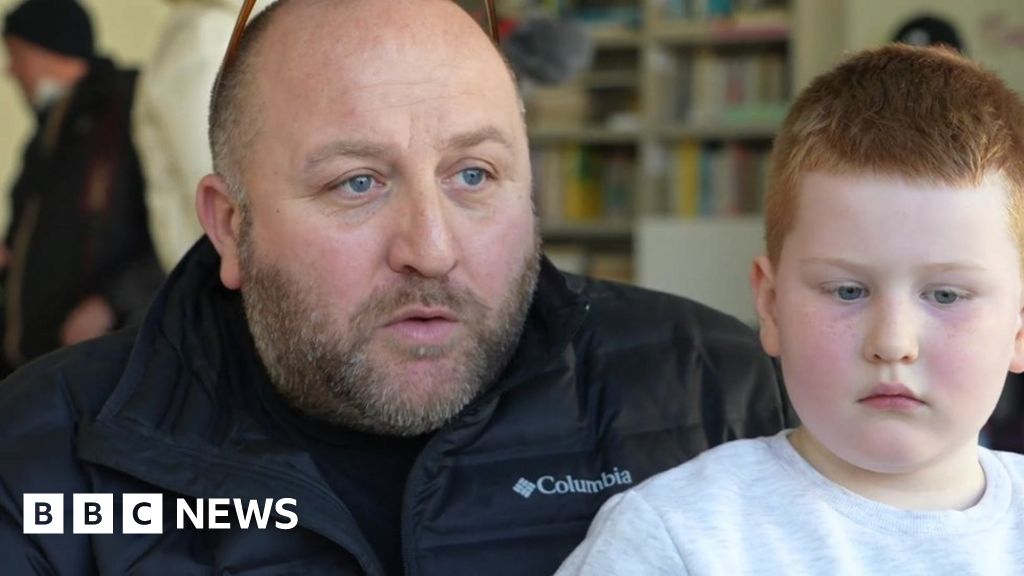 By Mark EastonBBC home editor, Calais
Image caption, Members of a Ukrainian family wait for paperwork to be completed at the ferry terminal in Calais, France
Almost 300 Ukrainian refugees trying to reach the UK have already been turned back at the French border by British Border Force officials, the Calais authorities have said. Hundreds more are trying to complete paperwork for the visa that will allow them to cross the Channel by tunnel or ferry.
On Monday, one family followed by the BBC was sent from building to building across Calais to track down promised British support. When they eventually found the right place, the Home Office representation amounted to three men at a trestle table in a deserted departure hall at the port, with bags of ready salted crisps and Kit Kats.
The family were advised to make an appointment for 15 March, about 200 miles away in Paris.
Image caption, The British staff offering water and snacks at a deserted Calais port building
Having promised a Home Office "surge team" would be available in Calais to support people fleeing the war and looking to come to Britain, the government now says there is no visa application centre (VAC) in the city and refugees should go elsewhere.
The Home Secretary Priti Patel has said she has decided not to set up a VAC in Calais because refugees might be exploited by the criminal gangs of people traffickers. The government is worried about a "pull factor," encouraging desperate people to risk their lives by attempting to cross the channel in small boats.
There are Home Office plans to set up another visa centre in France "en route to Calais", although quite where that might be is still unclear. The rumours all add to the frustration and desperation of people who have left their home and lives behind, crossed a continent and are now snagged by British bureaucracy.
A Home Office presence at a local administrative building disappeared yesterday, a sign at the hostel instead advising people to go to Brussels where there are now walk-in appointments, or try to get an appointment in Paris.
Image caption, The UK has retained controls on the entry of refugees from Ukraine
Calais regional administrator Veronique Deprez-Boudier told us it was important that the UK build a more organised team to help people in Calais. "Ideally they would get their visas here, and not have to take the train to get a visa," she said.
"We stand shoulder-to-shoulder with the people from Ukraine," a Home Office spokesperson told the BBC. "We have worked closely with Ukrainian partners to ensure our measures respond directly to their needs and asks and the government's Ukraine Family Scheme will help tens of thousands of people to join their family members in the UK."
Unlike the European Union – which is allowing Ukrainians three-year residency without a visa – the UK has retained controls on entry, with Prime Minister Boris Johnson saying it was "sensible" to "have some basic ability to check who is coming in and who isn't".
There are two main routes to a visa for refugees, requiring them either to have family in the UK, or a British sponsor for their application.
The experience of Misha, his wife and children, is typical. A British citizen with a home in north-east London, he drove 2,000 miles to Poland to rescue his Ukrainian wife Maria and two children, 17-year-old Gabrielle and six-year-old Misha Jr. They had walked 45 miles to escape the war and reach the border.
He drove them to Calais where they have been now for six days, having been turned back by Border Force officers at the ferry terminal because they did not all have visas.
Misha, a scaffolder by trade, is now close to despair, his daughter in tears, as they try to navigate the bureaucracy. Maria has a vacant look in her eyes that speaks of a nightmare journey still without a final conclusion.
"I feel left out," Misha told the BBC. "Who else is going to help me if not my own government?"
Image caption, Misha, a scaffolder from north-west London, drove 2,000 miles to pick up his family – at Calais he was redirected to Paris
We followed Misha, who was among other desperate refugees – including many children, babies and elderly people, as he returned from a fruitless trek to the building, unsure what to do or where to go. What "shoulder to shoulder" actually meant.
Eventually, Misha spoke to a Border Force official who advised him to head across town to a port building – where he was met with the chocolate and crisps.
"Another week stuck here," he lamented. "I have never claimed a benefit in my life and the first time I ask my government for their help, this is how they treat me. I am gutted."
For the hundreds of refugees in Calais, there appears to be a gap as wide as the English Channel between the supportive rhetoric of ministers in London and the reality on the ground.