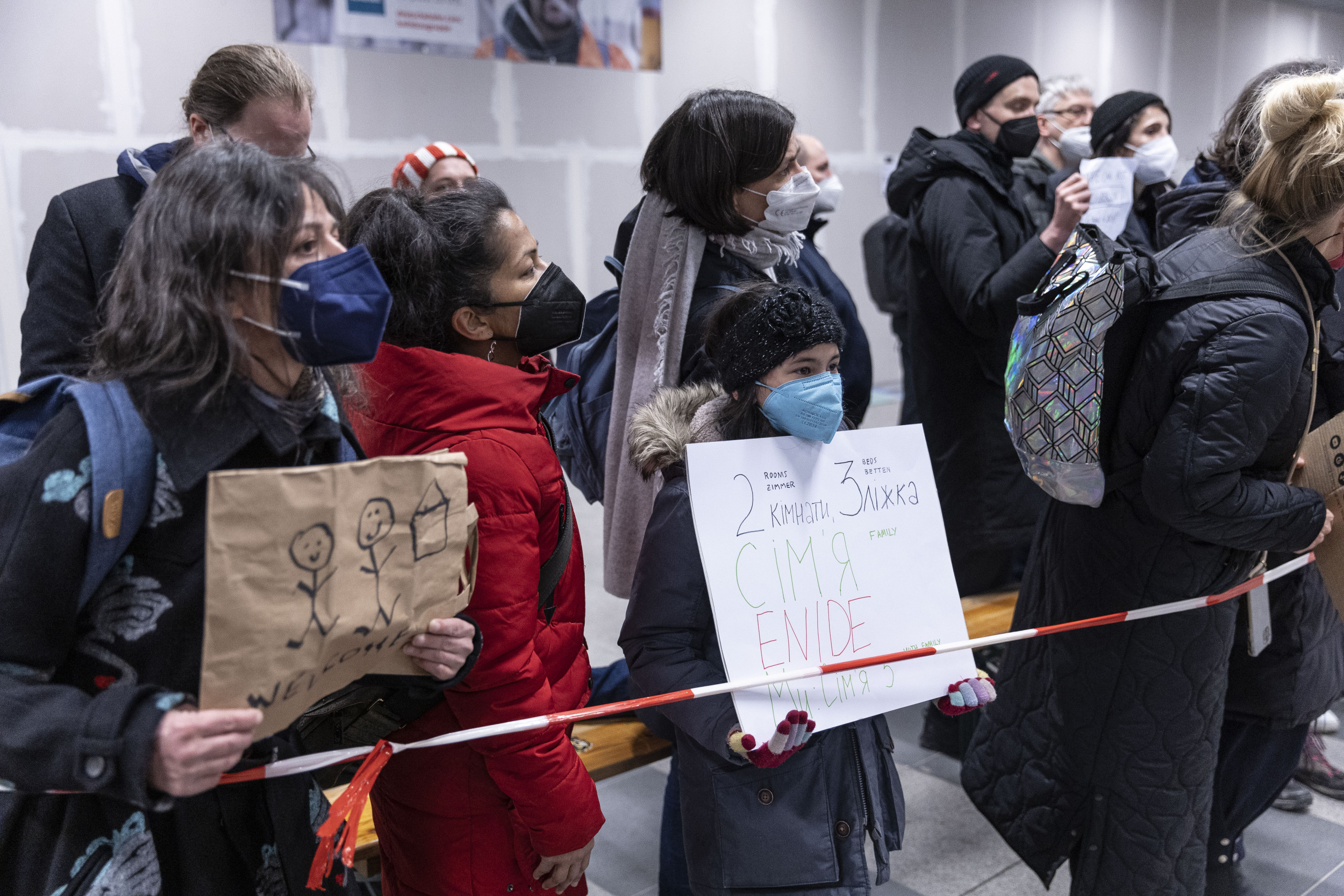 Fox News host Greg Gutfeld shared a video on Friday showing his mother-in-law's arriving safely in Poland after revealing on Wednesday that she was is a hotel in Ukraine amid the Russian invasion.
Gutfeld shared the video of his wife, Elena Moussa, reuniting with her mother in Warsaw, Poland on Fox News' The Five and described her as "one of the lucky ones."
He he had revealed on air on Wednesday that his mother-in-law was in the city of Lviv in western Ukraine before announcing on Thursday that she had successfully left the country.
"As you know, my mother-in-law is one of the lucky ones," Gutfeld said on Friday during a discussion about the refugee crisis.
"She just made her escape from Ukraine, arriving in Poland yesterday, reuniting with her daughter, my wife Elena," he said.
Showing the video of his wife and mother-in-law embracing, Gutfeld said: "I have to warn you, though. This video has been known to cause a run on tissues."
Moussa said that it was "absolutely awful" waiting for her mother but she was happy to be reunited with her.
Gutfeld thanked those who had worked to get his mother-in-law out of Ukraine, including his colleagues at Fox News who have been reporting on the conflict. He also pointed out the ongoing danger facing refugees and showed interviews of some of those fleeing the war.
On Wednesday's edition of The Five, Gutfeld first revealed his wife's mother was stranded in Ukraine in a segment where he spoke to reporter Lucas Tomlinson, who was broadcasting live on the ground.
"Well thank you, Lucas, you're in Lviv, so is my mother-in-law," Gutfeld said.
"I think she's at your hotel. If you run into her, give her my best. Give everybody there my best," he said.
Tomlinson said that the hotel was just across the street and Gutfeld praised the work he was doing in Ukraine and thanked his coworkers for "the things that they have been doing for a grouchy, cynical bastard like myself."
Gutfeld then announced on Thursday's show that his mother-in-law had left Ukraine.
"Just to let everybody know, my mother-in-law crossed into Poland about a half an hour ago," Gutfeld told The Five.
"So she's in a car on her way to Warsaw to see her daughter Elena," Gutfeld said.
On Friday, co-host Jesse Watters told Gutfeld: "I think you should throw a party for everybody when they get back to the United States. I want to make a joke, but I don't think it's appropriate, so I won't."
"But it was great to see that, and great to see your wife so happy. You know, she's not always a happy person living with you," Watters joked.
"That's closer to the truth than you might expect," Gutfeld replied.
More than one million refugees have already left Ukraine and crossed into neighboring countries, with Poland so far receiving the highest number at almost 548,000 as of Thursday.
People line up to offer a place to stay for refugees fleeing Ukraine arriving by train from Poland at Hauptbahnhof main railway station on March 4, 2022 in Berlin, Germany. Fox News host Greg Gutfeld has revealed his mother-in-law has safely left Ukraine for Poland.Maja Hitij/Getty Images