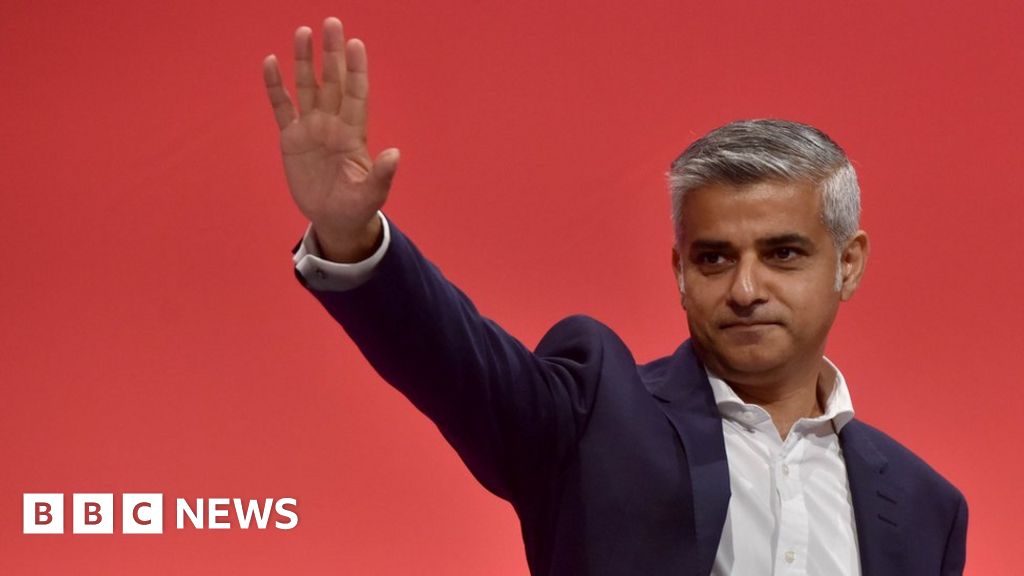 image captionSadiq Khan was elected as London mayor in 2016
Sadiq Khan will put employment at the heart of his campaign to be re-elected as London mayor.
The Labour candidate will call for a programme of economic recovery similar to the one the government implemented in 1945, following World War Two.
In a speech later, he will pledge to put "jobs, jobs, jobs" at the top of his list if he wins a fresh mandate.
Tory mayoral candidate Shaun Bailey said Mr Khan does not keep his promises.
The election for mayor of London takes place on 6 May.
Mr Khan said: "We owe it to everyone who has lost their lives, to the key workers who have done so much to keep us safe, and to all those who have suffered to ensure we build an even better London after the pandemic."
He will also pledge to continue tackling crime, build council homes and clean up the city's air.
Unveiling details of plans for his second term, the current mayor will promise to:
Help more than 300,000 Londoners who lost their jobs during the pandemic to get back to work
Get central London's economy back on track with £5m of investment dedicated to attracting Londoners and domestic tourists back into the West End
Maximise City Hall expenditure to support London's recovery and help create or retain jobs
Transform small business support in London by making it simpler for owners and aspiring entrepreneurs to access advice and support
Mr Khan's Tory rival Shaun Bailey said: "Londoners have no time for someone who doesn't keep his promises."
"Instead of trying to tackle knife crime, Sadiq Khan cut £38m from police budgets," he said.
"Instead of trying to build more homes, Sadiq Khan just blamed the government. Instead of growing the transport network, he racked up waste and debt meaning transport for London needed two government bailouts last year."
This morning, Mr Khan visited Hot Milk, a cafe in Bounds Green, north London, that has been hit by the impact of the pandemic.
image captionMayor of London Sadiq Khan at the Hot Milk Cafe in north London, for the launch of his re-election campaign
It has been supported by a £5,000 Back to Business grant from City Hall, and raised over £12,500 through Mr Khan's Pay It Forward London initiative.
"We have had a dreadful year, but there's finally some light at the end of the tunnel for Londoners," Mr Khan said.
"In 1945, a Labour Government rebuilt Britain from the ashes of war. Like so many, I benefited from their work decades later as I grew up on a council estate and was given the opportunities to fulfil my potential and become mayor of the greatest city on earth.
image captionMr Khan said he would continue to tackle crime in the capital
"That's why jobs, jobs, jobs are a top priority for my second term. I want the government to back this ambition with a jobs guarantee, creating opportunities for Londoners, particularly in the key industries of the future."
He added that the election will be a "two-horse race" between him and Mr Bailey.
"I promise to continue standing up for London's values, relentlessly bang the drum for London – both at home and abroad – to attract jobs and investment, and fight for the national investment we need in the face of the most anti-London government in living memory."
Mr Khan will deliver his first speech of the campaign at 16:00 GMT.
The BBC is not responsible for the content of external sites.