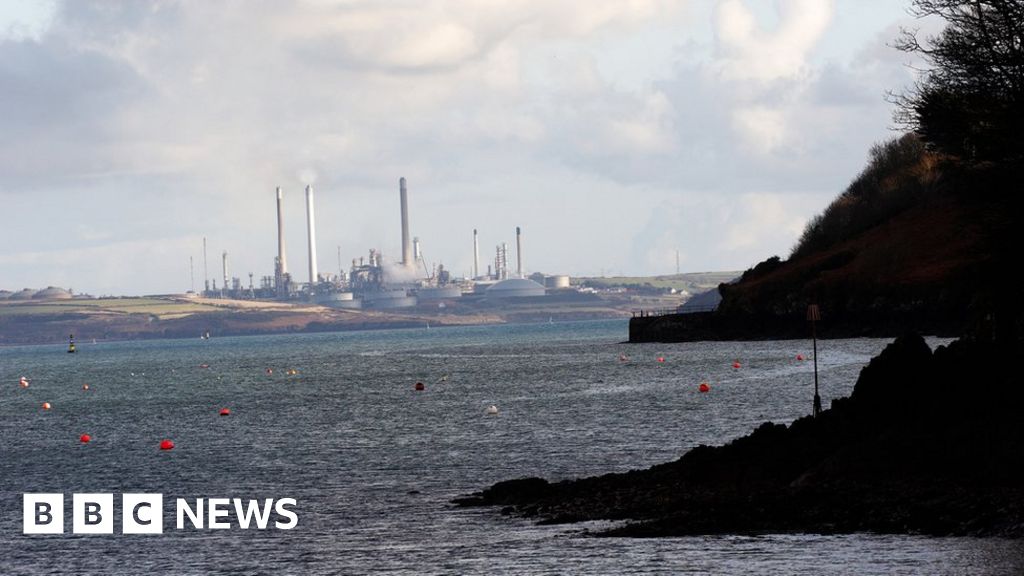 By Huw ThomasBBC Wales business correspondent
Image source, Getty Images
Image caption, One tanker carrying Russian oil has already docked at Milford Haven in Pembrokeshire
Ships carrying Russian cargo are still scheduled to dock in Wales, despite calls from the UK government to block access.
The request to bar any Russian flagged or controlled vessels is among a series economic sanctions imposed on Russia following its invasion of Ukraine.
One oil tanker has already docked at Milford Haven, in Pembrokeshire.
The port said it was "keen to ensure that the sanctions… are applied here".
It will seek clarification on every vessel to determine whether sanctions apply.
Another vessel from the Russian oil-loading port of Primorsk is due on Friday.
"We understand and share the strength of feeling around Russian-connected vessels entering the Port of Milford Haven, particularly as our town has strong links with Ukraine in its twinning with the city of Uman," said Mike Ryan, Harbourmaster at the Port of Milford Haven.
"However, we do not have the power to unilaterally apply sanctions to a vessel bound for our port."
Image source, Geograph/Dylan Moore
Image caption, The Milford Haven waterway is home to petro-chemical giants such as Valero
But Mr Ryan confirmed the port would not be allowing entry to any ship it had reason to believe was owned, controlled, chartered, or operated by any person connected with Russia.
It will also refuse entry to vessels owned, controlled, chartered or operated by a "designated person" as well as those flying the Russian flag and those registered in Russia.
"The determination of whether a vessel falls within this definition is not simple, but we are keen to ensure that the sanctions from the UK Government are applied here in Milford Haven," Mr Ryan said.
The Department for Transport (DfT) will be supporting us and other UK ports to identify vessels which they believe should not be serviced.
"In every case we will be seeking clarification from the DfT as to whether sanctions apply to a particular vessel and/or cargo. All of this will be done in collaboration with our terminal customers."
Milford Haven is the UK's largest energy port, handling tanker deliveries to local oil and gas refineries.
"The message is clear: Russian vessels are not welcome at UK ports," said local Conservative member of the Senedd, Paul Davies.
"The UK transport secretary has been very clear. UK ports should not provide access to Russian vessels and further sanctions are being developed," he added.
"I welcome this action as part of the package of measures to restrict Russian trade and hold Putin's government to account for its disgraceful attack on Ukraine."
Image caption, The Pluto oil tanker has docked at Milford Haven
A ship carrying oil from Russia docked at Milford Haven on 26 February, before Transport Secretary Grant Shapps wrote to the ports.
The oil tanker, Pluto, arrived at the port on Saturday evening and appears to have unloaded its consignment at the Valero oil refinery.
A second vessel, Louie, is due to arrive from Russia on Friday.
Both Pluto and Louie sail under the flag of the Marshall Islands, but carry cargo from the Russian oil-loading port of Primorsk. 
Mr Shapps has asked ports to block access to Russian "flagged, registered, owned, controlled, chartered or operated vessels".
In a letter to port operators, he said the government would "support UK ports in identifying Russian ships". 
The Port of Milford Haven lists the Pluto as being berthed on the Valero dock since the evening of 26 February. It is scheduled to leave at 09:06 GMT on Wednesday.
Its next destination, according to Vessel Finder, is Derry in Northern Ireland.