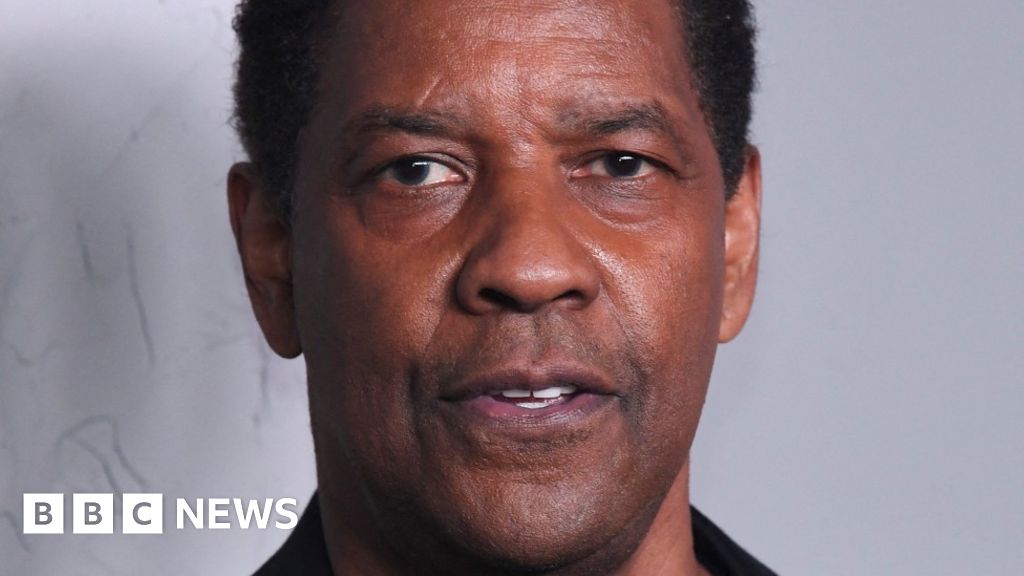 By Paul GlynnEntertainment & arts reporter
Image caption, Denzel Washington was named the greatest actor of the 21st Century in a New York Times poll in 2020
It's just after lunchtime on Friday in Los Angeles and Denzel Washington is in a jovial mood.
Fielding questions over Zoom from several of the world's press, including BBC News, the conversation somehow takes a turn away from his latest Oscar-nominated performance in The Tragedy of Macbeth, and on to how to pronounce his name.
Is it Denzel, with the emphasis on the first syllable, or Denzel, with the stress on the second, one journalist enquires.
"You can pronounce it any way you like, it doesn't matter to me," replies Washington.
"It's actually pronounced Denzel. I'm Denzel Hayes Washington Jr. My father was Denzel. So my mother would say, 'Denzel!', and we would both walk into the room." So she decided to put the emphasis on different syllables for father and son. She told Washington Jr: "From now on, you're Denzel."
Image source, Getty Images
Image caption, Washington has been nominated for 10 Oscars and won twice, in 1990 and 2002
While Washington may be easy-going about his name, that of the William Shakespeare play that US director Joel Coen (No Country for Old Men, Fargo) has adapted for the screen is a more sensitive matter. Theatrical superstition dictates that actors should refer to it as The Scottish Play, unless running their lines, for fear of raising hell.
But there's nothing Scottish about Coen's haunting and howling black-and-white reframing of this tale of murder and witchcraft. It features Washington as the titular general, the man who would be king, alongside Frances McDormand (Nomadland, Three Billboards) as his devoted wife and co-conspirator – both speaking with American accents.
It's a story that deals with the delirious effect that power can have on a person. Did Washington model his Macbeth on any modern world leaders?
"I didn't look at it that way," he says. "We can go all the way back to the Old Testament, Cain and Abel… It's been around. One person means it [power] for good and the other for evil and that's the world we live in now.
"But I didn't pick a particular person."
Image caption, Denzel Washington is nominated for best actor at this year's Oscars for his role in The Tragedy of Macbeth
The actor is no stranger to the Bard's work. Having first read Othello in college, he went on to play Richard III on stage and star in Kenneth Branagh's 1993 film version of Much Ado About Nothing, before appearing on Broadway in Julius Caesar.
But he admits he was unfamiliar with Macbeth until starting preliminary work on the film.
"[I'd] never read Macbeth and never seen Macbeth, which was I think a blessing in disguise," says Washington. "I picked up one of the films, looked at about two minutes of it and turned it off. Didn't want to be affected by what I saw."
He thinks it was "a brilliant idea" on Coen's part to cast older actors like himself and McDormand in the lead roles because it adds to the "desperation" and "finality" of the characters. "This is it, this is our last chance," notes the 67-year-old.
"In the 1600s [when the play was first published], life expectancy might have been 40 or 50," he continues. "So 60 is like the old 40."
Critics have largely agreed that it was good casting, with reviewers in The Guardian, The Telegraph and The Times all giving the film five stars.
The Guardian's Peter Bradshaw wrote that "Washington delivers a noirish nightmare". Robbie Collin in The Telegraph opined that "Washington's tortured king crowns a movie to die for", adding that McDormand's Lady Macbeth is "a match for her fellow star".
Kevin Maher of The Times described Coen's take, which also features Brendan Gleeson and three Gollum-esque witches played by Kathryn Hunter, as "bloody, bold and brilliant".
Image source, Alison Rosa
Image caption, Washington stars in the titular role, alongside fellow Oscar-winner Frances McDormand
The Tragedy of Macbeth is Coen's first solo effort away from his brother and frequent collaborator Ethan, although it does star his wife, McDormand.
Washington, whose son John David starred in BlacKkKlansman and Tenet, has several directing credits himself nowadays and says he picked the brain of the film-maker while also offering advice when requested to co-stars including Alex Hassell, Corey Hawkins and Moses Ingram.
"You learn how to act on stage, not in movies," he says. "That's what I tell young actors now, get on the stage. Movies are a director's medium, theatre is an actor's medium. Once the curtain goes up, it belongs to the actors.
"If you go down the list of award winners, and I'm blessed to be one of them, almost all of them had extensive theatre experience."
Shakespearean English, Washington stresses, is "a foreign language" that requires actors and directors to "dig deep".
"There's no ad-libbing with Shakespeare," he adds. "You can't just [shout], 'King Kong ain't got [nothing] on me!' I just threw that in [during the 2002 film Training Day]. You have to meet William Shakespeare, you have to come up to his level, all of us did – Joel, Fran, me, everyone.
"He's the standard, so I think when you approach it like that with proper humility and determination and hard work, then it is fulfilling."
Image caption, Washington, McDormand and Joel Coen attended the premiere of The Tragedy of Macbeth in Los Angeles in December 2021. It closed the London Film Festival the following month, after a short run in cinemas
No matter how many times he plays Shakespearean roles, the superstar – who was named the greatest actor of the 21st Century in a 2020 New York Times poll – feels "there's always more that you can do" or "another way of looking at it". Hence why went back for a stab at Macbeth.
To demonstrate the "dark side" of the character, Washington gives us journalists an impromptu delivery, at the second attempt, of one of his lines: "Stars hide your fires. Let not light see my black and deep desires."
"He had evil desires," the actor explains. "Where he got that from, I'm not going to get let him off the hook or just say it was his wife, but it was the perfect time and opportunity."
Washington already has two Oscars to his name. He won best supporting actor for his portrayal of a defiant ex-slave soldier in the 1989 film Glory, and then best actor for playing a corrupt cop in Training Day – making him only the second black man to win that award, after Sidney Poitier.
Later this month, he will go up against the likes of Benedict Cumberbatch and Will Smith, who this week described Washington as his "mentor", for the main male acting gong at this year's Academy Awards. Coen's film is also up for best cinematography and best production design.
"I just show up," Washington says of such nights. "I've been blessed to have been nominated 10 times now, including best picture [for Fences, which he directed, produced and starred in]. I've seen every which way the shows can go and been the winner or the loser, and you just go and try to have a good time."
Figure caption, Warning: Third party content may contain adverts
His performance as Macbeth also saw him nominated for Golden Globe, Critics' Choice and Screen Actors Guild awards. But he won't be at the Baftas in London after being overlooked again by the British awards.
Does the star, whose next move is to film The Equalizer 3, have a theory as to why his work has never been recognised by the British establishment?
"No, talk to me," he commands, shifting the spotlight our way for a second. "You tell me, what is it? Did I hurt somebody's feelings? [Adopts faux cockney accent] Bloody hell!
"I have no idea, man, whatever," he shrugs with a smile. "Life's too short. God bless them."
The Tragedy of Macbeth is available on Apple TV now.