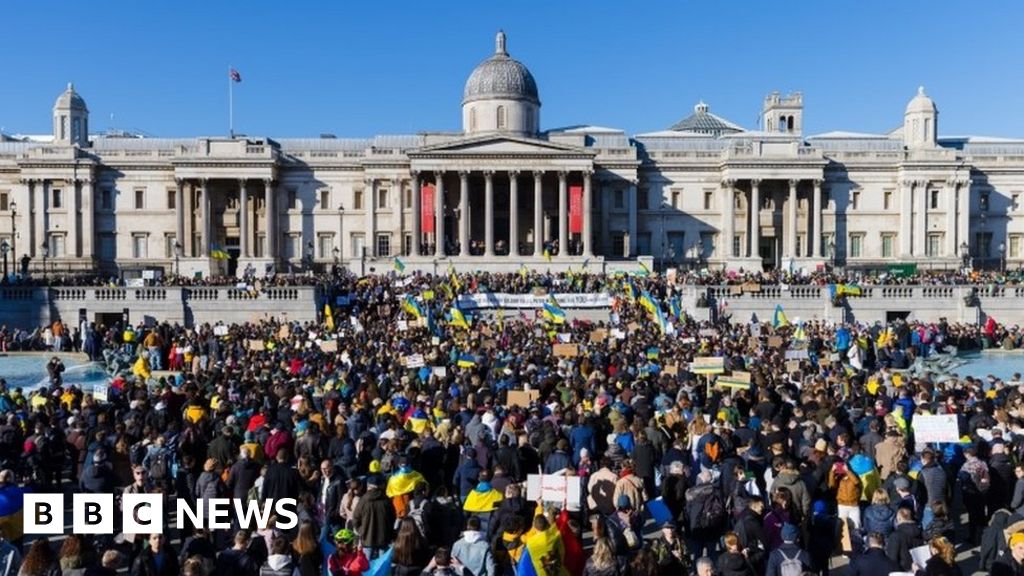 Image caption, Thousands attended the protest in Trafalgar Square
Russians in the UK have joined Ukrainian protesters in Trafalgar Square to criticise the "shame" and "nightmare" of the invasion.
Thousands, including many Russians, gathered at the central London landmark on Sunday to demonstrate.
Several described the "very close" ties between the two countries.
Maria Divid, 35, said she and her fellow Russians were "absolutely devastated and ashamed", adding: "We did not want this war."
Image caption, Russians as well as Ukrainians attended the protest
Andrei Postylyakov, also 35, is from St Petersburg and has been in the UK for just a month. He said attending the protest was "the least I can do".
"It is a crazy thing happening now and it is like a nightmare. It should be stopped as soon as possible."
He also described how his friends in Russia were unable to go out into the street to protest without going to prison.
"It is hard to protest in Russia because there is a war inside which is aimed against its own citizens."
Sophie, 24, whose family comes from Moscow and did not want to share her last name out of fear of repercussions, said: "In the UK, we have the freedom to come out here and say what we want to say."
She added it was "important" for Russians abroad to "come out and stand out against the war because if you say nothing you are complicit."
Elsewhere in the capital, dozens of diplomats and MPs joined Ukrainians for a service to show "undivided solidarity" with the country amid Russia's invasion.
Image caption, A service at the Ukrainian Catholic Eparchy of Holy Family of London was packed on Sunday
Ukrainian ambassador Vadym Prystaiko, MPs Nickie Aiken and Mark Pritchard, Estonian ambassador Viljar Lubi and Canadian high commissioner Ralph Goodale all attended the service at the Ukrainian Catholic Eparchy of Holy Family of London in Mayfair.
During his sermon, John Wilson, Roman Catholic Archbishop of Southwark, condemned the "evil" invasion of Ukraine, saying: "We stand with you in undivided solidarity but so must every person and every nation that believes in peace."