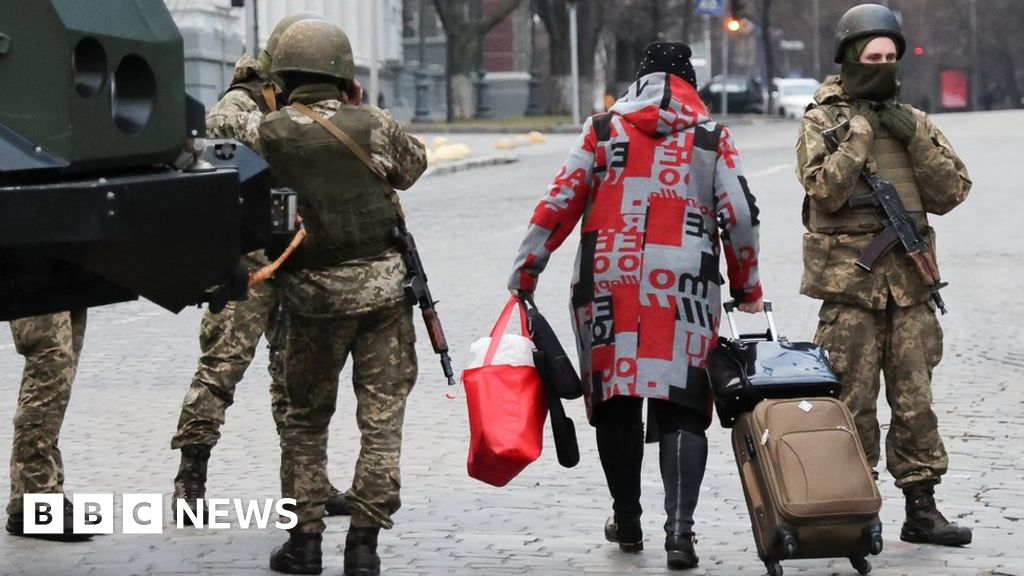 Media caption, Watch: Ukrainian woman confronts an armed Russian soldier and asks, "Why did you come here?"
The Ukrainian capital Kyiv was under missile fire on Friday evening, with explosions reported near a power station and gunfire heard on the streets.
Earlier, Russian tanks were seen entering the city on the second day of fighting, but Kyiv remains under government control.
President Volodymyr Zelensky urged Ukrainians to resist the Russian invasion, with thousands of weapons handed out to civilians and instructions issued on how to make petrol bombs.
Men wearing jeans and trainers with rifles slung over their backs manned checkpoints in Kyiv and hid in trees behind anti-tank weapons, waiting for a Russian advance.
Ukraine said 137 people – civilians and soldiers – have been killed, while Russia has not admitted any deaths on its side.
Elsewhere in Ukraine, loud explosions were heard in the second biggest city, Kharkiv, which is near the Russian border, and the strategically important city of Mariupol came under attack.
Tens of thousands of Ukrainians have fled their towns and cities, fully aware that they could come under fire at any moment.
Among those trying to leave Kyiv were Olena and her family – a group of five, but their car got a flat tyre at the worst possible time.
Our correspondent Nick Beake came across them as he travelled out of the city towards Russian positions.
Media caption, The BBCs Nick Beake and his team met one family trying to flee the capital
The BBC's Marta Shokalo decided to escape the city with her 10-year-old son by travelling east, towards the Russian border.
She headed for the village where her husband's parents lived, deep in the Ukrainian countryside.
The roads were empty in the direction she was travelling and Ukrainian tanks passed her on the way, heading towards the capital.
"I was really focused, thinking to myself, 'we need to get there. We need to get there'," she wrote in her account of why she decided to leave the city she calls home.
You can read Marta's piece here.
Russia's invasion is widespread and comprehensive, with explosions, shelling and fighting reported in several regions on Friday.
The sheer number of incidents makes it difficult to keep abreast of what is going on, but getting a sense of the geography and scale of the invasion helps to make sense of it.
In this piece, we use maps to explain the situation across the country, and take a detailed look at Kyiv.
Refugee agencies fear that up to five million Ukrainians could try to flee as Russia's war intensifies – tens of thousands have already left.
Most of them are women, children and the elderly – men of fighting age have been told they are not allowed to leave Ukraine.
Those who can leave are mostly trying to reach one of five countries to the west and south-west of Ukraine, and we have correspondents on the borders of four of them.
They have been hearing stories of fear, panic and desperation.
You can read their accounts here.
Image caption, This family had travelled for two days from Kyiv before crossing the border into Poland
So what is the West and its partners doing in response to the Russian invasion?
More sanctions have been announced, most notably against President Putin who has been targeted by the US, EU and the UK.
There have been other developments too – the Champions League final will no longer take place in St Petersburg and there won't be an F1 Grand Prix in the city of Sochi this year.
Russia has also been banned from the Eurovision Song Contest.
But Ukraine wants sanctions to go much further. There has been disagreement between Western nations over whether to ban Russia from the Swift payment network, which facilitates worldwide money transactions.
The move would undoubtedly hurt Russia, but it would also disrupt the economies of other countries, as our business team explains in this piece.
The consequences of Russia's invasion of Ukraine are huge. They range from the immediate human cost of war, to long-term considerations over European security.
Frankly, it is hard to get your head around.
A good place to start is our explainer, which takes you through some of the key questions in this crisis, including why Vladimir Putin took the decision to invade Ukraine.