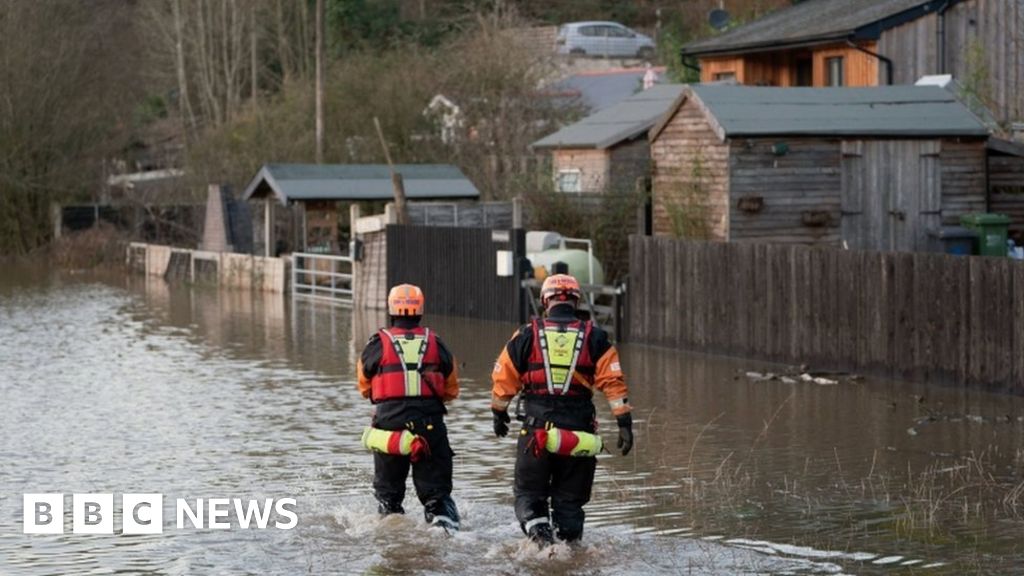 Image caption, A major incident has been declared in Bewdley
A severe flood warning remains in force at a town on the River Severn where levels are expected to peak later.
Temporary barriers at Beales Corner in Bewdley exceeded their capacity on Tuesday, the Environment Agency said.
A severe flood warning, meaning a danger to life, is also in place for the Wharfage in Ironbridge, Shropshire, where levels were below the top of the barriers as the river peaked overnight.
There are 14 flood warnings along the length of the Severn in Worcestershire.
People have been rescued, properties evacuated and trains cancelled due to flooding along the river this week.
Major incidents were declared in Ironbridge and Bewdley after the flooding was caused by heavy rain during three recent storms – Dudley, Eunice and Franklin.
A severe flood warning for Bewdley, Worcestershire, was in place at Wribbenhall, where the Environment Agency said major flooding was "expected to continue".
Image caption, Emergency services have checked on residents along the River Severn near Bewdley
In Worcester, Hylton Road, Tybridge Street, Dolday and The Butts were closed on Wednesday and river levels in the city were expected to peak later.
The Wye has peaked in Herefordshire and flood water has been slowly receding.
Villagers in Melverley had been out in a boat collecting "vital medication for neighbours and feed for animals", Shropshire Council said.
It said residents told them that it was "the worst flooding for at least 20 years".
Image caption, Flood waters from the River Severn surrounded The Boat Inn at Jackfield near Ironbridge on Tuesday
Follow BBC West Midlands on Facebook, Twitter and Instagram. Send your story ideas to: [email protected]
The BBC is not responsible for the content of external sites.