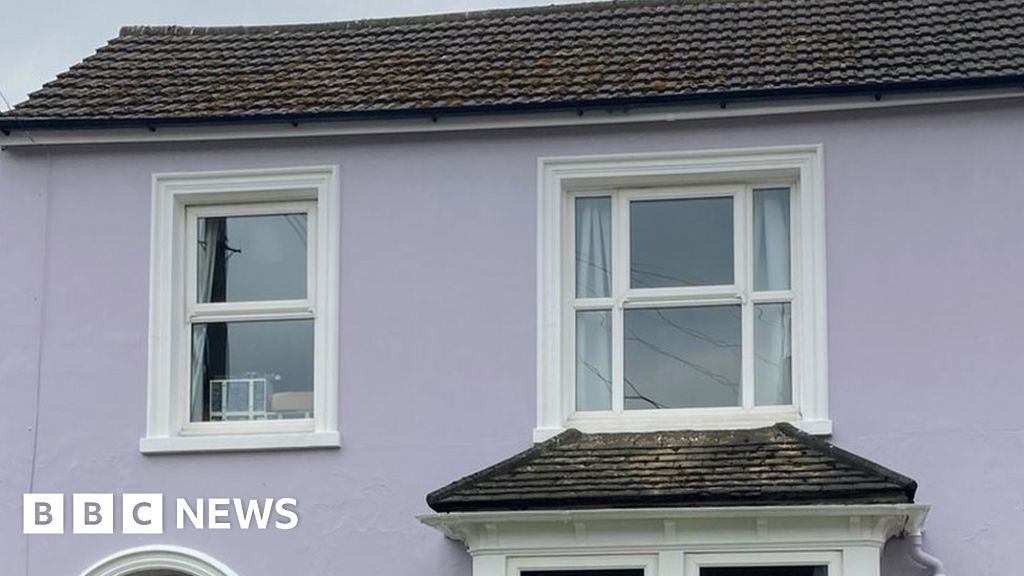 Image caption, Ian Davis painted his property in Oxhey in August 2020
A man who painted his conservation area house lilac has won a planning battle to keep it that colour.
Ian Davis, who lives in Oxhey in Hertfordshire, painted his property in August 2020.
A retrospective planning application was rejected by Watford Borough Council which said it had a "harmful impact" on the 1902-built home and area.
The Planning Inspectorate said the colour had "no materially detrimental effect" on the area and could remain.
Image caption, Ian Davis said he was "considerably out of pocket" after the appeal but "really pleased" with the outcome
The Oxhey Village Conservation Area was introduced in 2013, at a time when the Oxhey Village Environment Group produced a guide to restrictions on properties.
Mr Davis, who has lived in the house in Capel Road for 20 years, was told by the council in June 2021 that he should have sought planning permission to paint the exterior.
He appealed to the Planning Inspectorate, a government agency, which said the Oxhey Conservation Area Character Appraisal (OCACA), "does not appear to refer to any particular paint colours as being characteristic of the area".
It added that the area was "characterised by a varied palette of colours and finishes".
Image caption, Mr Davis said it had "never crossed my mind that because you were in a conservation area you'd have to get permission to paint your own house"
In its decision, the Inspectorate said the house "retains much of its original character" and as such "makes a positive contribution to the character and appearance of the street scene".
It added that the paint colour "does not detract from that positive contribution".
Mr Davis said it had been a "really stressful" process, which had cost him about £2,000 as he had to employ a specialist consultant and he had not been awarded the costs.
"We are considerably out of pocket but, looking on the positive side, we can keep the lilac house and we're really pleased about it," he said.
"What I really hope is that the council this year will have some kind of review about what does the conservation zone in Oxhey actually mean."
Ben Martin, head of planning and development at Watford Borough Council, said it had accepted the Planning Inspectorate's verdict.
"Although the inspector ultimately disagreed with the council's view that the colour was inappropriate, he also found that the council did not act unreasonably when it decided to refuse the planning application," he said.
Find BBC News: East of England on Facebook, Instagram and Twitter. If you have a story suggestion email [email protected]
The BBC is not responsible for the content of external sites.