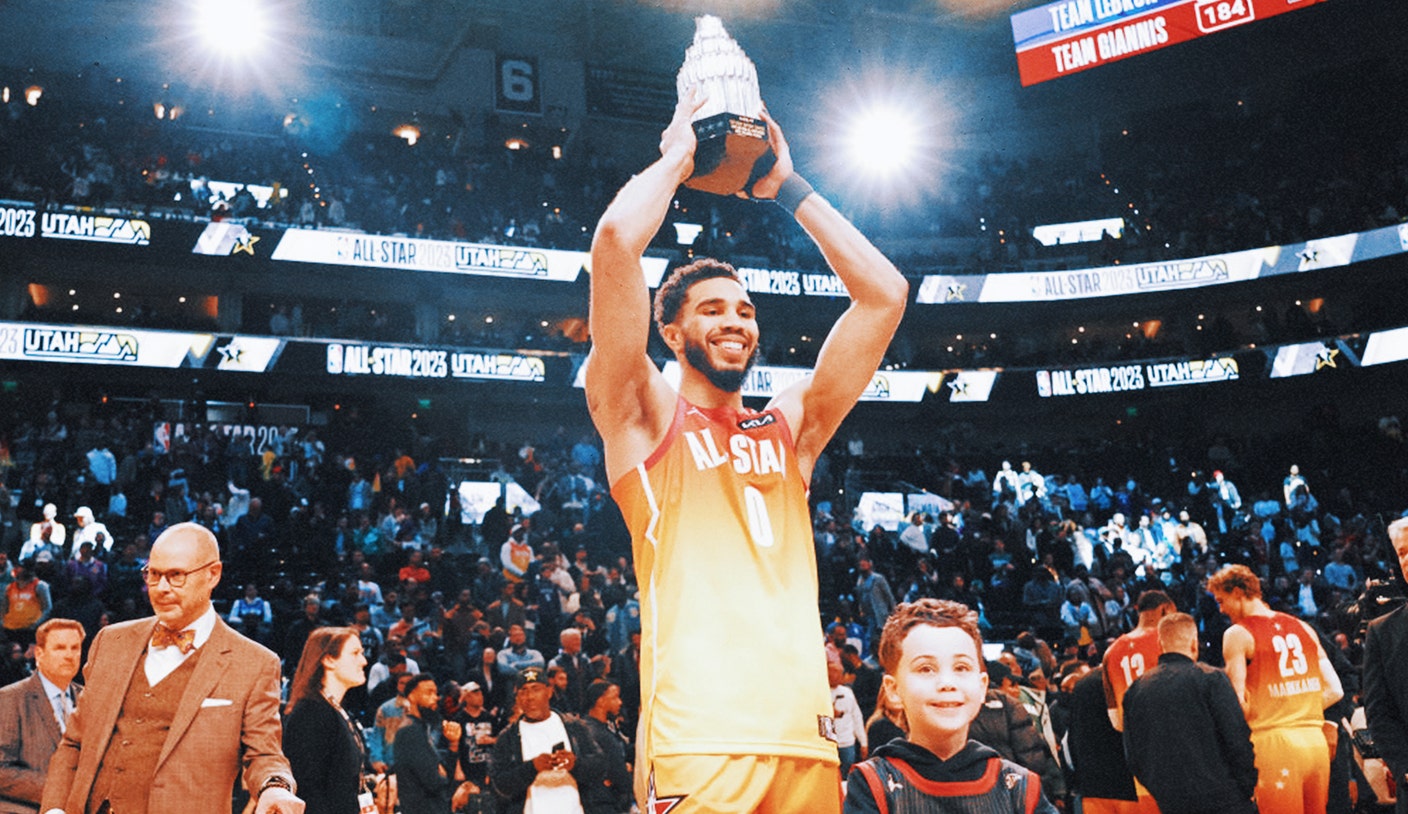 The NBA All-Star Game in Salt Lake City was filled with drama, intrigue and flare. 
Here are our three takeaways from Team Giannis' 184-175 win over Team LeBron on Sunday, in which Giannis Antetokounmpo earned $550,000 for his charity, Raise the Future. 
1. The draft got mixed reviews
For the first time, the team captains of the Western and Eastern Conferences, LeBron James and Antetokounmpo, drafted their teams on a stage in front of the players right before the game, as opposed to doing it weeks prior on television. 
James wasn't exactly a fan of the new format.
"I thought it was okay," James said. "I liked the last format. I liked the format on TV. I think it was a little bit it looked fun, more fun, cooler, whatever the case may be."
Surely, Nikola Jokic would agree with him. 
There was an awkward moment before James had a chance to select his seventh pick from the starters' pool when Jokic stood up before his name was called as though he were selecting himself. Lauri Markkanen, the only other starter left on stage, threw up his hands with surprise. 
After the game, Jokic, the reigning two-time MVP, clarified that he was just confused. 
"I thought that I was last, and I just stood up because I didn't see Lauri," said Jokic, who finished with four points and five rebounds in 20 minutes. "My bad."
When asked if he was surprised that he fell to seventh in the draft, Jokic brushed it off. 
"No, I would not draft myself either I'm not meant for this game," he said, flashing a smile. 
2. A dream fulfilled for Jayson Tatum
Jayson Tatum entered NBA All Star weekend with a goal: He wanted to bring home some sort of trophy.
After failing to advance to the finals in the 3-point contest, he set his eyes on winning the Kobe Bryant MVP Award.
The Boston Celtics forward went on to finish with 55 points in 35 minutes on 22-for-31 shooting (71%). He added 10 rebounds and six assists for Team Giannis, setting a new All-Star scoring record by surpassing Anthony Davis' 52 points in 2017. 
Tatum received 11 of the 12 votes for MVP. Donovan Mitchell, who had 40 points, earned the other one through a fan vote. 
Tatum, who grew up idolizing Bryant, relished the moment as he sat on the podium next to the award that bore Bryant's namesake.
"It's extremely special for me," Tatum said. "My first All-Star Game was in Chicago in 2020 when they renamed the MVP after him. I remember telling myself that day that I've got to get one of those before I get done."
3. Injury updates for James and Antetokounmpo
Antetokounmpo was only in the game for one play Sunday because of a sprained right wrist and James only participated in the first half, partly because of a right-hand contusion. 
James, who recently missed three games because of left ankle soreness, said he's not concerned about his wrist. He explained that he suffered the injury after promising Team LeBron coach, Michael Malone, that he'd get one defensive stop for him Sunday. 
"I tried to get one little chase-down block, and got my finger caught in the rim," said James, who had 13 points and four assists in 14 minutes. "But I'll be fine. I'll be fine. I don't think it's too much to worry about. For precautionary reasons, I just had to take the rest of the night off."
As for Antetokounmpo, who sustained the wrist injury in the Bucks' 112-100 win over Chicago on Feb. 16, he said he was being conservative because he didn't want to risk further injury. Antetokounmpo also sat out the Skills Challenge on Saturday. 
"At the end of the day, obviously, you want to participate, you want to run up and down, joke around, have some dunks, create some work," said Antetokounmpo, who had two points in 20 seconds. "But at the end of the day, I feel you also have to be mature. Hard decision, but mature decision to kind of, you know, take a break here, take care of it, and hopefully I can, you know, be available for my team when they need me."
Antetokounmpo's Bucks are in second place in the Western Conference with a record of 41-17, a half-game behind the first-place Celtics. 
Meanwhile, James' Lakers will be scraping to make the play-in tournament. They're in 13th place in the Western Conference with a record of 27-32, two games behind the 10th place Oklahoma City Thunder for the final play-in spot. 
When asked about the stretch run, James didn't mince words.
"It's 23 of the most important games of my career for a regular season," James said, later adding, "I don't want to see myself not being part of the postseason for two years straight. It's just not part of my DNA."
James went on to say that if the Lakers make the playoffs, he believes anything could happen. 
"If we can punch our ticket, we can compete versus anyone," he said. 
Melissa Rohlin is an NBA writer for FOX Sports. She previously covered the league for Sports Illustrated, the Los Angeles Times, the Bay Area News Group and the San Antonio Express-News. Follow her on Twitter @melissarohlin
.
Top stories from FOX Sports: