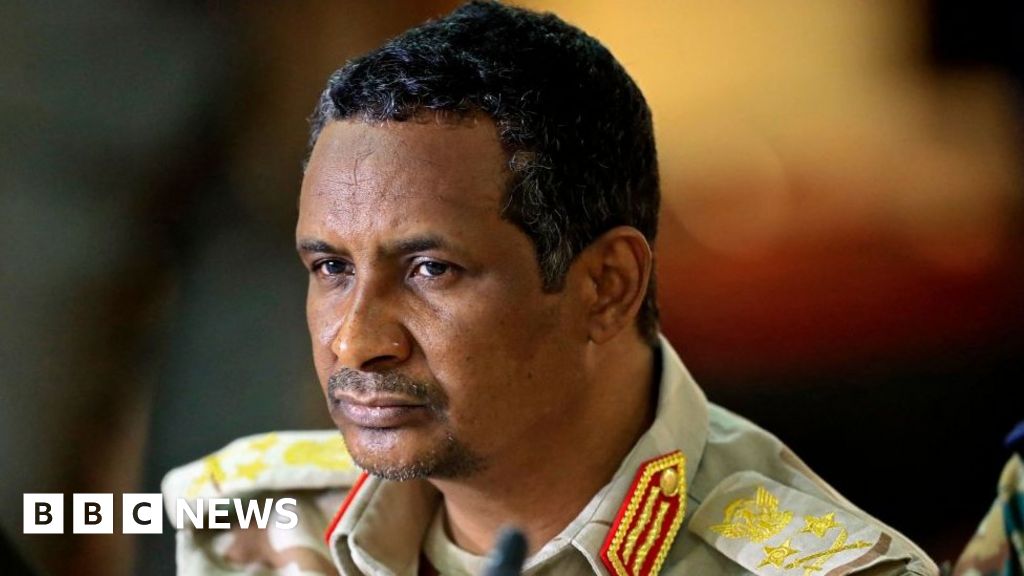 A prominent military leader in Sudan has called the overthrow of civilian authorities two years ago a "mistake".
Gen Mohamed Dagalo, the deputy head of Sudan's ruling council, said the coup had politically benefited supporters of former long-time ruler Omar al-Bashir.
Military leaders have been accused of undermining the transition to civilian rule since Bashir was ousted in 2019.
Pro-democracy activists have been organising protests against the military authorities since then.
Sudan has faced economic and political turmoil since 2021 when a military junta seized power from the civilian-led transitional government.
In a televised speech Gen Dagalo, widely known as "Hemeti", said on Sunday: "Regrettably, it [the coup] has become a gateway for the return of the former regime."
He warned that allies of the detained former leader Bashir, who ruled the country for close to three decades, were regaining their political foothold.
He was referring to supporters of the former ruling National Congress party in the army and those appointed in government after the coup.
Gen Dagalo hailed a transition plan signed last year aimed at re-stablishing a two-phased political process to restoring civilian rule. He also said he backed demands by pro democracy protesters but conceded that he "sometimes made mistakes".
His comments come amid growing tension between his paramilitary unit called Rapid Support Forces (RSF) and the army chief Gen Abdel Fattah al-Burhan, the country's de facto leader.
Gen al-Burhan warned last week that he would not tolerate the RSF operating as an independent force and should instead be merged into the army.
In his speech Gen Dagalo said he "will not allow remnants of the defunct regime to drive a wedge between" the RSF and the regular army, but he did not elaborate.
For a man who has in recent years not been shy to express his political ambitions, his recent comments could be seen as a deliberate attempt to break with the army and ally with some civilian groups.
There are some indications that such an overture could be welcomed, as civilian groups feel they need an armed ally to taken on the military authorities. But there is concern that such a move could lead to further instability.
Early reaction to Gen Dagalo's speech has mostly been ridicule.
Critics point out that the speech did not address accountability over the killings of civilians, including a massacre on 3 June 2019 allegedly committed by the RSF.
They also say he did not address allegations about the same unit, then allied to Bashir, committing genocide in western Darfur. That conflict began in 2003 and it is estimated to have killed hundreds of thousands of people and forced millions from their homes.