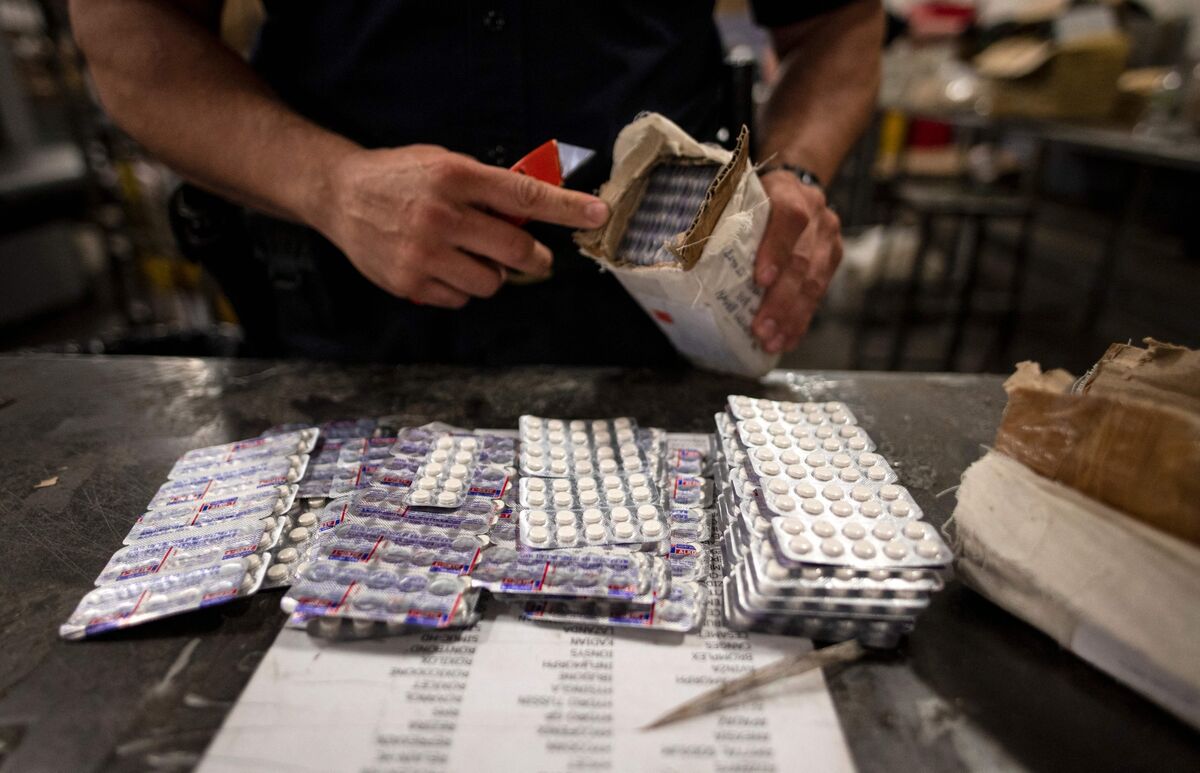 In a bipartisan push, US lawmakers are looking to clamp down on what Senator Ron Wyden calls trade cheats.
That description applies to countries and companies that use forced labor, steal American intellectual property or use illegally harvested commodities in their products and sell them at a fraction of what it costs to make them ethically, undercutting US livelihoods. 
Keeping these operators, their goods, and illicit drugs out of the US market has become a game of Whac-A-Mole, according to the Democrat from Oregon who chairs the Senate Finance Committee, which held a
hearing last week on how to stop illegal trade at borders. 
The problem is so big that intellectual-property theft alone is estimated to cost the US economy as much as $600 billion each year, much of it from China, Wyden said. 
In the 2021 fiscal year, Customs and Border Protection officials made seizures of counterfeit goods with a retail value of about $3.3 billion more than double the $1.3 billion in the prior year,
CBP data show. About 33% of seizures were of goods from China, followed by 18% from Hong Kong and 11% from Turkey.
US Seizure of Counterfeit Lines Surge
Number of lines seized by CBP officials jumped in fiscal 2021
Source: Customs and Border Protection
Modernizing customs legislation is critical, especially since the last update to the laws policing what enters and leaves US borders happened 30 years ago, said Mike Crapo, the committees ranking member. 
Since then, global trade flows have surged, and now, the challenge comes in striking the balance between speed and security. 
Enforcement authorities need to be able to stop illegal shipments from entering the US, but do so without slowing down product flows which jumped during the Covid-19 pandemic amid a jump in e-commerce and resulted in supply-chain bottlenecks. 
To keep legal trade moving, procedures need streamlining through a forum for government-wide policy, said Cindy Allen, the vice president for regulation at FedEx Logistics. 
While the US has a so-called single window for trade-data collection, it currently has 47 different panes one for each of the agencies involved in international trade, and the glass is a little bit different in every turn in every pane, she told the committee.
Data Quality
This is something that Louisiana Republican Bill Cassidy and Rhode Island Democrat Sheldon Whitehouse sought to address in their
draft Customs Modernization Act, released in November 2021.
Focusing on collecting only the most important data at the right time from the right party should be a priority, according to Brenda Smith, the government outreach director at logistics freight-forwarding company Expeditors International of Washington. 
More data isnt always better quality is more important than quantity, said Smith, who previously served as executive assistant commissioner for trade at the CBP.  
The US needs a much more aggressive approach to policing trade to ensure that people cant benefit from abusive and unlawful conditions overseas by selling products in the US, said Scott Nova, the executive director of the Worker Rights Consortium. 
Smith said the US needs to have the ability to enforce its penalties on overseas actors. 
That can be a challenge the enforcement process is lengthy and it also it often does result in not being able to collect the additional duties, because they cant reach the individual that caused the importation in the first place, she said.
Ana Monteiro in Washington
Charted Territory
Earthquake zone | The earthquake that devastated parts of Turkey and Syria struck a key area for global supply chains, a region thats especially important for the clothing industry. According to a
data search on Open Supply Hub, a non-profit platform whose funders include Amazon.com and Target, more than 13,000 facilities are in the damage zone. Those are suppliers including makers of apparel, footwear, home and other textiles, and leather goods, as well as automotive, food and beverage, and multi-category retailers, Open Supply Hub says. (Read more on the economic impact here and
here.)Todays Must Reads
Fresh curbs | President Joe Bidens administration is planning to impose new export controls and a fresh round of sanctions on Russia, targeting key industries a year after Vladimir Putin started his invasion of Ukraine.

Bloombergs Trade Tracker | Easing supply-chain disruptions and increased trade volumes are lifting the global outlook ahead of the highly anticipated boom that should come from Chinas reopening.

Asian exports | Taiwans export orders declined less than forecast last month as the post-Covid reopening of Chinese factories sparked a rebound in demand for smartphones. 

Food focus | Moscows invasion of Ukraine has highlighted the role of fertilizers  and who controls them  as a strategic lever of global influence, with Russia and China having a stranglehold on global food security.

Covering tracks | The mayor of Paulsboro, New Jersey, is still troubled by the disastrous messaging that surrounded a dangerous train derailment in his town more than a decade ago. The communications meltdown now troubling Norfolk Southern is worse. Meanwhile, President Joe Biden has

yet to nominate the leader of the hazardous shipping agency.

Brexit endgame | Rishi Sunak aims to convince his opponents to back a deal with the European Union on Northern Ireland next week, as Brexit purists privately concede they do not have the power to block any new agreement.

Whale tale | The offshore wind industry has a 40-ton problem on its hands.  Since early December, close to two dozen large whales have washed up on or near beaches on the US Atlantic coast, and about a third of the so-called strandings have occurred on the shores of New Jersey.

Wholesale prices | US producer prices rebounded in January by more than expected, underscoring persistent inflationary pressures that could push the Federal Reserve to pursue further interest-rate increases in the months ahead.
On the Bloomberg Terminal
LA slump | The Port of Los Angeles saw cargo volumes fall for a sixth straight month in January as inflation bites and retailers clear inventory stockpiled during the pandemic in lieu of placing new orders. 

West to East | Dwindling federal support for US West Coast ports relative to East and Gulf coast counterparts has contributed to a decline in their share of US trade with Asia, Port of Los Angeles chief Gene Seroka said, calling for more investment to halt the shift. 
Run SPLC after an equity ticker on Bloomberg to show critical data about a company's suppliers, customers and peers.
Use the AHOY function to track global commodities trade flows.
Click HERE for automated stories about supply chains.
For FreightWaves content, click HERE. 
See BNEF for BloombergNEFs analysis of clean energy, advanced transport, digital industry, innovative materials, and commodities.
Like Supply Lines?
Dont keep it to yourself. Colleagues and friends can sign up here. We also publish the
New Economy Daily, a briefing on the latest in global economics.
For even more: Follow @economics on Twitter and subscribe to Bloomberg.com for unlimited access to trusted, data-driven journalism and gain expert analysis from exclusive subscriber-only newsletters.
How are we doing? We want to hear what you think about this newsletter. Let our trade tsar know.