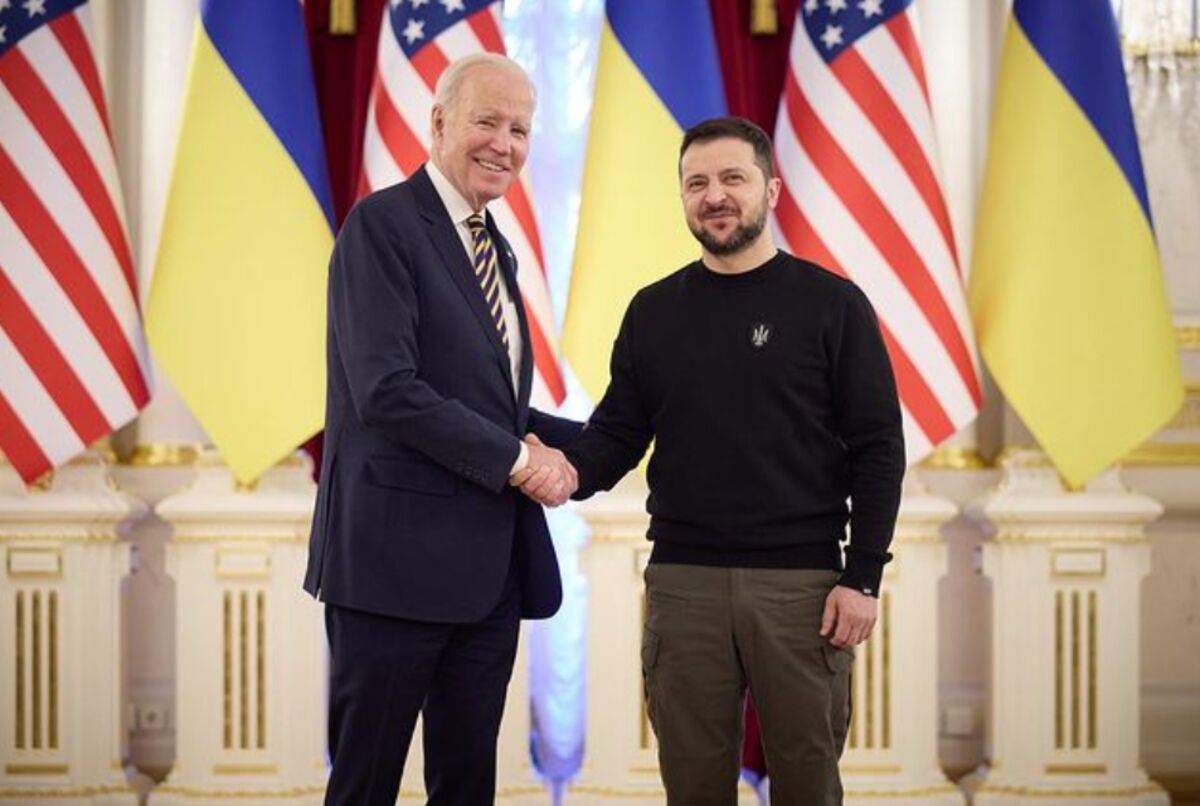 Many Sundays you will find US President Joe Biden going to church and then spending time with his family. Yesterday he headed for Ukraine.
Biden pulled off a surprise visit to Kyiv that was cloaked in secrecy until after hed met with President Volodymyr Zelenskiy today. But pictures started to surface of the pair walking along a street near the famous St. Michaels Golden-Domed Cathedral.
Key reading:
Dressed in a heavy coat and wearing his trademark aviator sunglasses, Biden experienced what residents of the capital frequently endure  air raid sirens going off.
With Russias invasion of Ukraine almost at the one-year mark, and expected to go on for some time in a grinding war of attrition, Bidens presence provides both a morale boost for Ukrainians and a signal of outside support for the country. He is one of the last major allies to have made the trip since Feb. 24, 2022.
It comes as Ukraine frets about whether unity will hold in a protracted conflict, as countries face their own problems at home including economic challenges.
Countries have pledged to send advanced battle tanks but that is at least several months off and some are foot-dragging on the timeline. Republicans in the US are making noises querying open-ended financial support.
While Biden announced yet another package of military aid in the works including artillery and radars, it does not include the very long-range weapons or fighter jets that Zelenskiy has been agitating for.
Bidens trip is a warning also to Russia, coming on the eve of a major address by President Vladimir Putin to lawmakers.
At the same time the US is raising concerns that China may start showing tangible support for Russia, including supplying it with lethal military aid, with top Chinese envoy Wang Yi visiting Moscow this week.
The American presidents visit will provide a rallying moment for Ukrainians after a year of devastation. But the reality is the country faces dark days ahead, and the boost may prove fleeting. 
Biden and Zelenskiy in Kyiv today.
Coming Soon: Understand power in Washington through the lens of business, government and the economy. Find out how the worlds of money and politics intersect in the US capital. Sign up now for the new Bloomberg Washington newsletter, delivered Mondays, Wednesdays and Fridays.
And if you are enjoying this newsletter, sign up here.
Global Headlines
Tense exchange | China and the US seem to be trapped in an acrimonious cycle of 
finger wagging that risks engulfing its partners and allies. The meeting between top diplomats from Beijing and Washington at a security conference in Munich this past weekend was meant to represent a détente of sorts. Instead, as Courtney McBride reports, it dissolved into a
fiery exchange over Chinas relationship with Russia.
China and the European Union should prepare for a meeting of their leaders, Beijings top foreign policy official said, a sign of the Asian nations efforts to court Europe amid worsening ties with the US.
North Korea fired a barrage of suspected ballistic missiles and issued a warning to the US over joint military exercises, less than two days after Pyongyang launched a long-range rocket designed to hit the American mainland.
Nuclear threshold | International atomic monitors in Iran last week detected uranium enriched to 84% purity, just below that needed for a nuclear weapon, two senior diplomats said. As Jonathan Tirone explains, its the second time this month suspicious enrichment-related activities have been discovered, underscoring the risk that Tehrans unrestrained atomic activities could prompt a new crisis.
Irans Highly Enriched Stockpile
Uranium enriched to 60% levels of purity swelled during nuclear talks
Source: IAEA data compiled by Bloomberg
Brexit challenge | UK Prime Minister Rishi Sunak faces the biggest political test of his premiership as he prepares to unveil a deal with the EU that risks a stand-off with Northern Ireland unionists and members of his own Conservative Party. A solution to the impasse in Northern Ireland may go some way to allowing Britain to reset relations with the EU more than three years after Brexit.
Then-Premier Boris Johnsons divorce deal with the EU handed Northern Ireland an advantage keeping one foot in the blocs single market and the other in Britains that has paid economic dividends, if not political ones.
Best of Bloomberg Opinion
Toxic disaster | The citizens of the rural Ohio town of East Palestine are still coming to terms with the aftermath of a Feb. 3 crash involving a Norfolk Southern freight train that spilled a soup of toxic chemicals and forced an evacuation. Ohio Senator Sherrod Brown yesterday blamed corporate greed for safety lapses, while the White House is facing a political crisis over its response to the disaster.
Explainers you can use
Cash crisis | Nigerias ruling party is split over the governments drive to replace high-denomination banknotes that has disrupted life and sparked protests in Africas most populous country. At least 10 state governors have gone to the Supreme Court to challenge the plan, which has pitted outgoing President Muhammadu Buhari against Bola Tinubu, his partys candidate in Feb. 25 elections who backs keeping old notes in circulation for longer.
Bloomberg TV and Radio air Balance of Power with David Westin on weekdays from 12 to 1pm ET, with a second hour on Bloomberg Radio from 1 to 2pm ET. You can watch and listen on Bloomberg channels and online here.
News to Note
Group of Seven nations and the EU are discussing ways to track Russian diamonds across borders, a move that could pave the way for restrictions on their trade, sources say.
A Chinese professor has been suspended by his university after a talk he gave at a school prompted an outburst from a student who accused him of worshiping the West.
The LGBTQ communities in Europe and central Asia faced increasingly violent and deadly planned attacks in 2022.
Public support for Japanese Prime Minister Fumio Kishida edged down slightly in an opinion poll, after a former aide made discriminatory remarks regarding the LGBTQ community this month.
West Africa bloc, Ecowas, maintained sanctions against the military leadership in Mali and Guinea and added a travel ban against Burkina Fasos rulers as fears grow over of a band of countries under military rule stretching across the Sahel region.
Thanks to the 51 people who answered the Friday Pop quiz and congratulations to Lou Chodosh, who was the first to name the Philippines as the country that protested a Chinese ships aiming of a military grade laser at one of its vessels.
And finally … Presidents are tweeting about them, the US State Department is recruiting experts in the field, and theyve become the focus of tensions between nations as well as an unlikely currency of diplomacy. Putins invasion of Ukraine brought the realization that the world relies on just a few nations for most of its fertilizers, notably Russia, China and Belarus. Read how thats pushed crop nutrients to the top of the political agenda as the world wakes up to its strategic dependency on a key determinant of food security.
An employee measures the concentration of harmful gases in an underground potash mine in Perm region, Russia, in 2017.
With assistance by Rebecca Choong Wilkins, Michael Winfrey and Alan Crawford