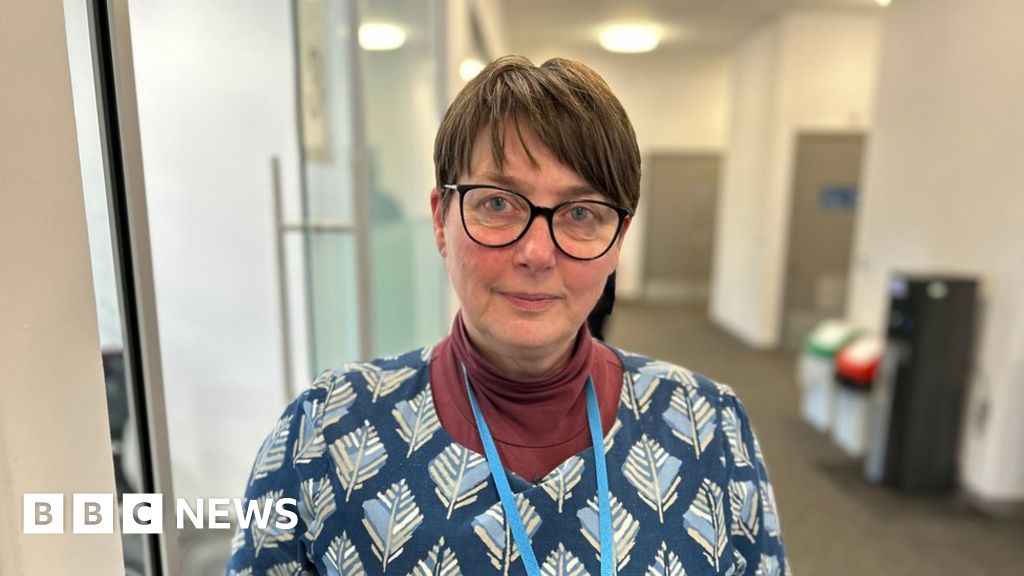 Di Forbes loves working for a debt charity but the growing queue of people in financial distress means helping them is becoming ever more demanding.
"It feels never-ending… it just doesn't stop," she said of the demand for help from Money Buddies in Leeds.
The charity's boss Saleem Shafi, told the BBC: "We're facing a debt tsunami and the sector is at breaking point."
Citizens Advice, Step Change and Christians Against Poverty said they had also seen record requests for help.
Money Buddies chief executive Mr Shafi told me the rising number of people in debt meant government funding through the Money and Pensions Service did not go far enough.
"We're desperate for more funding to employ more face-to-face staff," he said.
"Our staff are under far too much pressure trying to help three times as many people as at this point last year," he said.
So I asked him if I could spend a day with one of his frontline staff and see first-hand the pressure they are facing. "Sure," he said. "I know just the woman."
That's how I ended up in the passenger seat of Di's car on a cold morning at the end of January heading to the Trussell Trust foodbank at the Church of the Epiphany in Gipton, Leeds.
Di works full-time as a Money Buddy and describes it as like a triage.
"I find out as much of the basics as I can from each person and then point them in the right directions. I refer them to our benefits team, our debt team, a food bank, or a charity topping up energy," she says. Di says more people are coming to her for help than ever before – and national charities have told the BBC they recognise this experience.
Citizens Advice said in the last 12 months it helped more than 200,000 people with crisis support, like food bank referrals. It warned that 2023 could be "the year of the debt crisis".
StepChange said the number of clients it advised was up 78% in December and 34% in January compared with last year. Christians Against Poverty said it was also seeing a rise in demand for its services – in particular emergency support. The charity said rising costs mean its funding does not stretch as far.
The Treasury said it had invested £90m in free debt advice in England and was helping people to avoid debt with support worth on average £3,500 per household.
Tackling It Together: More tips to help you manage debt
When we arrive there's a woman waiting in line for the foodbank. We're not identifying her or any of the people Di speaks to because many of them are extremely vulnerable.
Di starts chatting to the woman and realises she can point her towards benefits she is entitled to but did not know how to claim.
Afterwards Di tells me: "I think she can see a little bit of light at the end of the very long tunnel."
Image caption, Di says so many people come in requesting help, it feels "never ending"
Di spots an email from an elderly man telling her he'd received £200 after she helped him make a claim.
"That's a huge amount for him. That'll make a big difference," she says.
"I like the little wins. I like it when someone gets what they deserve, what they need, makes them safe, gets them sorted out. I love that," she says.
Just as the foodbank is closing, an 18-year-old woman rushes in just in time for a food parcel and a quick chat with Di. She'd just left the care system and was struggling to cope on her own. Di helped her get a foodbank voucher and an emergency top-up for her energy prepayment meter.
We were late leaving the church hall, and by the time we arrive at the Armley Community Hub where Di holds a weekly drop-in service, she's practically running up the steps.
There's already a queue, and she's not had time for any lunch. Again. As she opens a wrap she tells me: "I'm contemplating sharing my lunch and that's not an unusual thing either."
Di gets settled in a side room and helps two women with emergency food and energy top-ups.
Next she helps a woman with an eight-week-old baby and no money on her prepayment meter to heat her home.
"It feels never ending," she says. "It's like a tsunami, it just doesn't stop."
There are another two people to see, who have been waiting to talk to her for four hours.
Eventually, an hour after Di was due to clock off we turn out the lights. But the day is not over.
Di still has a couple of baby bank referrals for people who are on the breadline tonight.
"So what I'm going to do now is go home, cook tea and carry on," she says.