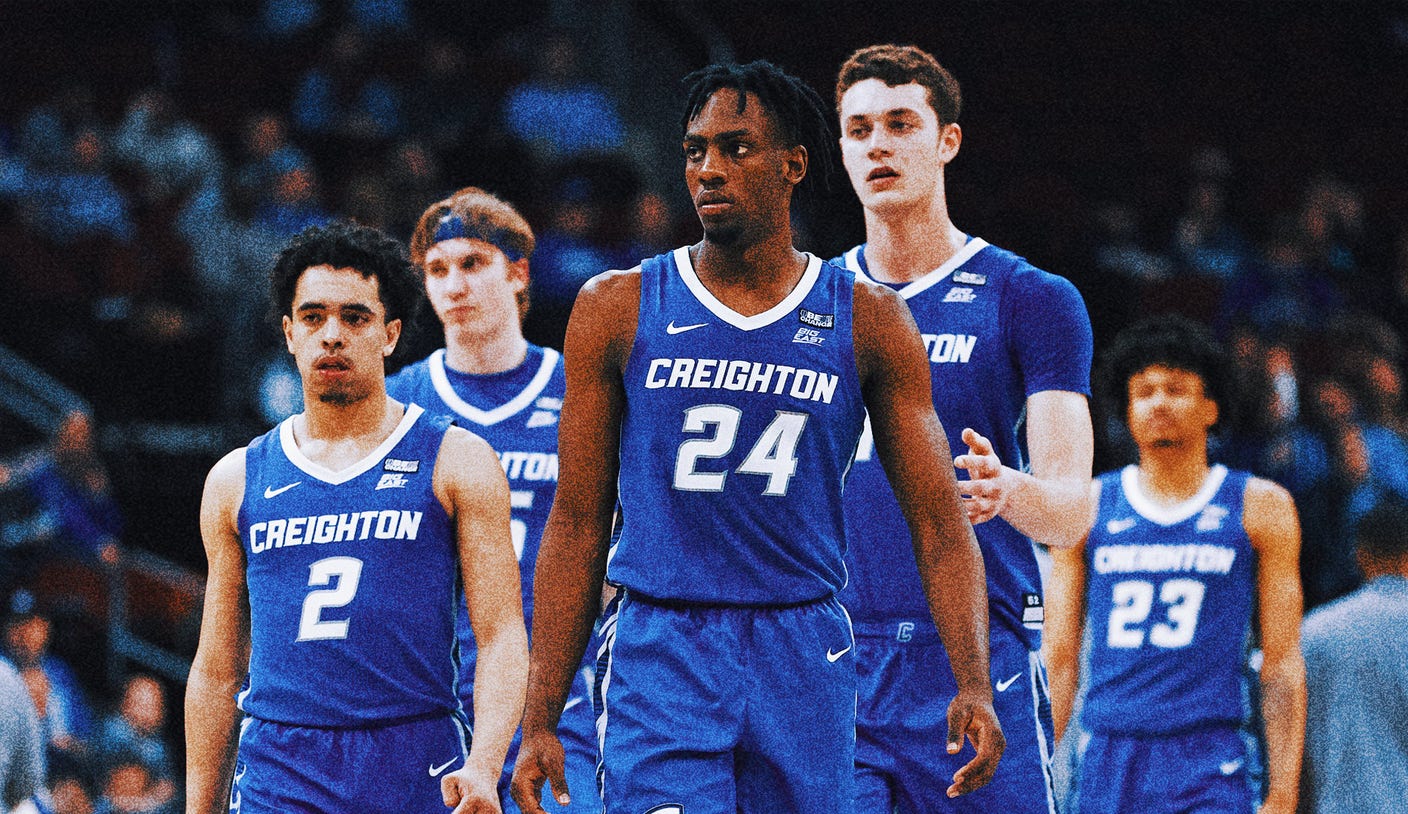 Just 57 nights ago, the Creighton Bluejays were getting labeled as one of college basketball's biggest disappointments. After they were ranked in the top 10 in preseason polls, Greg McDermott's team flew out to a perfect 6-0 mark and advanced to the Maui Invitational championship game. The narrative was that there was no limit to Creighton's potential. The Final Four was within the realm of reason.
What followed was nothing short of shocking, a six-game slide accompanied by Ryan Kalkbrenner's illness. Without their rim protector, the Jays defense fell off, and even when he reentered the rotation, a disconnection offensively coupled with a challenging schedule away from home contributed to a skid. 
Fast-forward to now, and those Final Four talks? They should be back on.
Creighton maneuvered through that rough patch, and in a top-25 showdown with UConn on Saturday, the Bluejays prevailed for a 56-53 win, their eighth straight. The winning streak is the longest for the program in conference play since the 2011-12 season.
A Jays squad that started conference play at 3-3 is now 11-3, and sitting right back in position to achieve the high goals of a Big East regular season crown, tournament title and deep NCAA Tournament run. It's the latest proof that the road to March is a marathon, and that McDermott is a maestro at getting his teams to play better and better as a season goes on.
Over the last month, nobody in the Big East has played better than the Bluejays, and they're performing as well as anybody nationally. Need proof? According to the analytics site T-Rank, Creighton ranks as the fourth-best team in the country.
What makes the Bluejays a potential Final Four threat?
They can win a game in a variety of ways. No, this is not just another one of McDermott's squads that can shoot the ball at an elite level and outscore you.
Rather, the Jays are actually better defensively than they are on the offensive end, and that was on display on Saturday afternoon. Creighton held UConn to just 13 points in the final 14 minutes in Omaha. This comes a game after the Jays went on the road and held Seton Hall to seven points over the final 12 minutes in Wednesday's 75-62 win over the Pirates. Their commitment to the defensive end and length makes them an easy team to trust because you can always count on them on that end of the floor.
The offense certainly isn't shabby either, and that's because elite guard play is a factor. UConn defended well on Saturday, but Trey Alexander showed great offense beats great defense with 17 points on 6-of-8 from the field, drilling some really difficult shots in the process. There were times where the Huskies really guarded well deep into the shot clock, but there was nothing that could keep Alexander from some tough buckets. Over the last 13 games, the Creighton sophomore has averaged 16 points per game. He's accompanied in the backcourt by his classmate Ryan Nembhard, who's third in the Big East at 5.3 assists and serves as the engineer for the offense.
With Arthur Kaluma and Kalkbrenner around that backcourt, the thought was that Creighton would be a Big East contender entering last offseason. When the Jays got Baylor Scheierman from South Dakota State, it opened everything up for this team to have the Final Four potential they possess.
In two games this past week, he's combined for 30 points and 18 rebounds. The 6-foot-7 wing gives McDermott the matchup nightmare piece to the puzzle, and his feel for the game is really difficult for opposing defenses to handle. Scheierman leads the team in double-doubles with 10 as well as made threes with 62 on the year. 
The rim protection of Kalkbrenner cannot be overstated, and he's one of the nation's leaders in field goal percentage at a 73% clip. If you need the biggest form of proof of what Kalkbrenner does, here it is: the Jays are 0-3 without the 7-footer, and 17-5 with him. 
If there's one concern with Creighton, it's depth. They don't have a great bench, but that starting five is one that I would put up with any in America. At 11-3 in the Big East, sitting just a half game back of Marquette, here's the Jays upcoming schedule:
Tuesday: at Providence (7 ET, FS1)
Saturday: at St. John's (7:30 ET, FS1)
Feb. 21: Marquette (8:30 ET, FS1)
Feb. 25: at Villanova (Noon ET, FOX)
March 1: Georgetown (8:30 ET, FS1)
March 4: at DePaul (TBA, FOX/FS1)
A critical Valentine's Day showdown at Providence will be difficult against a Friars team that's won 34 of their last 35 games at Amica Mutual Pavilion, but if Creighton could ever win that game, they'd be in prime position to win the conference regular season title. Regardless, this is a team that currently sits on the 7-line in Mike Decourchy's latest bracket forecast. 
They are playing much closer to one of the top lines, and in a year where college basketball appears to be wide open, don't let the projections and the 17-8 overall record fool you. 
The Bluejays are one of the best teams in America, and while it came in defensive fashion, they reminded us of that again on Saturday.
John Fanta
is a national college basketball broadcaster and writer for FOX Sports. He covers the sport in a variety of capacities, from calling games on FS1 to serving as lead host on the BIG EAST Digital Network to providing commentary on The Field of 68 Media Network. Follow him on Twitter at @John_Fanta
.
Top stories from FOX Sports:
Super Bowl Opening night: Best quotes from Eagles, Chiefs
Pro Bowl Confidential: 27 players pick MVP, most underrated, coaches, other questions
Tom Brady is the best thing to happen to the Patriots, even as he retires a Buc
Is Chiefs DT Chris Jones the NFL's most unheralded elite defender?
I was blessed to have Damar: Eagles Miles Sanders shares bond with Bills Hamlin
Eagles, Chiefs were best teams all season, setting up an epic Super Bowl
Eli Manning to Bradshaw to Brady: Ranking 10 best Super Bowls ever
2023 NFL Draft prospect rankings: 64 best available players
Signing day report card: Colorado, Oregon, Alabama, Texas shine bright
Shohei Ohtani sweepstakes: Ranking every MLB team's chances to sign him
Mavericks, Mark Cuban gamble big with Kyrie Irving trade
Super Bowl 2023 odds: lines for Chiefs Eagles; Philadelphia opens as favorite