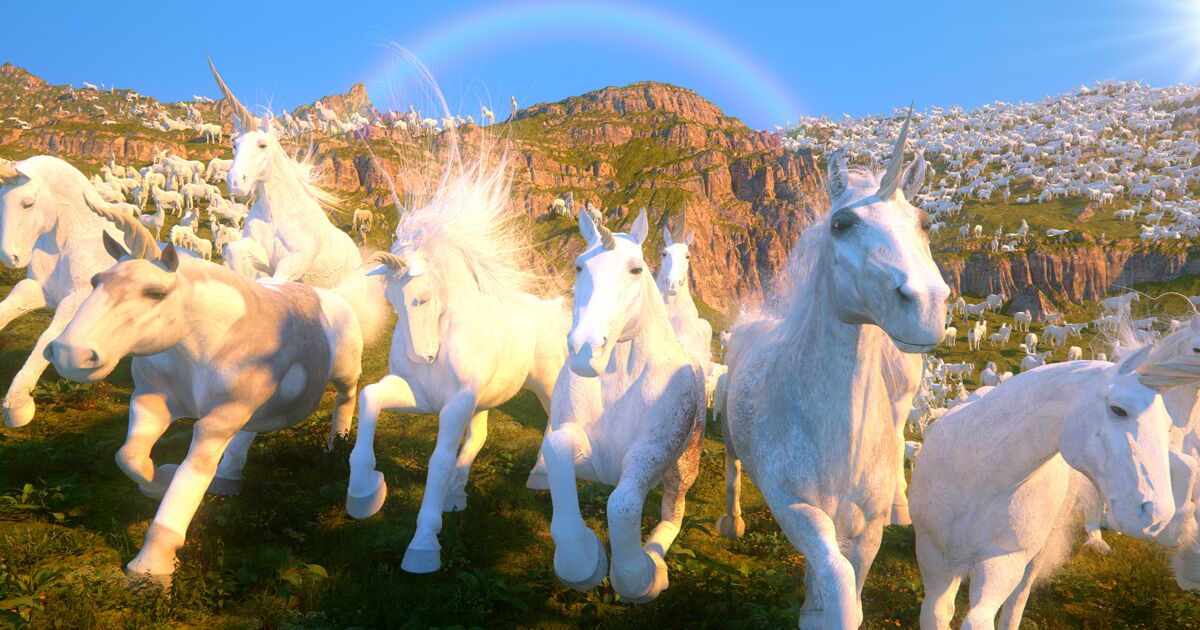 Hubert Palan signed on to Zoom from his home in Oakland, Calif., on Feb. 2 and prepared to address the 400 or so employees at his startup,
Productboard Inc. As chief executive officer, he had big news: Productboard had just raised a
new round of funding at a valuation of $1.7 billion. That meant the company could now officially call itself a unicornthe term for a startup that investors deem worth $1 billion or more.
Palan, a wide-smiling 43-year-old father of two from the Czech Republic, tried to make the video call a celebratory moment. I was jumping around over Zoom, he says. I was like, Yay! He took out a unicorn-shaped Christmas ornament, which hed decorated with a small sticker of the Productboard logo and attached to a long chain. He hung the ornament around his neck. He whooped and cheered, along with his staffthough he couldnt hear them because they were all on mute.
Becoming a unicorn may have been a big deal for Productboard, but its a distinction that means far less within the tech industry than it once did. The term emerged almost a decade ago, a time when startups worth $1 billion were rare and treasured, something only the luckiest of founders and investors would ever glimpse with their own eyes. Now the production of unicorns is reaching the scale of industrial agriculture.
Productboard was particularly notable in one way, though: It became the 1,000th unicorn, marking the first time the herd has crossed into four digits,
according to startup-tracking service CB Insights. That same week, six other companies became unicorns. On the day of Productboards internal announcement,
Dune Analytics, a Norwegian crypto analytics startup, gained its horn by raising a cheeky $69,420,000. In January, 42 startups became unicorns and four became decacornsthe clumsy nickname given to startups worth $10 billion or more. When you have 1,000 unicorns, says Brian Lee, who oversees research at CB Insights, thats almost an oxymoron.
Its hard not to see the number of billion-dollar startups as proof that the private markets are
overheatedsomething people have been saying for years. Even in the face of
volatile public markets,
inflation, and
rising interest rates, the mood among private market investors appears to be as ebullient as ever. Some of that undaunted growth is valid, says Lee: As more of the worlds services become digital, software companies become more valuable, and infrastructure such as Amazon Web Services makes it easier than ever to start a tech business.
In the past, companies the size of the most valuable unicorns
ByteDance,
SpaceX, and
Stripewould probably have already gone public. Today entrepreneurs feel
less pressure to do so, given how easy it is for them to raise the money they need from private funders. Staying private allows many companies to avoid the additional scrutiny and potential loss of control that comes with an initial public offering. Plenty of investors are eager to get in early on rapidly evolving industries such as crypto, pushing up valuations. You cant discount the power of FOMO, Lee says. People are willing to go in with more capital.
The term unicorn dates to a 2013
article that Aileen Lee, a venture capitalist whod just started a firm called
Cowboy Ventures, wrote for the news site TechCrunch. Her article was about lessons investors could take from examining the few U.S.-based tech companies that had reached a $1 billion valuation. Looking at private and public U.S. software companies founded since 2003, she identified 39 of them, representing the top 0.07% of venture-backed startups. They included Airbnb, Dropbox, Facebook, Groupon, LinkedIn, Tumblr, Twitter, Uber, YouTube, and Zynga. About four unicorns had been created each year during that decade, mostly in consumer software services. Despite the fascination with young founders hitting it rich from their dorm rooms, Lee found that the people who started unicorns tended to be in their 30s. Of all the lists founding CEOs, not one was a woman.
When she was writing the article, Lee toyed around with using terms such as monster hit and home run to describe the megastartups. But unicorn seemed like an appropriate word for a distinction that, as she wrote, was extremely rare and pretty awesome.
Whats a Unicorn Worth?
Data: Brand Finance, the Numbers, Dun & Bradstreet, news reports, Boone Trading, Andersons, Pokémon prices, fast-food menu prices
The name stuck. In 2015, Fortune
ran a cover story, The Age of Unicorns, in which it analyzed privately held startups with billion-dollar-plus valuations. Illustrated with a full-page image of a white unicorn in a Zuckerbergian hoodie, the piece fretted that there were already too many unicorns for the label to matter anymore. Is this boom for real? Fortune asked on the cover. The count at the time: 80.
In the years since, the answer has become a resounding yes. In 2022 unicorns are being minted at a rate of more than one a day.
Theres a shocking amount of investment money looking for a home$621 billion into startups of all kinds in 2021. Thats more than double the 2020 amount and exceeds the capital raised through IPOs over the same period, which itself was a record. Low interest rates and record-breaking paydays when private companies finally go public or get acquired have caught the hungry eyes of investors who have traditionally focused on public markets.
Covid-19s reshaping of the economy accelerated the boom. The number of unicorns had been growing steadily until the end of 2020, when the global count was 569. Then, in the next year, it almost doubled. Covid created so much personal loss and pain, but it has put tremendous mojo in the sales of software of all kinds, says Aileen Lee. The ease and efficiency of softwareits becoming the glue that runs how we communicate and how we do business.
Unicorns
Data: CB Insights
Shes quick to point out that more unicorns exist now in part because there are just so many more startups; the milestone is still a sign of rare success. Its so freaking hard to get to $1 billion, Lee saysit still takes timing, luck, superb execution, and longevity. Reaching that valuation is a strong predictor of further success, she says, adding that she hopes more companies run by women or people of color will reach that level, because its a life-changing event.
Some of todays unicorns are making their mark primarily by serving other tech companies. Productboard builds tools for product managersthe people who coordinate designers, software engineers, and marketers building, say, a new feature in an app or a specific fix for a major enterprise client. Its customers have included several unicorns, such as
Zoom Video Communications Inc. and
UiPath Inc., though those companies outgrew their horns when they went public in 2019 and 2021, respectively.
The Shape of Todays Herd
The most common focus for companies on the original unicorn list was consumer internet services. Nine years later, there are more companies in financial technology than in any other category, led by the payment-services company Stripe. The U.S. continues to be the leading home for $1 billion startups, but there are more Chinese unicorns in categories such as education, hardware, and transportation.
Data: CB Insights
In Productboards early days, Palan and Daniel Hejl, his co-founder, tried not to worry too much about the unicorn label, but potential investors were always asking whether they thought theyd eventually be worth a billion dollars. It was hard not to daydream. Palan says he would think things like: When we become a unicorn, its going to be awesome. The best people are going to come work with us.
Actually, hiring is still as cutthroat as ever, and Palan suspects that being a unicorn isnt unusual enough to tip the scales in recruiting. The goal posts got pushed, he says. Youre playing this constant catch-up.
Nonetheless, when the Productboard team gathered after its Zoom meeting on Feb. 2., the mood was enthusiastic. Local employees gathered at Productboards office in San Franciscos South of Market neighborhood, eating lunch from unicorn plates under a rainbow of unicorn balloons. Executives received bottles of bubbly with celebratory labels, while rank-and-file employees got unicorn T-shirts, candles, and robes with little unicorn icons. Its super cheesy, but its great, Palan says of the fanfare.
Afterward, employees clinked glasses at a happy hour, grilled Korean barbecue at YakiniQ in San Franciscos Japantown, and wandered over to private-room karaoke down the block. The next morning, Palan was still beaming. Sure, there are 999 other unicorns, but it still feels special. Its not like theres 1,000 unicorns in the product management space, he says. That would suck.
There have always been hot startups, but the numbers keep getting bigger
The First Batch
Twitter co-founders Biz Stone and Jack Dorsey (left), Tumblrs David Karp (center), and YouTubes Steven Chen and Chad Hurley.
Theres no clear-cut way to identify the first unicorn. Aileen Lees list comprised 39 companies, but it only considered those founded since 2003. It also included public companies, while the term today usually refers to pre-IPO startups. By that standard, some of the biggest technology companies in the world skipped right over the unicorn stage, including
Amazon ($438 million at IPO) and
Microsoft ($777 million).
The Biggest One
ByteDance founder Zhang Yiming (left) and the companys most famous product.
The most valuable private company on Lees original unicorn list was
Twitter, clocking in at about $10 billion. Todays biggest unicorn is another social media darling: TikTok parent ByteDance, worth $140 billion. ByteDances initial focus was a news aggregator, Toutiao, which remains popular in China. Its most famous product, though, came from its 2017 acquisition of Musical.ly, whose tech it adapted into the app that became TikTok.
The Worst Flop
Theranos founder Elizabeth Holmes.
Companies leave the unicorn list in one of two ways: They graduate by going public or being acquired, or they fail. One of the most spectacular implosions was
WeWork, whose largest investor valued it at $47 billion shortly before a planned IPO
collapsed suddenlythe company eventually recovered enough to go public with
a new CEO at a
far-reduced valuation. But its hard to think of a bigger fall than Theranos, the blood-testing startup founded by Stanford dropout Elizabeth Holmes. Theranos, once worth $9 billion, crashed after a Wall Street Journal investigation revealed how overheated Holmess claims about its technology had been. In January she was
convicted of fraud and faces up to 20 years in prison.
 Read more:
Netflix, Tesla, T-Mobile, and Dell Turned Junk Debt Into Bond-Market Treasure