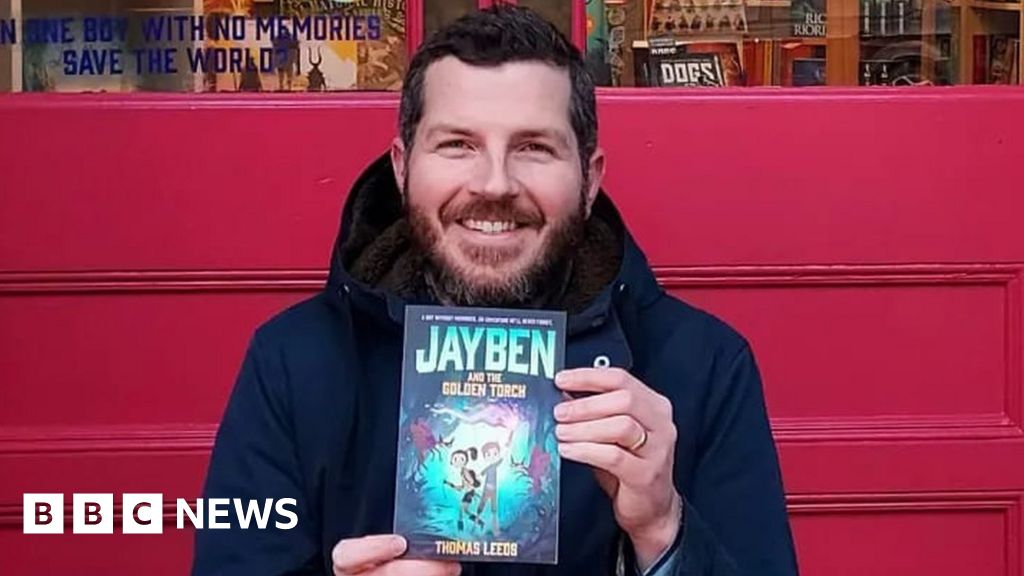 As a teenager, Thomas Leeds was hit by a car and lost his entire memory. Twenty years on, having learned to read and write again, his children's adventure book has been published to much hype and a 10-way fight for the rights.
If you're experiencing a sense of de ja vu at this point, that's because I told Thomas's story in 2021.
A lot has happened since then.
Every day during his recovery, Thomas would open a newspaper. He would pore over it, desperate for the jumble of letters and words to make sense. He was 20-years-old.
"Reading was a nightmare. Writing was a nightmare. I was doing what my now four-year-old is doing, which is trying to blend words together with each sound, like B-E-D," he told BBC Access All.
It was more than frustrating. From what people had told him about the boy he had been before the accident, he had been a reader. He was desperate to find that boy again.
Thomas's life took an extraordinary turn when he crossed a road in central London aged 19 and was hit by a taxi. The doctors initially thought he'd miraculously escaped serious injury but within days a blood clot was found on the brain and all his memories had disappeared.
He didn't remember his parents, or five siblings. He had no idea he had been about to go to university and had lost the ability to recognise peoples' faces. Scar tissue on his brain also led to epilepsy, something he still has today.
It is hard to imagine, but at the time, Thomas didn't understand what the fuss was about and describes feeling quite "content". Brain injury charity Headway says this is common following head trauma when the brain's chemical imbalance has been disrupted.
"I just felt vaguely confused," Thomas says. "And wonderstruck," when he discovered new things.
"I knew everything around me was weird, but I didn't know how weird I was."
Image source, Leeds family
Throughout his 20s, Thomas focused on his recovery, always hoping his memory would resurface. He talked to people about what he used to be like, looked at photos and re-visited old haunts, but nothing emerged.
Then, on the eve of his 30th birthday, there was a breakthrough. Preparing a playlist for his 80s inspired party he flicked through the songs and The Whole of The Moon by The Waterboys sang out.
"I pictured a rainbow
"You held it in your hands"
It triggered six flashbacks opening a window to his past.
"It was magical," Thomas says. "Just knowing that I've got something real from before, from the beginning of my story, really helped me face the future."
It set in motion the desire to write a series of books for nine to 12 year olds, the first of which is Jayben and The Golden Torch.
But it was a long slog for Thomas to learn to read and write again.
He started with picture books but "I couldn't keep track of anything," he says and struggled to remember the plots.
Thomas persevered and moved on to children's chapter books falling in love with fantasy and adventure stories set in alternate worlds which he felt were relatable.
"It was the easiest way for me to see myself," he says. "It sounds crazy, but when you've got memory problems, the real world is a mysterious, weird place."
LISTEN: You can hear more from Thomas on the BBC Access All podcast.
And while loneliness is part of life and can be difficult to overcome, Nikki Fox, Emma Tracey and several guests offer up some solutions.
Very early on, he came up with the idea for a character called Jayben. He, like Thomas, would have a brain injury and experience seizures.
In the book, Jayben wakes up in the Elf world with no memories to discover he's the only person who can save it from a villain called Null, who is making everybody forget. Jayben is told he has a special power, but it's locked up in his memories that he can't access.
Thomas started writing for himself, creating fantastic creatures such as skoggles – green dog-pigs – and trees where precious memories hang in jars, as a form of escapism and as a way to "recycle" his own experiences into an exciting story.
Writing helped improve his memory and focus and he learned that he is better at remembering new information if it is linked to an emotion.
But having set Jayben off on his adventure, Thomas wasn't sure what to do with the book.
He had no idea if his writing was actually any good
"I never did a writing class because I couldn't have coped to learn all of that stuff," he says.
On top of that, breaking into the publishing industry is notoriously difficult.
But word started to spread about his personal story and the book, and he met with The Good Literary Agency, which takes on under-represented British authors, including disabled writers.
Image source, Thomas Leeds
They believed in the story and convinced Thomas, a stay-at-home dad of two girls, to structure his day around writing.
He discovered the morning was the best time for him to write, when his brain was most rested and the pain manageable, but he still had to respect his limits.
"I'd never have six solid hours without brain fog," he says. "I feel amazing if I can do three hours of writing."
Even when his brain is "doing its job", he says he works differently to other authors and starts each session of writing by reading what went before, not to refresh himself of the plot, like other writers do, but "to remember" it.
"I have to keep track of everything. I have five different physical notebooks on the go and a master copy."
Being signed to an agency brought new challenges. Hard deadlines, expectations and collaborations with the editorial team.
"It was really difficult," he says. "I found it tricky doing lots of edits because I struggle to keep tabs on things, especially if it's fluid. And talking about something out of context, I didn't always know what they were talking about."
He learned to take his time over changes. Following a meeting he would ruminate for a day or two until it was straight in his mind, then he would email the team his plan "to make sure we're on the right page".
Thomas was, however, confident in one area. He knew Jayben, his hero, would live with a brain injury and he wouldn't shy away from the reality of the condition. Blank pages in the book and silences on the audiobook imaginatively denote seizures and memory loss.
"When I was re-discovering books, the heroes I loved were great, but they never forgot what they did yesterday or had to rest," Thomas says.
"Even though Jayben is expected to be a hero he has a few seizures. He has to rest for hours, the adventure has to stop, but he can still be the hero."
Image source, Thomas Leeds
It has been a rollercoaster ride, but when Thomas saw himself splashed across the front cover of the publishing industry's well known magazine, The Bookseller, he described it as "amazing" and started to believe it was finally happening.
Jayben and The Golden Torch has been released in the UK and will be out in Australia and New Zealand later in February. Books two and three will follow in 2024 and 2025 and he has a further three already plotted.
But Thomas can't bask in his success just yet. Much like an adventure book the final chase to publication was not without drama.
A week before launch his wife, Sophie, packed him off to a hotel on his own so he could meet the deadline for the second book. He also experienced a seizure and, just like Jayben, his adventure had to stop while he recovered.
"It's always difficult to get published, but for me, coming from a place where I literally couldn't read and write it is very hard to believe that this has happened."
You can listen to the podcast and find information and support on the Access All page.
The BBC is not responsible for the content of external sites.