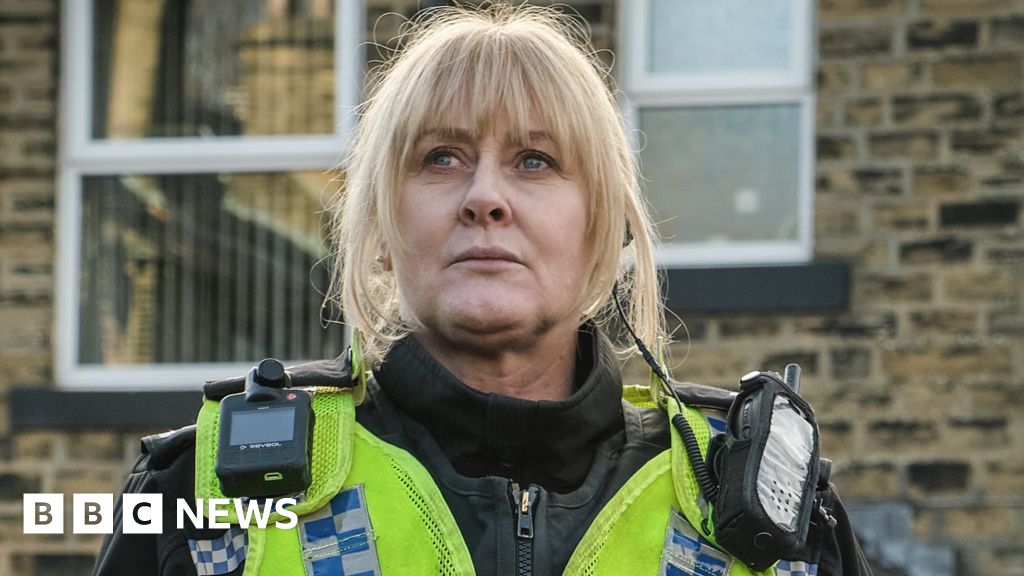 The climax of Happy Valley after three series has been described by TV critics as "a sensational end to a truly great drama" and "a heart-stopping triumph".
Reviewers and viewers alike praised the BBC drama after it ended on Sunday.
The Guardian's Lucy Mangan called the final episode "brutal, tender, funny, compelling and heartbreaking to the last" in her five-star write-up.
It was "a finale of understated, heartbreaking brilliance", agreed the Telegraph's Anita Singh.
"Not since Line of Duty has a drama finale been so eagerly awaited. Thankfully it didn't end like Line of Duty," Singh added, referring to the divisive conclusion of the other police drama's latest series.
"Instead, show creator Sally Wainwright delivered an ending that satisfied."
Media caption, Watch: Take a look inside the real Happy Valley house
The scriptwriter did "challenge our perspective", Singh added, although she ultimately decided the finale "was not the most gripping episode of this series".
"For heart-stopping drama, Royce's escape from court was the high point," she continued. "But it showed everything we loved about Catherine Cawood: Her toughness, her vulnerability, her sense of humour."
Sarah Lancashire has received acclaim for playing the no-nonsense Sgt Cawood, as has James Norton for his role as her nemesis, the criminal Tommy Lee Royce.
The pairing of Wainwright and Lancashire helped make the show great, Mangan wrote. "Separately, they are brilliant. Together, they are invincible."
For the West Yorkshire-set show's swansong, Wainwright delivered "neat but truthful resolutions to every part of the story," the critic added. "It had redemption, justice, bitter laughs and fire in its blood."
"Neil could be Tommy's dad."
"Alison will die."
"Tommy escapes by riding in the Tour De France as it comes through Hebden Bridge."
Those were three of the entries in a predict-the-ending competition at the Shoulder of Mutton.
The pub, which is in the centre of Hebden Bridge and featured in briefly in the show (over Catherine Cawood's shoulder in series two, episode three), hosted a final night viewing party. No popcorn, but a huge plate of Yorkshire puddings arrived in time for Jake Bugg's theme.
"This is the most dramatic TV since JR was shot," said landlady Lesley Wood, harking back to the famous 1980 Dallas storyline.
Throughout the episode there were gasps aplenty, I spied someone literally hiding behind a cushion, and the end credits were greeted with a round of applause.
And crucially, no-one won the predict-the-ending competition. Or even came close.
In The Times, Carol Midgley declared that the last instalment was "immaculately written and beautifully performed" as well as "exquisitely bleak and, surely, Bafta-winning".
Although she, too, gave it five stars, Midgley did say: "It wasn't a perfect episode. Not enough time was given to tying up the loose ends of Faisal the dodgy pharmacist and Rob the violent PE teacher."
But she concluded: "Thank you, Happy Valley. I doubt we'll see your unique brand of sorrow again."
Media caption, Sally Wainwright said it was difficult to predict how audiences would respond
The i newspaper's Rachael Sigee also handed out the full five stars for what she said was "an utterly gut-wrenching episode".
She added: "Sally Wainwright's exceptional dialogue didn't let up for a second as she concluded a story that has spanned almost a decade."
The finale is expected to have attracted big ratings. The first episode of the third series has now been watched by more than 10.5 million people, including on live TV on New Year's Day and on iPlayer since.
Sunday's nail-biting ending also earned widespread praise from viewers on social media.
Sobbed my way through the last twenty minutes. Absolutely wrung out. Magnificent, magnificent telly. Sally Wainwright, Sarah Lancashire, James Norton deserve ALL THE THINGS. #happyvalley
— Jojo Moyes (@jojomoyes) February 5, 2023
The BBC is not responsible for the content of external sites.View original tweet on Twitter