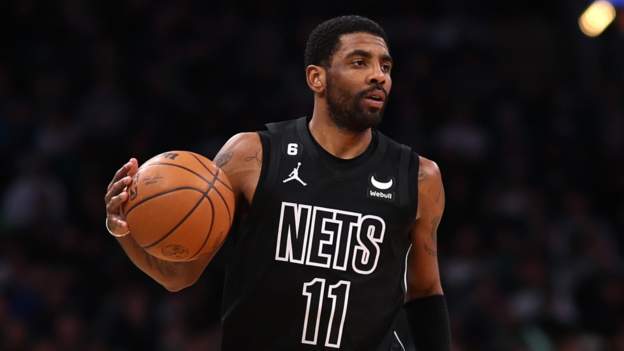 Kyrie Irving selected by the Cleveland Cavaliers with the first overall pick in the 2011 NBA draft.
Brooklyn Nets star Kyrie Irving has requested a trade after failing to agree a new contract, according to multiple reports.
Irving, 30, is hoping to secure a move before Thursday's trade deadline or he will leave as a free agent in July.
The eight-time NBA All-Star is in his fourth year with the Nets after joining them from the Boston Celtics.
The Los Angeles Lakers, the Phoenix Suns and the Dallas Mavericks have been linked with a move for the point guard.
There has been no comment on the matter from Irving or the Nets.
A move to the Lakers would see Irving reunited with Lebron James, who he won his only NBA title alongside at the Cleveland Cavaliers in 2016.
Irving has been selected as an NBA All Star for the eighth time after averaging 27.1 points, 5.1 rebounds and 5.2 assists during the regular season so far to help the Nets up to fourth in the Eastern Conference.
However, Irving has also endured a number of off-court issues during his time in Brooklyn.
His decision not to get the Covid-19 vaccine meant he could not play in the Nets' home games during the 2021-22 season until March because of New York's ban on unvaccinated people in indoor venues.
He would later say his decision not to get vaccinated cost him a four-year contract worth $100m.
In November Irving was suspended for eight games and had to apologise after posting a social media link to a film with anti-Semitic material.
On the court, Joel Embiid scored 33 points and had 10 rebounds to help the Philadelphia 76ers beat the San Antonio Spurs 137-125.
James Harden added 16 points and a game-high eight assists for the 76ers.
Harden, 33, missed out on a place in the NBA All-Star game on Thursday as he has not played in enough games this season, something he appeared to reference in an Instagram post that read "The Disrespect".
Harden, a 10-time NBA All-Star, has only appeared in 68% of the 76ers' games, with NBA rules requiring 70% as a minimum for All-Star selection.
Elsewhere the Orlando Magic beat the Minnesota Timberwolves 127-120 in a match that saw five players ejected from the court.
Magic duo Jalen Suggs and Mo Bamba were sent off in the third quarter for scuffling with Minnesota's Austin Rivers, with Taurean Prince and Jaden McDaniels also removed from the court for their involvement.
Other results included the Portland Trail Blazers beating the Washington Wizards 124-116, the Phoenix Suns edging the Boston Celtics 106-94 and the Detroit Pistons defeating the Charlotte Hornets 118-112.