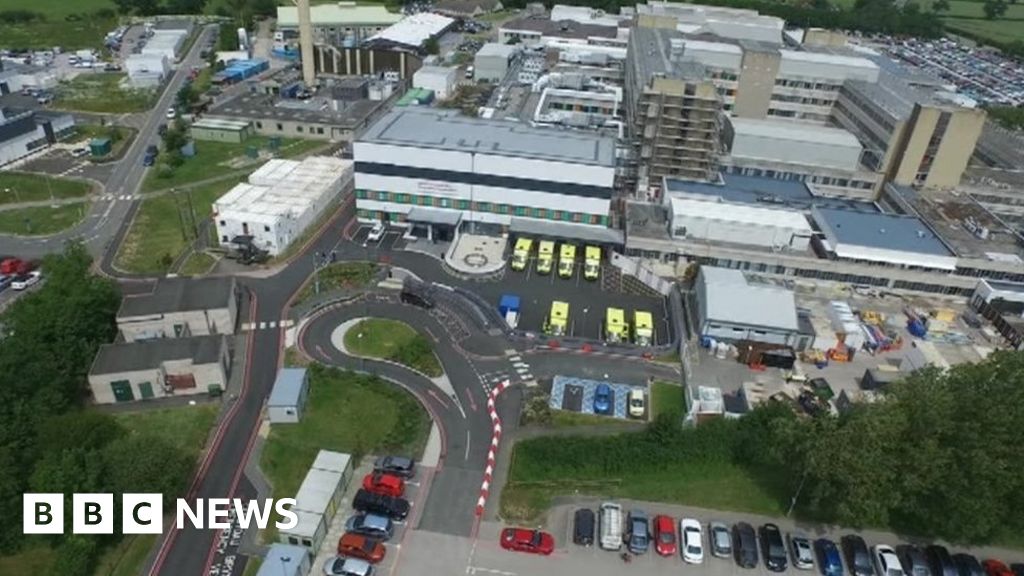 By Brendon WilliamsBBC News
Image caption, Vascular services were centralised from Ysbyty Gwynedd in April 2019 to Ysbyty Glan Clwyd
An amputee's wife had to "carry him to the toilet" after he was sent home from hospital without a care plan.
It is just one finding in a report into vascular services at Betsi Cadwaladr University Health Board in north Wales.
The critical report by the Royal College of Surgeons England makes five urgent recommendations "to address patient safety risks".
Executive medical director for the health board Dr Nick Lyons has apologised to affected patients.
Dr Lyons said the report was a "hard read", but the health board accepted it unreservedly.
In a controversial move, vascular services were centralised from Ysbyty Gwynedd in Bangor to Ysbyty Glan Clwyd – about 30 miles away – in April 2019.
After patients and staff raised fears about the new service at Ysbyty Glan Clwyd, Betsi Cadwaladr health board commissioned the Royal College of Surgeons to conduct a report.
Image caption, Dr Lyons says the findings of the report are "unacceptable"
Part one of that report, published last summer, made nine urgent recommendations and raised issues including too many patient transfers to the centralised hub, a lack of vascular beds and frequent delays in transfers.
The final part of the report, published on 3 January, focussed on the clinical records of 44 patients dating from 2014 – five years before centralisation – to July 2021, two years after the Ysbyty Glan Clwyd hub opened.
Assessors were "extremely concerned" about the case of a man where a decision was made to "amputate the foot rather than proceed to a below-the-knee amputation as the primary procedure".
The report adds: "The review team also noted that the patient had been discharged without a care plan and that the patient's wife was having to 'carry him to the toilet'."
It also highlights an "inappropriate" decision to offer a patient an "unnecessary and futile" amputation when "palliation and conservative therapy should have been considered instead".
Referring to that case, the report added that the risk from "major amputation was extremely high".
Media caption, Esyllt Calley said "flawed" changes to vascular services led to her husband facing a double leg amputation
In a further case, the review team concluded clinicians "were possibly working outside the limits of their competence".
For seven patients, clinical records did not include patient outcomes, and the review team recommended the health board reviews their care "to ensure they have received appropriate follow-up".
The report concluded that "it appeared that there were cases where the entire patient record had not been provided for review", and that "there were no clinical records available for the review team to assess regarding six cases".
Another conclusion noted that a majority of clinical records included "illegible" entries, and a majority of surgical notes, results and reports were "disorganised, illegible and incomplete".
While assessors noted good practice in some areas, the report makes nine recommendations, including five urgent ones "to address patient safety risks".
Dr Lyons added: "It's a hard read. First of all, I would like to say sorry to those patients who read it and recognise where our care has not been as it should have been, where we've let people down.
"The health board accepts the findings of the Royal College unreservedly and are now committed to continue to put things right."
Image caption, The health board centralised vascular services to a new unit at Glan Clwyd Hospital in 2019
Asked what he would say to the amputee sent home with no care plan, who had to be carried to the toilet by his wife, Dr Lyons said: "It breaks my heart. It's wrong, isn't it?
"As a doctor I read that and I was upset for that patient and I'd like to say sorry to the patient and to the family. It's unacceptable.
"We've already put in step measures in order to ensure that we have greater visibility when things do go wrong, and that we are much faster in saying sorry, and much faster in putting things right."
Despite the report highlighting failings before and after centralisation, Dr Lyons said there had been "real improvement" in the treatment of vascular patients, but acknowledged progress had to "speed up".
He said a centralised hub remained the best option for delivering services effectively, adding: "We've got a long way to go before I'm completely satisfied that things are as they should be."