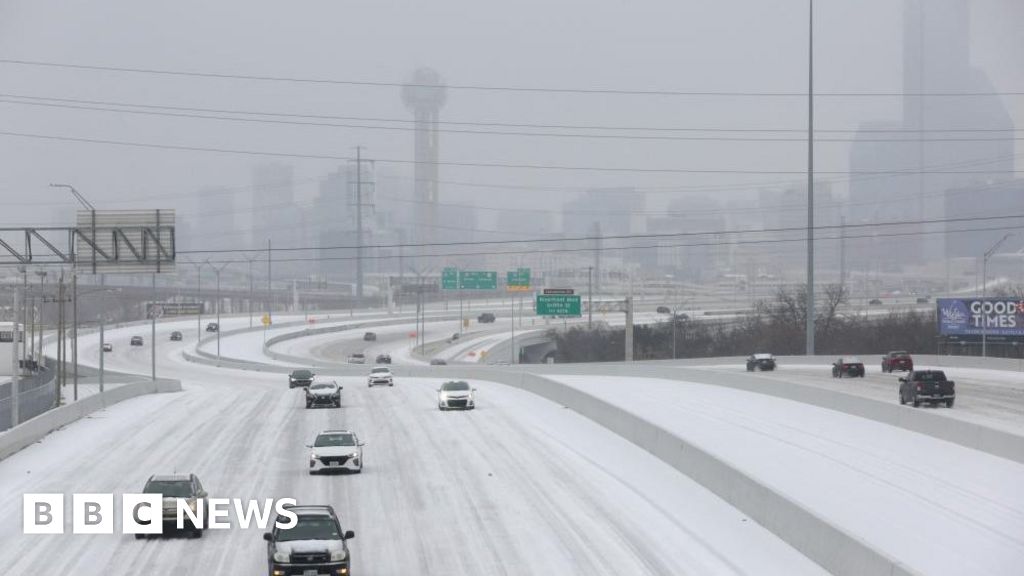 Media caption, Forecaster Nick Miller looks at the current ice storm and the arctic blast heading to the US
A deadly ice storm pummelling parts of the southern US this week has disrupted travel and prompted widespread power outages in Texas.
US airlines have cancelled more than 2,150 flights, with airports in Dallas and Austin being the most impacted.
Dozens of car crashes on slick roads were reported due to the bad weather, killing at least five.
Freezing rain and ice accumulations are expected across the region through Thursday.
In Texas alone, more than 270,000 people were without power as of Wednesday morning, according to pweroutage.us.
The National Weather Service said the "prolonged and significant" ice storm is continuing cross much of the southern Plains and mid-south.
The storm has brought a mix of freezing rain and sleet to south-central parts of the US, spreading from Tennessee to Texas, since Monday. More than 12 million people, including in Dallas, Fort Worth, Little Rock and Memphis are currently under an ice storm warning.
The NWS warned of additional accumulation of ice on central and north-central Texas roads, as well as parts of southern Arkansas. As much as half an inch of ice has been predicted to accumulate due to the extreme weather.
"This amount of ice accretion on top of what has already fallen is likely to lead to more treacherous travel across untreated roadways, along with the potential for tree damage and power outages," the NWS said.
The agency added that parts of Texas, as well as Louisiana and northern Georgia may experience flash flooding on Thursday due to heavy rain.
This weather phenomenon is caused by an arctic cold frontal passage making its way south, where it is being confronted with warm and moist air from the Gulf of Mexico.
The result is wintry precipitation that is expected to drape over the region, the NWS said.
On Wednesday morning, Dallas issued an ice storm warning, telling drivers that "travel will be nearly impossible" through the evening and into Thursday.
Both Dallas and Memphis have cancelled classes on Wednesday due to the hazardous road conditions. In Memphis, the winter weather delayed the start of the funeral for Tyre Nichols, the man who died last month after being beaten by police officers.
Emergency crews in Texas have responded to hundreds of collision calls since Monday, some of which have been fatal. Three men were killed in a crash near Brownfield, southwest of the Texas city of Lubbock, according to the state's Department of Public Safety.
One person in Austin was killed in a car pileup on Tuesday, local authorities said. Another 45-year-old man died on Monday in Arlington after his SUV slid into a highway guardrail.
Several local police departments have urged motorists to drive carefully. The Dallas Police Department asked people to make sure their tires are inflated, to slow down on icy roads and to avoid using cruise control.
Texas governor Greg Abbott also asked motorists to "stay off the roads if possible". Meanwhile, Arkansas governor Sarah Huckabee Sanders has declared a state of emergency due to the icy conditions.