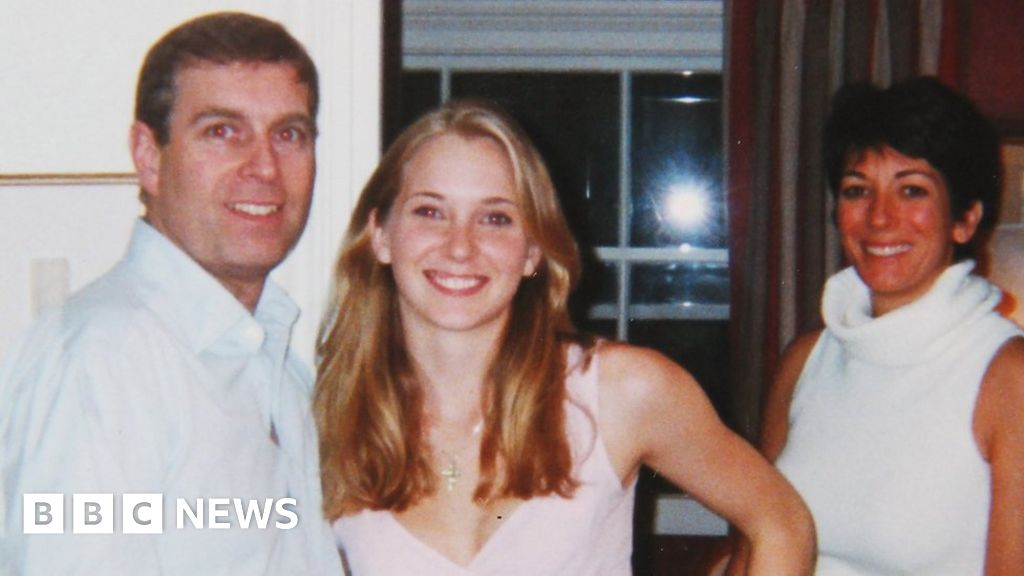 By Becky MortonBBC News
Image source, Virginia Roberts
Image caption, Prince Andrew, Virginia Roberts and Ghislaine Maxwell in 2001
The New York judge overseeing the civil sexual assault case against Prince Andrew has formally asked London's High Court to obtain a sworn statement from his former assistant.
Lawyers for Virginia Giuffre – Prince Andrew's accuser in the case – had requested help to obtain testimony from Robert Olney.
Mr Olney previously worked for the prince as his equerry.
Prince Andrew has consistently denied Ms Giuffre's allegations.
Her lawyers say Mr Olney's name and phone number were in the contacts book of paedophile Jeffrey Epstein and that the former assistant would have knowledge of his relationship with Prince Andrew.
Epstein, a convicted sex offender, died in prison in 2019 while awaiting a sex trafficking trial.
US judge Lewis A Kaplan released his correspondence sent to a judge in London, formally asking for her assistance in the civil case brought by Ms Giuffre, on Monday evening,
The request, under an international legal convention between co-operating courts, means that the British court must now decide whether to become involved in Prince Andrew's battle.
In the letter to Senior Master Elizbeth Fontaine, the official who manages requests from foreign courts for assistance, Judge Kaplan said any evidence obtained from Mr Olney would be used in Ms Giuffre's civil damages claim against the prince.
As Prince Andrew's former equerry, Judge Kaplan said Mr Olney was likely to have "relevant information" about travel to and from Epstein's properties and about the duke's relationship with Epstein and Ghislaine Maxwell, who was found guilty last month of grooming underage girls.
The judge said that if his request was accepted, Mr Olney should be questioned about any communications that touch on Ms Giuffre, given that Prince Andrew claims he has never met her or sexually abused her.
He has also sent a request asking for a statement to be taken from Shukri Walker, who has said she saw Prince Andrew at Tramps night club in London in March 2001 with a young woman who may have been Ms Giuffre.
Two more requests have been sent to the Australian attorney general, fulfilling applications from Prince Andrew's team.
The first is a request for Australian authorities to take a statement from Robert Giuffre, Ms Giuffre's husband, concerning what she may have told him in the past. The second is a request to obtain the co-operation of Ms Giuffre's therapist.