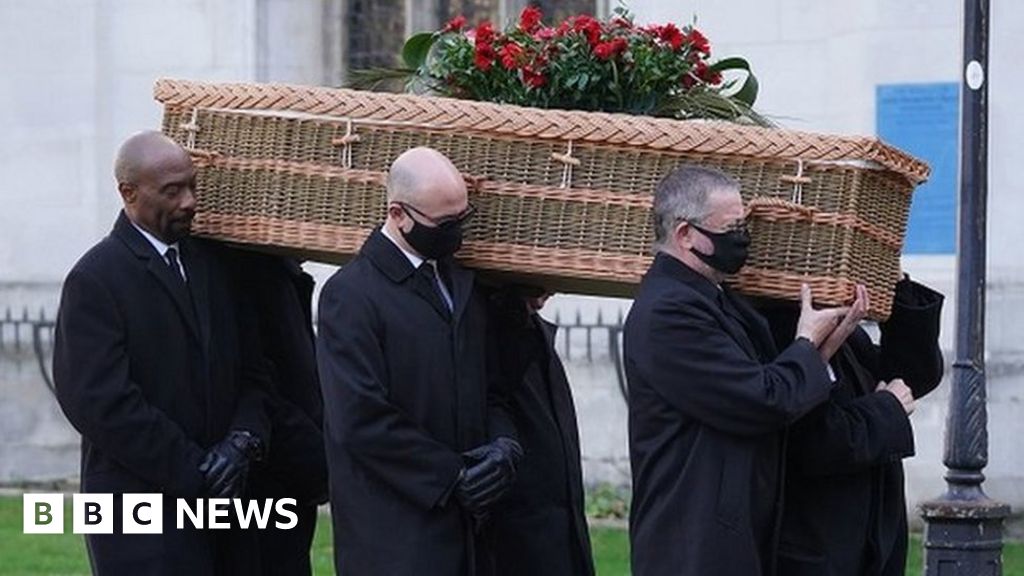 Image source, UK Parliament / Jessica Taylor
Image caption, Jack Dromey's funeral was held at St Margaret's Church in Westminster
A funeral has been held for Labour MP Jack Dromey.
The 73-year-old shadow minister and member for Erdington died suddenly in his Birmingham constituency flat on 7 January.
Hundreds of mourners, including politicians from across the political divide, attended the service at St Margaret's Church in Westminster.
Former prime minister Gordon Brown told mourners Mr Dromey "remade history many times over" in his political career.
Image source, UK Parliament
Image caption, Jack Dromey died in his Erdington constituency flat on 7 January
Mr Dromey, who had held his seat since 2010, is survived by his wife, fellow Labour MP Harriet Harman, and his three children.
Former prime minister Sir Tony Blair and current Labour leader Sir Keir Starmer were also among those who attended the service on Monday.
Mr Brown, who served as prime minister from 2007 to 2010, paid tribute to Mr Dromey's "irrepressible, almost boundless energy".
"From the start, Jack had a bigger mission, born of the intensity of his idealism and the courage of his convictions," he said.
"He saw wrongs and wanted to right them, injustices and wanted to resolve them, and where there was unfairness, there Jack always was, fighting it."
Image source, UK Parliament / Jessica Taylor
Image caption, MPs from across the political spectrum attended the service
Image caption, Former prime ministers Sir Tony Blair (left) and Gordon Brown were among those present
Sir Tony gave a Bible reading, while Mr Dromey's daughter Amy Harman read an extract from her mother's book A Woman's Work.
Jess Phillips, Labour MP for Birmingham Yardley, described the service as "brilliant and funny and beautiful and a testimony to Jack".
Born in London in 1948, Mr Dromey made his name in politics through the union movement, as a leading figure in the Transport and General Workers' Union, which later became Unite.
A minute's silence was observed in the House of Commons on 10 January to remember him, with Speaker Sir Lindsay Hoyle leading MPs in paying tribute.
People across Birmingham have been paying tribute to Mr Dromey, with Perry Barr's Labour MP Khalid Mahmood describing him as a "man of the people"., with a gathering held in his constituency for people to pay their respects.
Image caption, Jack Dromey married Harriet Harman in 1982 and had three children, including their son Harry
Follow BBC West Midlands on Facebook, Twitter and Instagram. Send your story ideas to: [email protected]