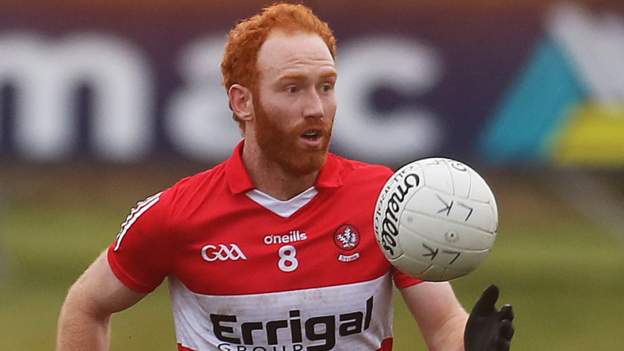 Ethan Doherty was one of two Glen players in the Derry team
Rory Gallagher has praised the mental strength of Glen duo Conor Glass and Ethan Doherty after they played in Derry's Division Two win over Limerick.
Glass and Doherty started at Owenbeg despite the uncertainty surrounding their club's All-Ireland SFC fate after last weekend's final ended in a controversial loss to Kilmacud Crokes.
Gallagher suggested that he never considered them not playing.
"Nobody expected the outcome or what's been spoken about since," he said.
He added: "We have well defined breaks, well established breaks, for the boys and we hadn't even have a discussion about it [whether they'd play or not] in the last few weeks.
"They have great mental strength. I know their mentality and they love playing football for Glen and for Derry. Conor was outstanding given he hasn't even trained with us.
"We all expected Glen to be finished last week but the boys are available for Derry now and that's it."
Replaying the game is one option due to be explored by the GAA when the CCCC was expected to meet on Saturday to discuss the matter, after Kilmacud Crokes submitted a counter-objection to Glen's protest.
The Derry club were beaten 1-11 to 1-9 but video showed Kilmacud had 16 players in their massed defence at the finish as Glen chased a match-winning goal.
Kilmacud (in purple) had 16 players defending their goal in the dying seconds at Croke Park
Gallagher, perhaps unsurprisingly, said "it's nothing to do with me" when asked what he thinks will happen next and added that "I'd rather you didn't ask" when questioned on whether Glen deserve a replay.
"I would sympathise with them [Glass and Doherty] that there is this distraction," he continued.
"Your natural reaction for two players you've an awful friendship and bond with is that, when they don't win, you are emotionally upset for them."
Gallagher was a lot more comfortable giving his views on Derry opening their Division Two National Football League campaign with comfortable 0-16 to 0-4 home win over Limerick.
"We were disappointed we weren't good enough to get promotion last year but we are happy to be where we are and have two points on the board early," he said.
"We were at just an okay level for a lot of it, so two points is good.
"Limerick came with a containment approach and we have to be aware of that and handle situations like that. We handled it pretty well but there were a lot of missed chances, and the game could have been out of sight by half time."