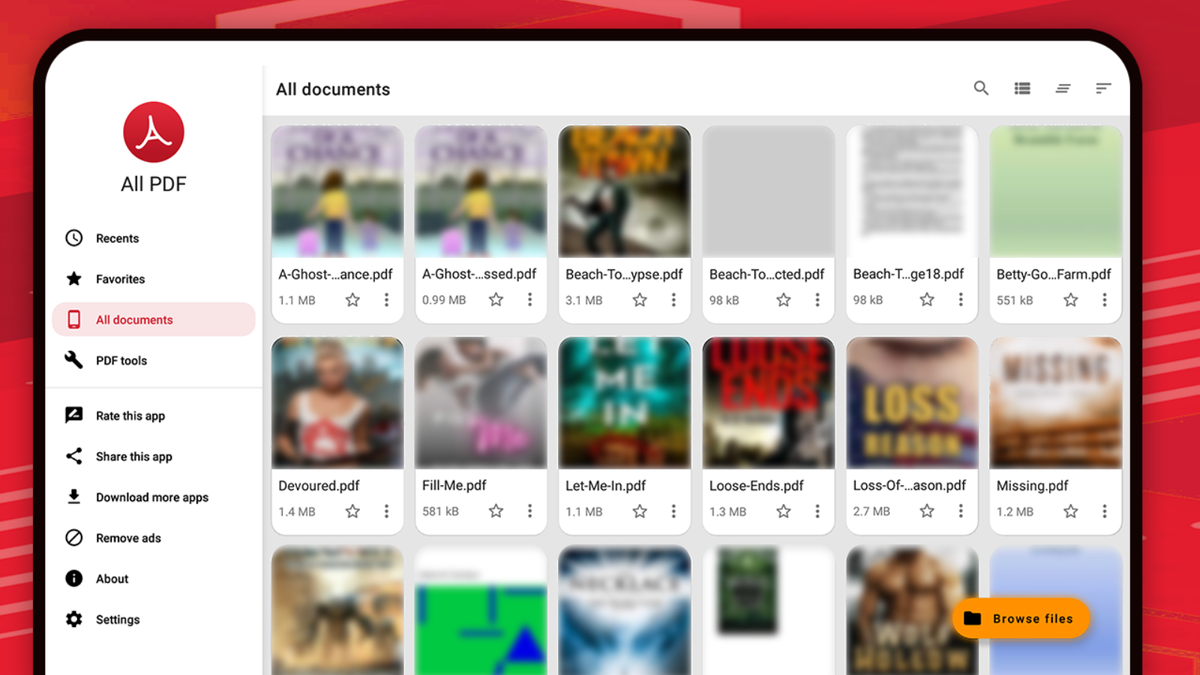 As far as the best free PDF readers
go, All PDF is primed to serve most of your needs. If you want to view PDFs while on the go, but you need more tools than your standard browser
offers, the PDF reader for Android
offers a solid toolkit for offline use, giving you an impressive amount of control over your files – all wrapped up in a super-clean UI. 
It's not a full PDF editor
for your phone, having more in common with the Adobe Acrobat Reader
app (only without the constant nudging to take out a Document Cloud
subscription). But what does the lightweight free PDF viewer deliver for users? 
Download All PDF from the Google Play Store here (opens in new tab).
All PDF: Pricing & plans
Free with ad-free Pro upgrade 
The All PDF Android app is free to download and use. The trade-off here is the inclusion of ads. Don't worry though, these are limited to an unobtrusive strip at the bottom of the page and a full-screen advert that appears once you've performed a task like, for instance, converting an image to PDF. It feels like a fair trade, with ads never bombarding you or seriously getting in the way of what you're doing. 
 You can opt to subscribe, which removes the ads while offering access to what the developer dubs 'premium tools'. There are three options – monthly, semi-annually, and annually. You can also choose to buy the app outright, so if you're a PDF power user, it offers pretty good value for money. 
There's also another paid-for version  – All PDF Pro, with a one-off fee of $6.49 / £5.99 / AU$9.99. An ideal choice if you're looking for a subscription-free PDF viewer.
All PDF: Interface & experience
(Image credit: Robert Londo)
Impressively speedy and smooth in use and operation 
All PDF is optimized for mobiles and tablets, which means there are certain expectations for the user. A clean interface, simple navigation that's thumb-friendly and intuitive. On that score, the PDF editing app performs excellently. Once you start digging into the app, the user experience fares just as well. It's as smooth as silk. Even larger documents open without the sort of delays and lags that can sometimes affect these kinds of mobile-focused tools. 
At the foot of the home screen are four options for finding your PDFs: Recent, Favorites, Device, and PDF Tools. There's also 'Browse files', a floating option that follows you across the app, putting access within easy reach at (almost) all times. 
Managing documents is equally effortless. To the top of the screen are options to alter the layout. You're free to display files as icons or in a list, with anywhere from two to six columns. This is especially handy for if you're a PDF power-user with a chestful of saved documents – although you can also search by filename, too, just to make things easier. 
Beneath the preview of individual files, you'll see two buttons. Tapping the star will save it to your favorites. Pressing the three dots unfurls a menu with a raft of additional options, from sharing and save location to seeing what security measures are in place, like whether or not the file has encryption
. 
Interface & experience: 5/5  
All PDF: Management & reading
Fair selection of in-document extras and settings to fit your preferences
Open up a document and the extras keep on coming. 
You'll see them at the top, where there's a search function which works incredibly well and, like everything else, performs its duty fast. Easing the experience for night-time readers is a toggle switch for dark mode. The Eye icon lets you switch to your preferred reading mode and page layout – horizontal view is particularly good, letting you swipe through pages like the PDF is a book, rather than endlessly scrolling up and down. 
A context menu hidden within the three dots is where you'll want to go to view the table of contents, jump to specific pages, add bookmarks, and share. It's also worth diving into the settings here, as you can tweak options like whether or not documents display in full screen automatically, remember the last viewed page, and prevent your phone going to sleep while a PDF file is open. 
Since the PDF covers are visible, it's all very clear to see which PDFs you have loaded up. However, while you can sort them by, say, date or title, we would've liked to see a drag and drop tool that let us organize them into our own unique order. 
All PDF: Tools
(Image credit: Robert Londo)
Good range of tools – and you won't need an internet connection to work them 
All PDF is positively loaded with useful tools for managing and manipulating your documents online and offline – all housed under the PDF Tools section.  It's here where you'll find options including split files, PDF merger tools
, and a PDF compressor
. 
Elsewhere, there are tools for extracting text and images from documents, as well as a JPG to PDF converter
. All are incredibly easy to use – and impressively fast, too. In just a few taps, we were downloading pictures in PDF form, ready to be shared with others. 
(Image credit: Robert Londo)
For the security conscious user, the app also offers the protect/unprotect feature for locking down (or unlocking) files with a user-defined password. Better still, you're given full control over what you can prevent others from doing with your PDF. For example, you may choose to allow PDF printing and commenting, while disabling the ability to copy content.
Granted, it's not the full PDF editor experience. This isn't Adobe Acrobat, after all. So, it's missing a few features, like a Word to PDF converter (or other Microsoft 365 apps for that matter). And there's no OCR software or eSign software built in. But for general use, All PDF covers most bases.
All PDF: Scorecard
Swipe to scroll horizontally
Pricing & plans`
Free with ads, subscription, and lifetime license
4
Interface & experience
Very clean, simple to navigate and use
5
Management & reading
Decent settings and preferences
4
Tools
Plenty of tools, but some locked behind paywall
4
Should I try?
(Image credit: Robert Londo)
Try it if…
You want a lightweight Android app for managing and viewing PDF files, with all the basic tools you'd need for general use.
Don't try it if…
You need full PDF editing tools that let you create and manipulate documents from scratch.