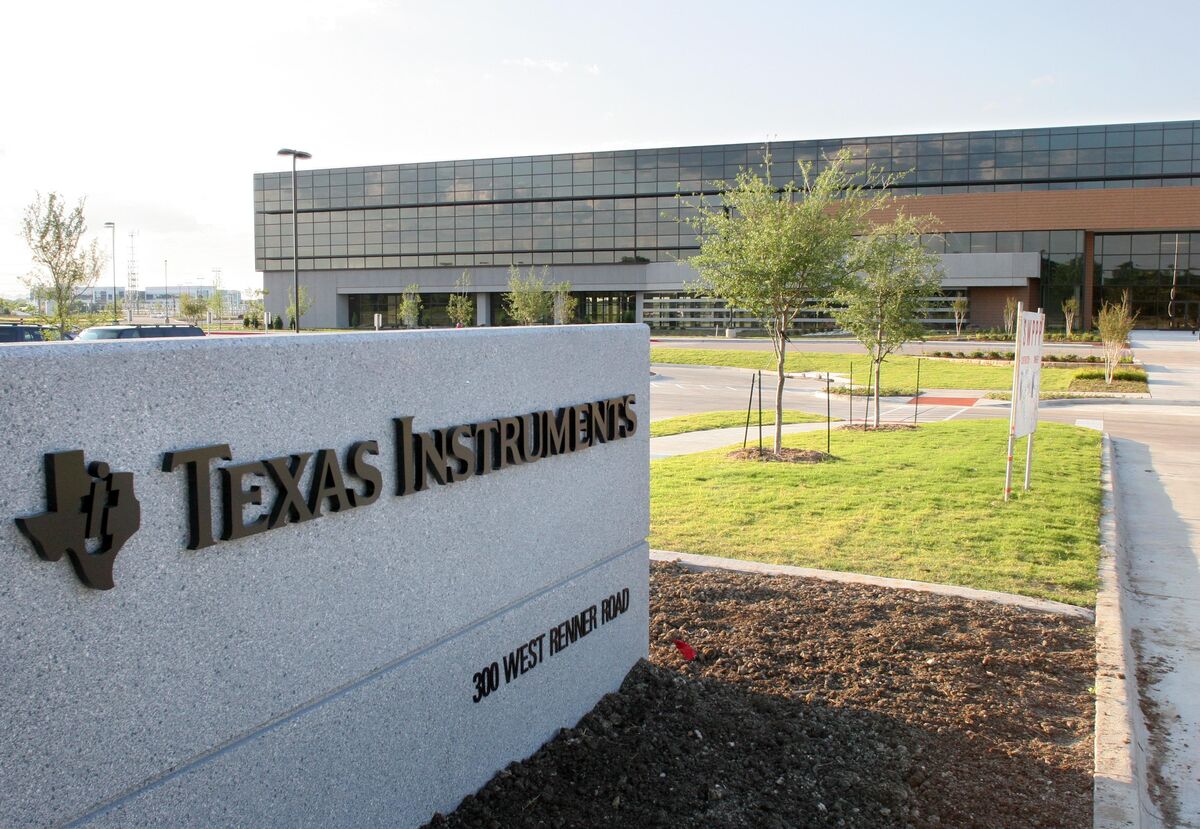 Texas Instruments Inc., one of the worlds largest chipmakers, suffered its first sales decline since 2020 and gave a tepid forecast for the current quarter, hit by an industry slump. 
Revenue in the first quarter will be $4.17 billion to $4.53 billion, the company
said Tuesday, compared with an average of analysts estimates of $4.41 billion. Profit will be $1.64 to $1.90 a share, versus a prediction of $1.86.
The wide range suggests the company is uncertain how quickly it may emerge from a slowdown. Texas Instruments has the longest list of
customers and broadest range of products in the $580 billion industry, making its projections an indicator of demand across the economy. Its also one of the first major technology companies to report results during the current quarterly earnings season.
The sharpest sales declines have been felt by chipmakers catering to the computer and smartphone industries. Companies such as
Intel Corp. and
Nvidia Corp. have reported steep drops in revenue as their customers cut purchases in an attempt to burn through unused stockpiles. Carmakers and producers of industrial systems which struggled to get enough supply during the pandemic have still been ordering at a healthy rate. But analysts have speculated that its only a matter of time before they start cut back too.
As we expected, our results reflect weaker demand in all end markets with the exception of automotive, Chief Executive Officer Rich Templeton said in the statement.
Read more: Texas Instruments taps operating chief to be next CEO
Last week, Texas Instruments named company veteran Haviv Ilan as its next chief executive officer, replacing Templeton in a long-planned succession. Ilan, currently the operating chief, will take the CEO job on April 1. Templeton, who turns 65 later this year, will remain chairman.
Texas Instruments
shares fell about 1% in extended trading following the announcement. They had earlier closed $177.04 in regular New York trading.
The Philadelphia Stock Exchange Semiconductor Index, which lost 36% of its value in 2022, has rallied 15% this year as investors put money back into industry-related equities. But Texas Instruments, which was a relatively strong performer last year, has lagged gains by its peers in 2023. 
The industry has been undergoing a broader-based inventory correction starting late in the third quarter last year, said
KeyBanc Capital Markets analyst John Vinh. On average these corrections typically last four to five quarters, which would imply we bottom probably mid-year. 
Despite its reputation as a bellwether, Texas Instruments executives typically avoid giving long-term predictions or much detail on what theyre hearing from their customers. Instead, they prefer to discuss long-term plans, such as spending on in-house production of analog and embedded chips, and efforts to return cash to investors. 
Fourth-quarter earnings amounted to $2.13 a share, Texas Instruments said, compared with a $1.97 estimate. Revenue declined 3.4% to $4.67 billion, breaking a run of double-digit percentage increases stretching back to 2020. Analysts had projected $4.61 billion. 
Texas Instruments is the largest maker of
analog and embedded processing chips, components which perform often simple but vital functions like registering button presses, detecting changes in temperature and controlling motors.
Such chips generally require less advanced production than Intel processors or other digital products. That focus has allowed Texas Instruments to become one of the most profitable companies in the industry and to devote its cash to dividends and share buybacks.
(Updates with additional results in)