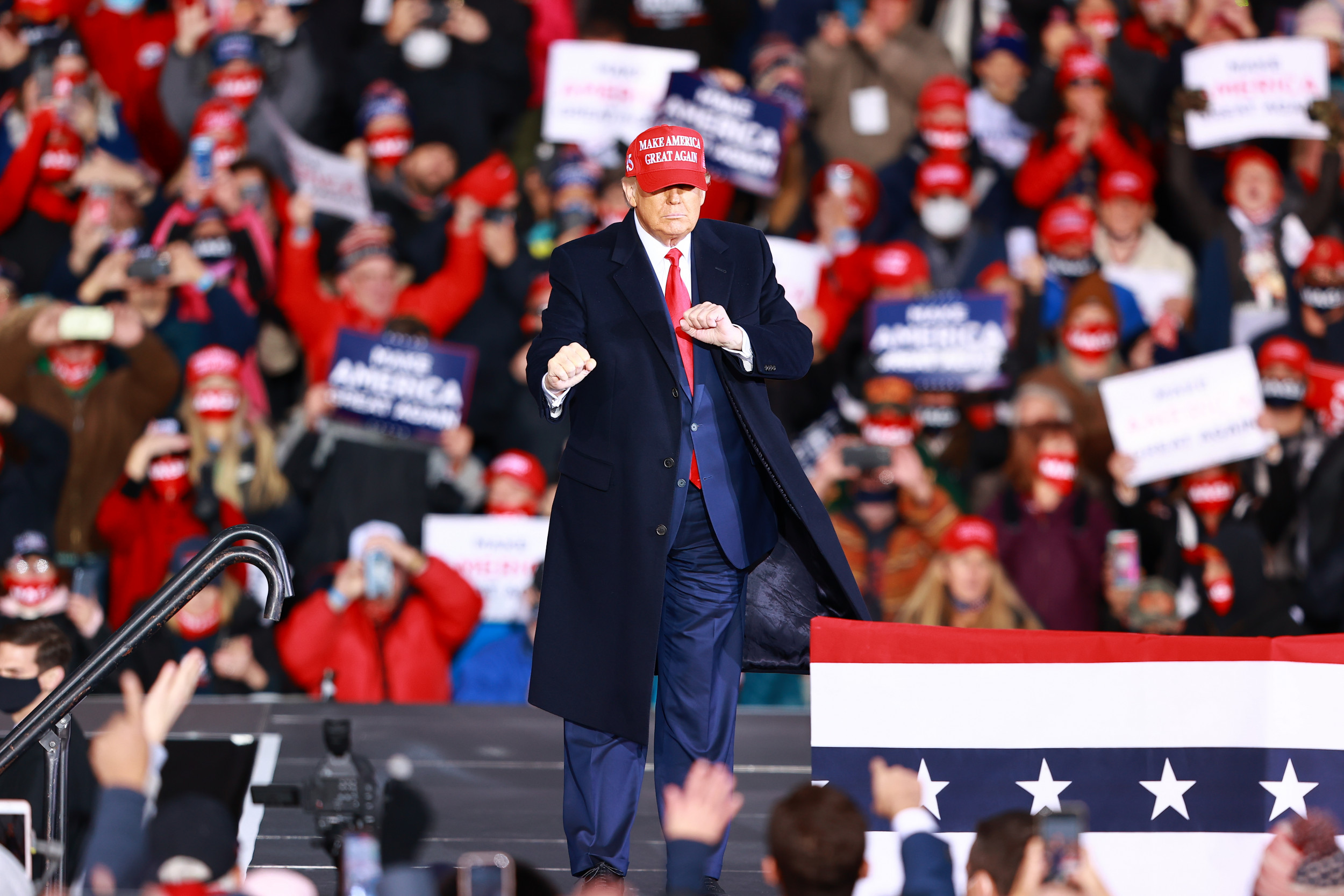 Former President Donald Trump has been accused of gross negligence over his administration's management of the COVID crisis by the journalist and author John Nichols.
In his upcoming book Coronavirus Criminals and Pandemic Profiteers: Accountability For Those Who Caused The Crisis, Nichols has claimed that Trump's approach to the pandemic was a "deliberate dereliction of duty" that was severely misguided and driven by "lies" that "cost not a few lives, but hundreds and hundreds of thousands of lives that did not need to be lost."
Nichols, who is the Home Affairs correspondent for The Nation, argues that the Trump administration downplayed the pandemic's severity and prioritized political gain over attempts to guarantee public health.
In an interview with Newsweek, Nichols said: "Under President Trump, there were a lot of deliberate actions, deliberate neglect, deliberate refusals to take the crisis seriously. Trump was conscious that his political prospects, his re-election campaign, rested on creating an image that he was managing the country well, that everything was going great.
"He saw something threatening and rather than adjust and actually manage it, he instead chose to deny it.
"Trump knew how serious the threat was and yet he chose a chaotic response. That denial, unquestionably led to more deaths, more infections, and really made what was always going to be an incredibly difficult moment, far more difficult for the United States."
In his upcoming book, due to be published on January 25, Nichols estimates that by the time Trump left the Oval Office, "the death toll was at least 160,000 higher—perhaps 300,000 higher—than what his own task force had suggested a successful response would produce in a worst-case scenario. In other words, Trump and his associates failed, by a horrifyingly wide margin."
The author has also classed Trump's response in the opening months of the pandemic as "dismissive" and blasted the administration for deliberately withholding information pertaining to the crisis from the American public.
The journalist also added that he believed Trump would have "almost certainly been re-elected as president of the United States" had his administration taken a more responsible approach to tackling the pandemic.
Nichols told Newsweek that the "mistakes" made by the Trump administration have "haunted the process going forward" for the current administration.
Former U.S. President Donald Trump pumps his fists during a campaign rally on October 17, 2020 in Muskegon, Michigan. Author John Nichols has accused Trump of gross negligence over his management of the COVID crisis.Rey Del Rio/Getty Images
"The challenges that the Biden administration is facing now are not a result of ill will or even political scheming, which we saw quite a bit of under Trump. They are a result of a failure to recognize that some things have to change in our system, that we need to have a very different and, frankly, a much more robust public health system in the United States," Nichols said.
Nichols also criticized Joe Biden's administration for its lackadaisical approach to the pandemic.
He told Newsweek: "The Biden administration began to get very comfortable with their response to the crisis. When they got hit with new variants, especially with the Omicron variant in the fall, it sort of came on unexpectedly, and that shouldn't have been unexpected, we should recognize that this is an ongoing challenge."
According to the Centers for Disease Control and Prevention, the total number of COVID-19 deaths has reached 856,288 as of Thursday.
Former U.S. President Donald Trump removes his mask upon returning to the White House from Walter Reed National Military Medical Center on October 05, 2020 in Washington, D.C. Author John Nichols argues that the Trump administration downplayed the pandemic's severity and prioritized political gain over attempts to guarantee public health.Win McNamee/Getty Images