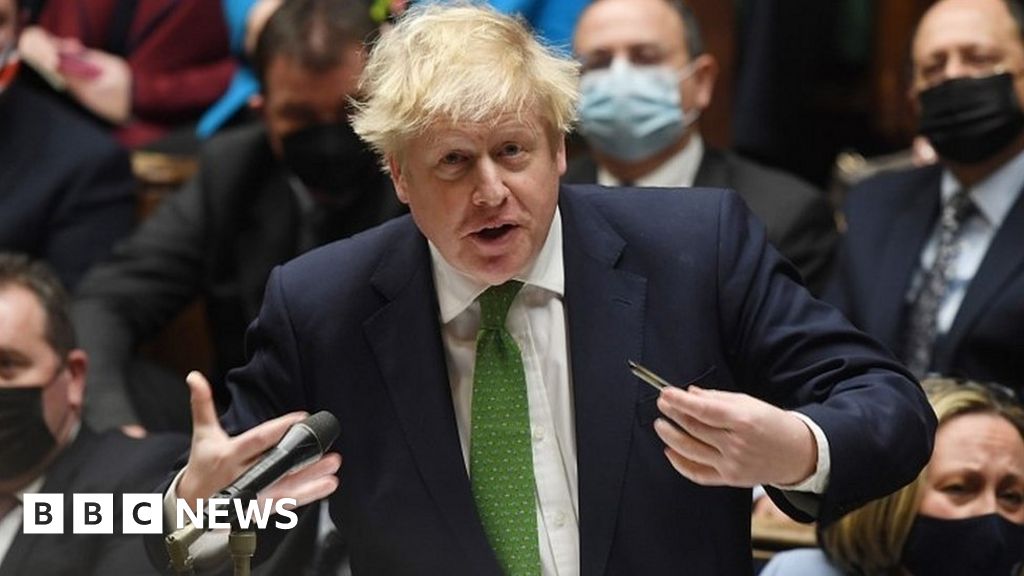 Conservative MPs are starting to "step back" and think twice about a leadership challenge against Boris Johnson, a minister has said.
Conor Burns – the government's minister for Northern Ireland – said colleagues were now choosing to wait for the report into the No 10 lockdown parties.
It follows a dramatic day in Westminster with calls for the PM to quit and a Tory MP defecting to Labour.
No 10 has insisted the prime minister will fight any leadership challenge.
Mr Johnson has come in for severe criticism since admitting he attended a garden party held by No 10 staff in the Downing Street garden during the May 2020 lockdown.
On Wednesday, Tory grandee David Davis joined those calling for Mr Johnson to quit, telling him: "In the name of God, go." And backbench Tory MP Christian Wakeford defected to Labour, describing the PM as incapable of leading.
So far six Conservative MPs have publicly declared no confidence in the PM, but more are thought to have submitted letters to Sir Graham Brady, chairman of the backbench 1922 committee, who organises Tory leadership contests.
There are claims that the threshold of 54 letters needed to trigger a no-confidence vote and leadership election could soon be reached, but no official word has been given.
However, some Conservatives have told the BBC the mood has changed, following the defection of Mr Wakeford.
"I don't think anything could have united us more than watching someone cross the floor like that," said Tory MP Joy Morrissey, who, like Mr Wakeford, won her seat in 2019.
Mr Burns also told BBC Newsnight: "What's happened over the last 24 hours is that colleagues have started to look at what's going on and started asking themselves the question, 'What are we doing, and where is this going?'
"And I think there is a real sense of stepping back and realising that the right thing to do is to wait for Sue Gray's report to then question the prime minister, as he's quite properly said he will come to the House of Commons and make a statement and answer for it."
Jake Berry – chairman of the Northern Research Group of Tory MPs, most of whom also won their seats from Labour at the 2019 general election – agreed, saying colleagues have "looked at what's happened today [and] understand we have to back our prime minister".
"Colleagues are now coming out now strongly and supporting the prime minister as the right man to lead the country," Mr Berry added.
And businessman John Caudwell – who donated £500,000 to the Conservatives ahead of the last election said he would like to see Mr Johnson stay on, but added he "either needs to go or everybody needs to get behind him and drive the policies forward that we elected him for".
Media caption, Tory MP David Davis to PM: In the name of God, go
Earlier, one former cabinet minister told the BBC that Mr Wakeford's defection had "provided an alternative target for rage" among Tory MPs, while another Tory MP said it had "unified the party".
The PM batted away the repeated calls to quit during the stormy Commons session on Wednesday.
He said he took responsibility for his handling of Downing Street parties but insisted critics should wait for the findings of an official inquiry before reaching judgement.
Senior civil servant Sue Gray's report into events held at No 10 during Covid restrictions is expected next week
Later on Wednesday, No 10's press secretary confirmed Mr Johnson would also fight any no-confidence vote by his party.
But Scottish Conservative leader Douglas Ross, one of those who has called for Mr Johnson to quit, earlier said a no-confidence vote was "near" and "getting closer".
Media caption, Christian Wakeford said he had "many sleepless nights" over his decision to defect to Labour
Ms Gray's team are talking to the PM's former aide Dominic Cummings, who says he warned the PM that the Downing Street garden party on 20 May 2020 risked breaking Covid rules.
Mr Cummings has also accused Mr Johnson – who insists he thought the party was a work event – of misleading Parliament.