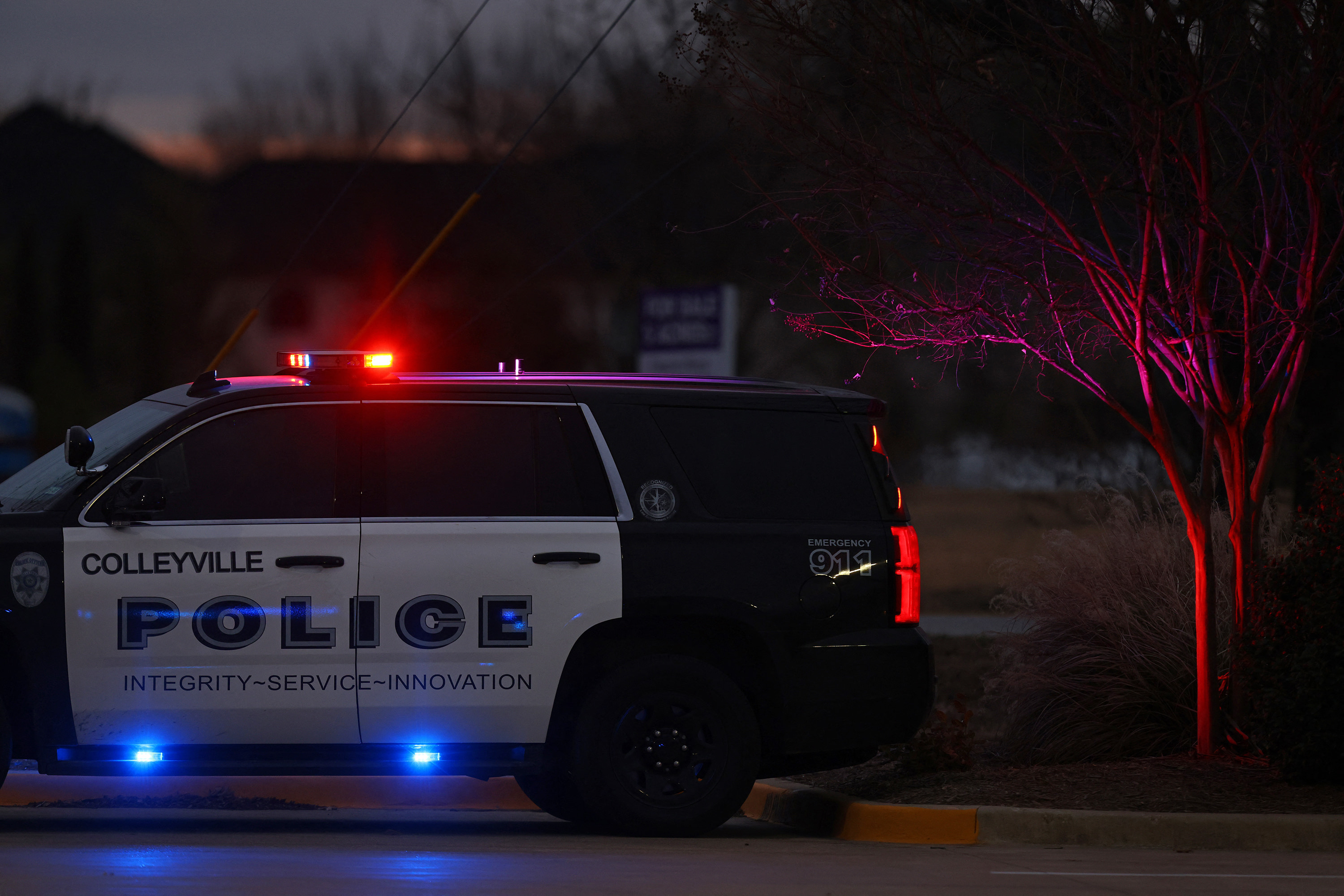 A standoff at a North Texas synagogue erupted with a loud explosion Saturday night, when three hostages remained inside, including the rabbi.
The sounds that rocked the Colleyville synagogue sounded like a mix of gunfire and an explosion, according to multiple reports.
This began Saturday with reports of a hostage situation at a live stream Shabbat service at Congregation Beth Israel in Colleyville drew local police.
SWAT operations at the synagogue led to evacuation of nearby residents by the Colleyville police, who also urged people to avoid the area just northeast of Fort Worth. Although most hostages were released earlier during the 11-hour standoff, rabbi Charlie Cytron-Walker had remained among the three hostages remaining.
A Police car is seen driving close to the Congregation Beth Israel Synagogue in Colleyville, Texas, some 25 miles (40 kilometers) west of Dallas, on January 15, 2022. – Hostage negotiators were locked in a tense standoff January 15 at the Texas synagogue where a man claiming to be the brother of a convicted terrorist has reportedly taken a rabbi and several others captive, police and media said. One of several hostages being held at a synagogue in Texas has been released, local police said Saturday. "Shortly after 5:00 pm (2300 GMT), a male hostage was released uninjured," the Colleyville police department said in a statement. Photo by ANDY JACOBSOHN/AFP via Getty Images
With the rapid spread of the Omicron variant of COVID-19, the service was being live streamed so members of the synagogue could watch it without actually attending. The hostage situation was seen on the live stream, which triggered law enforcement.
The live stream has since been removed.
Hostages were released throughout the day, but no reason of why it happened has been revealed yet.
After the explosion and subsequent gunfire sounds, Texas Gov. Greg Abbott tweeted that all hostages had been released and are "alive and safe."
Prayers answered.
All hostages are out alive and safe.
— Greg Abbott (@GregAbbott_TX) January 16, 2022
It's unclear whether or not the suspect is alive or dead.
This is a developing story.