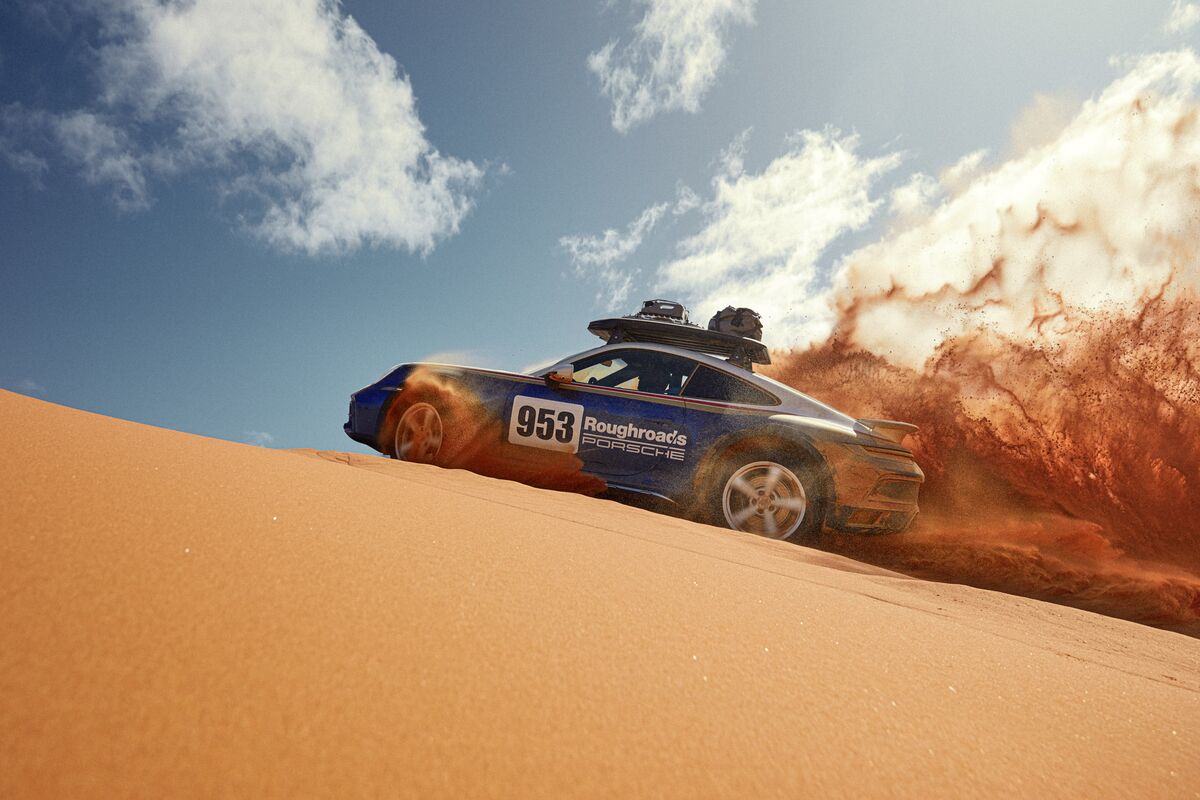 On Jan. 10, Porsche announced three new decal options available for the 911 Dakar, an off-road sports car that
debuted on Nov. 16 in Los Angeles.  
The decals  wrap around the car for an effect that
looks like paint but can be removed, and mimic the racing liveries of the Porsche 911s that participated in the grueling East Africa Safari Rally in 1971, 1974 and 1978. After all, anyone who buys the off-road Porsche 911 will want to evoke Porsches off-road heritage of winning prestigious desert races. 
Three new special decal sets are available for the 911 Dakarfor a hefty sum. 
Prices for the Rallye decals range from $5,260 to $7,510which isnt cheap for stickers. Porsche knows that the customer who can afford to pay $222,000 for the 911 Dakar, and who has enough standing with their local Porsche dealer to receive an allocation for one, wont blink at the added expense. (You get standing by buying lots of Porsches.) Its part of what makes low-volume, special production vehicles like the 911 Dakar so lucrative. A standard Porsche 911 Carrera starts at $106,100, less than half the price of the Dakar version. 
Theres certainly potential revenue here, says Matt Degen, a senior editor at Kelley Blue Book. The car piggybacks onto the overall trend of off-roading as its own very special thingand sometimes, even a luxurious thing. Porsche have already got the technology, they've got the all-wheel drive systems, so why not make an off-road 911? Its like that old saying: They do it because they can. 
Joining the Off-Road Club
Safari-style, Baja-style and jacked-up versions of all sorts of cars from Volkswagen Beetles to Mercedes SLs to Ford trucks have been around since before Steve McQueen drove a Baja Boot (a modified VW Beetle) in the late 1960s. 
Porsche raced rally style 911s with high clearance and roll cages in the 70s and 80s. Private, after-market modification products such as the
Baja 911 (priced at $700,000) offer full off-road builds, and Keen Project and its ilk have offered specialized kits that allow drivers to traverse mud, shale and snow in vehicles that would otherwise get stuck.
But it has only been recently that the brands known for making ultra-luxury land yachts and sports cars have themselves gotten in the act. In December 2021, Mercedes-Maybach announced the Project Maybach Off-Road Concept, then showed the gargantuan electric vehicle with knobby tires and a roof rack to reporters and fans from Art Basel in Miami and for private review near Monaco. While the brand has said it has no plans to make that exact rig, designed by the late Virgil Abloh, it will use it for further deliberation about an all-terrain Maybach in the future.  
The Project Maybach Off-Road Concept in Nice, France, in 2022. 
Then, in quick succession last fall, Porsche unveiled its 911 Dakar and Lamborghini welcomed its Huracán Sterrato, a rugged version of its Huracán supercar. Porsche will sell 2,500 of the 911 Dakar worldwide; Lamborghini will sell 1,499 Sterrato. 
Despite guffaws from some in the social media peanut gallery that such off-road oddities will never see dirt because collectors and speculators will be loath to risk the potential damage to  rack up value-crushing miles, plenty of people will buy one and use it accordingly. 
When the 911 Dakar came out, I was all over it, says Hannah Burgess, a London-based public relations executive who expects to receive hers in May. It will be used mostly up north in Scotland, where my partner and I, with his family, go fishing. We normally take an SUV, but this year well use the Dakar. 
It's going to be my literal town car, says Jeff Zwart, the champion rally racer and filmmaker who makes commercials for automotive brands from Chevrolet to Porsche. He lives up a winding nine-mile road outside of Aspen, Colorado, at an elevation of 9,300 feetand plans to order his 911 Dakar with a roof rack to carry his canoe. Honestly with the environment we have here, it's such a great car. 
Making Big Bucks 
The Lamborghini Huracàn Sterrato will navigate loose rocks, gravel and mud better than the standard Huracàn. 
Such specially made vehicles carry price premiums of tens of thousand dollars over their standard-version counterparts. The Huracàn EVO RWD Coupé costs $213,597, for example; the brand hasnt announced US pricing for the Sterrato, but European pricing is 263,000 ($282,200). It also offers additional revenue streams that bring in thousands of dollars via such extras as off-road tires, fire extinguisher packages, fog lights, carbon fiber trim lines, roll cages and those aforementioned decals.
Smaller production numbers bolster profit margins because automakers can charge more for a special version of a vehicle they already makea benefit particularly critical for companies considering initial public offerings. (Porsche
went public in September; Bloomberg analysts say they believe a Lamborghini IPO could occur within 16 months.)  
Limited editions show that [a company like Lamborghini] can match Ferraris business model with very lucrative sports car derivatives, says Michael Dean, senior European automotive analyst at Bloomberg Intelligence. Ferrari excels at creating demand for its highly specialized, extremely low-production vehicles that cost a lot.  
Its also about showcasing new technology and continuing to build the brand, as well as underpinning the marginso its no accident the vehicle Porsche chose to make into a modern trailfinder also carries the
highest profit margins of any vehicle at Volkswagen AG. Dean ranks the 911 as one of the world's most profitable cars, with a margin exceeding those of all of Ferrari models put together, and set to sell more than 40,000 units in 2022. (Thats versus 12,500 units for the automaker from Maranello, Italy.) We envisage a 2.6 billion ($2.7 billion) profit contribution from the 911 alone next year, versus 2.4 billion for the whole of Ferrari, says Dean. 
The Porsche 911 Dakar comes with such options as roof racks and vintage-inspired paint jobs. 
Whats more, such elite and status-giving vehicles give super fans an excuse to buy another car from a favorite brand, even if they already own several.  
That's what really sets them apart: Think of the flex that you can do with one of these things, Degen says. It's like, Oh, it's not just good enough to have a Lamborghini Huracàn. I have one that does what a Lamborghini shouldn't do.
Porsche and Lamborghini could probably charge moreway morefor special editions than they do now, says Dean: Only a few brands are capable of selling high-margin, $1 million-plus-priced, limited-edition supercars, and that club includes Aston Martin, Ferrari, Lamborghini and Porsche.
So far, so good. In October, Porsche reported a 40.6% leap in operating profit to more than $5 billion for the first nine months of 2022. It predicted a strong 2023, thanks to its ability to raise its sales prices even higher. Over the same period, Lamborghini announced that it, too, had seen significant increases in the first nine months, with operating profit up 68.5%, to $612 million. The increase in profitability was driven largely by growth in average revenue per car, thanks to the product mix and increased customization, the automaker said. 
Still, not every manufacturer wants in on the off-road fun. During an earnings call on Jan. 9, Rolls-Royce Chief Executive Officer Torsten Müller-Ötvös said his brand would not wade into the adventuring variants racket, even though it seemed so lucrative for others. Rolls-Royce reported a record year on Monday, having delivered 6,021 vehicles in 2022, up 8% over 2021.
We stick with what we have when we go into certain segments, so then it's the real stuff, Müller-Ötvös said. We don't do transitional things just to maybe catch the one or the other trend. It would not be looked as truly authentic Rolls-Royce.