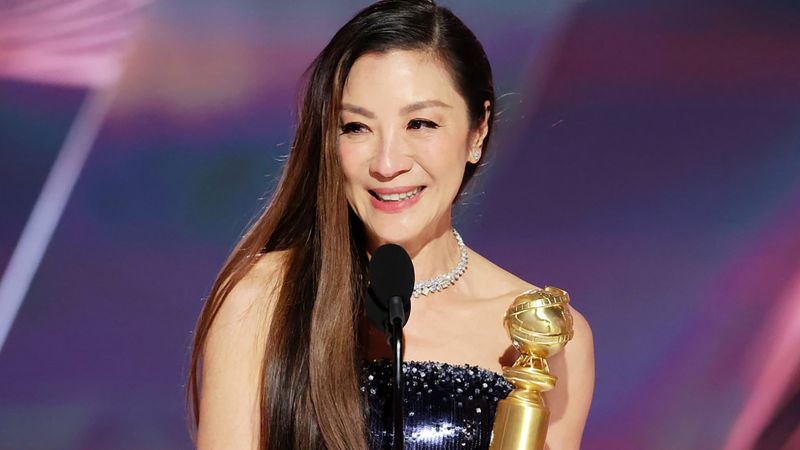 Michelle Yeoh won best performance by an actress in a musical or comedy motion picture for her role in Everything Everywhere All at Once at the Golden Globes on Tuesday night, a career first for the veteran actress.
Though she had to stop her acceptance speech momentarily to threaten violence to the Golden Globes powers-that-be for trying to play her off (joking, Shut up, please; I can beat you up), her remarks centered on her journey in Hollywood.
I remember when I first came to Hollywood, it was a dream come true until I came here Someone said to me: You speak English? And then I said: Yeah, the flight here was about 13 hours long, so I learned, she said.
She also expressed appreciation for the role that led her to winning the award.
As time went by I turned 60 last year and I think all of you women understand this, as the days, years, numbers get bigger, the opportunities get smaller, as well. Then along came the best gift: Everything, Everywhere All at Once, she said.
Yeoh has had a banner year thanks to the film, a smaller A24 feature that took the movie world by storm and defied expectations both critically and commercially since its release last April.
Everything Everywhere tells the story of a beleaguered Asian American immigrant, played by Yeoh, who is suddenly confronted with the multiverse and all it entails, while also dealing with family and business issues.
In her speech, Yeoh thanked writer-director duo Daniel Kwan and Daniel Scheinert, who had the courage to write about a very ordinary immigrant.
This movie for me was such an homage to so many women like that around us who are sometimes invisible, who we take for granted, she said. Theres so many relatable things, and all because they were chasing the American dream.
We all know that its so hard, she added on Tuesday night. I think any immigrant that comes here will tell you how difficult it is and of sometimes failing and not being able to find it.
Yeoh found mainstream success in Hollywood in 2000s Oscar-winning Ang Lee film Crouching Tiger, Hidden Dragon, having starred previously in Jackie Chan movies including Supercop.
Some other recent standout performances from Yeoh include her role of magical warrior Ying Nan in 2021 Marvel blockbuster Shang-Chi and the Legend of the Ten Rings, and domineering mother Eleanor Young in 2018s Crazy Rich Asians.